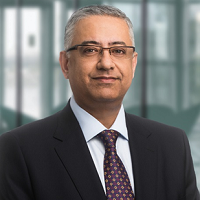 Sameer Madhok
Senior Vice-President and Chief Internal Auditor and Senior Officer for Internal Disclosure (EDC and FinDev Canada), Chief Independent Accountability Mechanism Officer (FinDev Canada)
Export Development Canada
Sameer Madhok
Sameer Madhok was appointed Senior Vice-President and Chief Internal Auditor in May 2016. In 2019, Mr. Madhok was appointed the Senior Officer for Internal Disclosure for EDC, and its wholly owned subsidiary, FinDev Canada. He was also appointed as the Chief Independent Accountability Mechanism officer for FinDev Canada in 2022.
Working closely with both organizations, Mr. Madhok and his teams help EDC and FinDev Canada deliver on their corporate visions and business objectives by providing independent assurance and insight, in a transparent and independent manner. He reports to the Audit Committee of the Board of Directors and to the CEO.
Prior to joining EDC, Mr. Madhok held progressively senior Financial, Operational and Governance leadership roles at CIBC, TD and the RBC. He is a Fellow of the Institute of Chartered Accountants in England and Wales, holds a Bachelor of Commerce (Honors) degree from the University of Bombay and is a member of the Association of Certified Fraud Examiners.