I recently had the pleasure of participating in a series of regional virtual events with our financial institution partners across Canada.  It was great seeing the senior leadership from each region around the table, representing the customer-facing and credit-risk departments of their institutions. My presentation focused not only on how COVID-19 has been a jolt to our collective systems, but also how it's enabled us to hit the reset button for Canada's trade future. And make no mistake, this reset is exactly what's needed. Following are some highlights of the key points discussed. I'm hoping they'll help expand and invigorate the dialogue between all of us as we face the future together. We all have a critical role to play and our level of success as a leader in the global market will largely be dictated by how closely we interact.
There's a yawning trade gap between Canada and other OECD nations, representing foregone Canadian exports of roughly $165 billion annually.
While the recent spikes in COVID-19 numbers in some regions around the world give us pause, there are many reasons to believe there's light at the end of the tunnel. A combination of governance measures, vaccine distribution, and the gradual climb towards herd immunity in some countries means the second half of 2021 will bring brighter prospects for the future than we've seen in quite a while.
Sure, stimulus has played a huge role in the swift bounce-back, but all won't be lost when the taps are turned off. Don't forget, we went into the pandemic with significant pent-up demand. Add to that, a healthy dose of COVID-19 pent-up demand—there's been a savings explosion in Canada, the U.S. and the Euro Area. It all adds up to a substantial amount of private savings—waiting on the sidelines to be spent in the future—that will sustain the recovery. So, when that green light goes back on in the hearts and minds of consumers around the world—and the businesses that are supporting them—there's an avalanche of money that will pour into the marketplace.  Businesses and financial institutions that are primed and ready for this eventuality will also be the ones who end up on top.
Overall, goods exports have had an impressive showing. A solid V-shaped recovery has been clocked in most Organisation for Economic Co-operation and Development (OECD) markets, with Canada posting a blockbuster gain in January. The overall positive numbers mask a story of big winners, big losers, and others caught in the middle. 
At the top: Big tech, e-commerce, telecom and agri-food. At the bottom: Travel, oil and gas, aerospace, bricks-and-mortar retail and automotive. Among services exports, some sectors have fallen into a chasm from which they can't yet seem to escape. While commercial and financial services have fared well, tourism, entertainment and transportation services have been stuck in virtual purgatory.
The important thing to remember is that they'll emerge—eventually. And when they do, they're going to need all kinds of support: From market intelligence and export planning, to the financing required to fuel their recovery. And here's the rub: They'll be different. They'll have changed because COVID-19 has effectively changed things. A new breed of business owners will likely emerge, with a broader risk appetite. After all, they've just faced down the mother of all threats, so there's no going back to "business as usual." What's the harm in adding on another dimension of risk, say, in doing business in non-traditional markets? Especially given our relatively small domestic market and the amped-up level of global digital connectivity. It's a sentiment that was echoed in our most recent Trade Confidence Index survey, where almost three-quarters of Canadian exporters said they were looking to expand their exports into new markets.
The real GDP numbers for this year and next are encouraging. For 2021, we're forecasting 5.2% growth for developed economies; 7.1% for emerging markets; and 6.4% for overall global growth. In light of the U.S. stimulus package, we revised up the numbers. Similarly, for 2022, we anticipate a global increase of 5.4%, with developed and emerging economies pegging 4.1% and 6.2%, respectively. And while the international outlook is strong overall, there's no denying that the emerging markets will continue to outpace the OECD world. 
All this to say, the second half of this year is when robust growth is going to kick into gear. And when you layer this growth on top of public and private stimulus, we better be ready. We need to arm ourselves because we may end up with even more growth than we can handle going forward.
Reality check: Canada's widening trade gap
Against this backdrop of future potential, there's a sobering reality: Canada has a trade problem. Our share of international trade has marked a steady decline for the last 20 years. So too, have advanced economies in general, as emerging markets are taking on a bigger share of global export volumes. Unfortunately, our track record has been worse, as illustrated below. In fact, there's a yawning trade gap between Canada and other OECD nations, representing foregone Canadian exports of roughly $165 billion annually.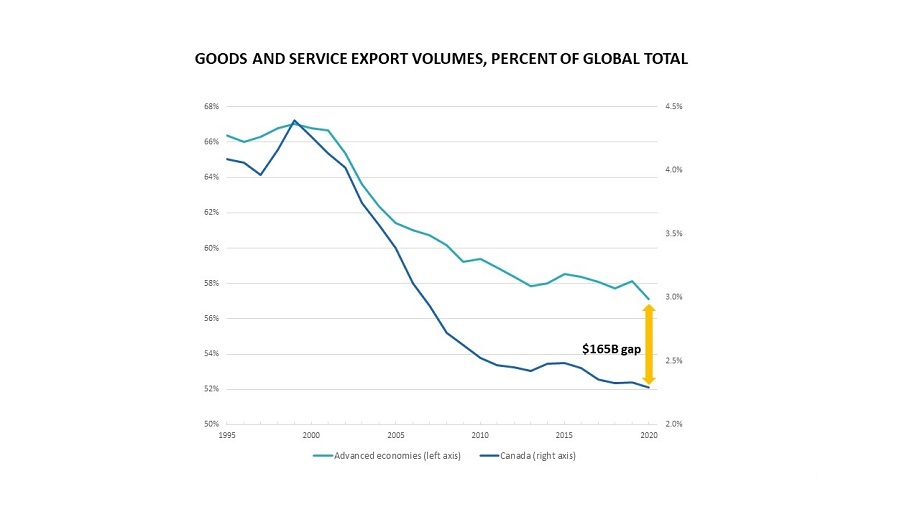 As a Canadian financial institution, I imagine your business book is largely focused on the domestic economy, with lending skewed towards relatively safe assets such as real estate. But if we're going to grow as an economy, we're going to have to make serious headway internationally. We're going to have to diversify. After all, increasing our appetite for international trade will not only make for a stronger economy, it'll strengthen your own portfolios in the long run.
Simply increasing our trade with the U.S. alone isn't the answer. If we're really going to move the needle, we need to also look elsewhere. Take China. If you simply and mechanically extended the current trend of our exports to that market, then by 2048, they'd be Canada's No. 1 destination for merchandise exports. And what's true for China is similar to the potential in many emerging markets. 
And here's where it gets interesting. Let's say we step things up and start performing more like Australia—a market not unlike our own—which has reimagined its trade game plan. They've been able to bite off a far heftier chunk of market share than we have, and we should pay attention to that. If we were able to grab just half of Australia's market share, China would become our principal trading partner a dozen years earlier. And if we got up to Australia's share in a decade, well, we'd be only one-year shy from having China as our No. 1 customer. In fact, for some Canadian sectors, like the food industry, that reality is just around the corner—within the next three years. For others, it's already a reality, and has been for a while. 
But the story doesn't end with China. There'll be a slew of other emerging economies lining up to buy what we're selling. Which is not to say we turn away from the U.S., but let's not turn away from these other opportunities that are staring us in the face.
Recalibrating our thinking
As Canadian business emerges from the COVID-19 cocoon—wiser and more daring—so must we. Absolutely, it requires a shift in our thinking in terms of how we process business and complement our risk plans to where Canadians want to go. But we need to be prepared to liberate them, so they can catch hold of these fast-growing markets.
There will be challenges. We know the recovery will be uneven and we'll still get hit with some waves, but don't let that discourage you because growth is on the way. Growth won't be evenly distributed, so we'll have to be risk selective. But we also know that consumers worldwide are primed and ready for spending, and their wallets will drive exports. So too, will our enhanced levels of digital connectedness. 
We know that the companies that export will be on the right path for future growth, assuming they have a strong and sustainable international trade growth plan in place. And we know that we're going to need to invest, to digitize, robotize and realize how artificial intelligence and automation will re-energize our industries. And we're going to have to get behind this investment. As financial institutions, we need to recognize these are the firms and sectors of the future. We'll have to be prepared to fund international investments, to help them secure supply chains abroad. That's what glocalization is all about. 
We're going to have to step out of our comfort zones and rise to these challenges. EDC has been arming ourselves for the wave of activity that we know is coming our way. We're positioning ourselves to not only continue partnering with you, but to deepen that relationship in a substantial way. That's what it's going to take to close our country's trade gap. We're going to share our international market and risk intelligence with you. We're going to have to back deals that are riskier, but we'll share that risk. In fact, we're going to need to broker deals that are so big, we'll need to syndicate them. 
New thinking for a new era. One that's going to demand we all suit up for what lies ahead. I'm looking forward to working with you and continuing the conversation. 
You should also check out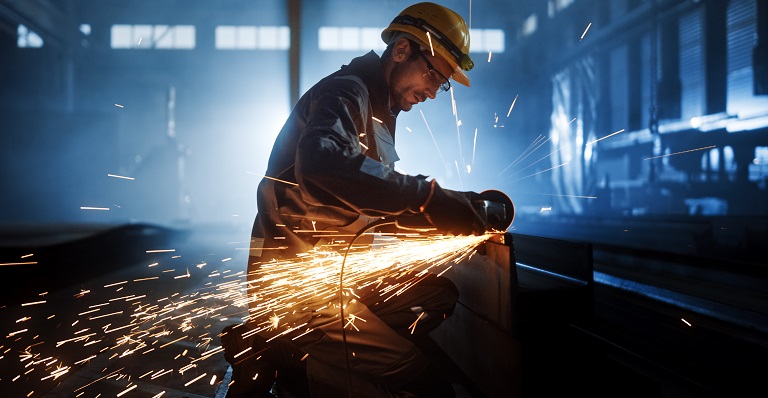 Global Economic Outlook—Winter 2022
As the world grapples with COVID-19 and rapidly shifting economic and political news, Canadian companies are facing new risks during these uncertain times. EDC's Global Economic Outlook offers insight on these challenges to help you make better business decisions.