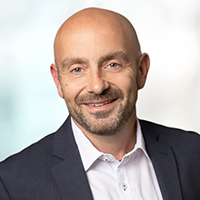 Dominic Mailhot
Senior Vice-President and Chief Digital Information Officer
Export Development Canada
Dominic Mailhot
Mr. Mailhot was appointed Senior Vice-President, Chief Digital Information Officer in October 2023, after joining EDC as a Chief Information Officer (CIO) in July 2022. In this new role, Mr. Mailhot is responsible for the evolution and operations of digital solutions and technology at EDC, including data operations and modernization, as well as information security. In partnership with EDC's business units and functions, he is also responsible for delivering the corporate digital roadmap.
Prior to joining EDC, Mr. Mailhot held various senior management roles. As Vice-President Solutions Delivery at Intact Financial Corporation, he led the portfolio management and enterprise architecture while delivering a wide range of digital solutions. Earlier, as CIO at Enerkem, he led the implementation of their digitalization and cloud strategy, and the modernization of the core IT infrastructure, operations and systems.
In all, Mr. Mailhot has more than 25 years of experience in information technology leadership, spanning various industries including manufacturing, aerospace, retail, and financial services.

Mr. Mailhot holds an MBA from Telfer School of Management at the University of Ottawa, a bachelor's degree in computer sciences and a Management and Leadership Executive Certificate from the MIT Sloan School of Management.