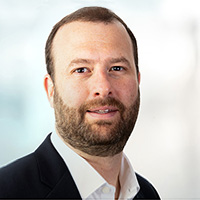 Guillermo Freire
Senior Vice-President, Mid-Market
Export Development Canada
Guillermo Freire
Guillermo Freire was appointed Senior Vice-President, Mid-Market in 2022. In this role, Mr. Freire works to accelerate the international growth of medium segment companies to boost their international competitiveness.
First joining EDC in 2005, Mr. Freire worked for six years (until 2011) in the area of Project Finance. Since rejoining EDC in 2013, he has taken on senior roles on the Structured and Project Finance group, including leadership of the Cleantech team – a sector in which EDC is a leading national financier – as well as leading the team responsible for managing EDC's relationships with its largest institutional investors. 
Prior to his current role, Mr. Freire served as Acting Senior Vice-President, Financing and Investments, where he over oversaw the group responsible for deploying capital in support of the international expansion, growth and ongoing financial needs of Canadian exporters and investors. 
Originally from Peru, Mr. Freire holds an MBA from McGill University and a Science degree from Universidad Nacional Agraria in Lima, Peru. He is fluent in English, Spanish, and French.