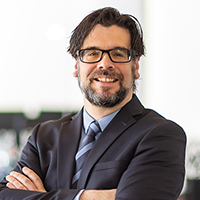 Miguel Simard
Senior Vice-President and Chief Legal Officer, Special Risks and CEBA
Export Development Canada
Miguel Simard
Miguel Simard has served as EDC's Senior Vice-President and Chief Legal Officer since May of 2021, leading the Legal, Special Risks and Special Programs teams. He is also the Executive Sponsor of the Women @ EDC Employee Resource Group.
Prior to this appointment, Mr. Simard worked in the banking department of a major law firm in Montreal. He joined EDC's legal team in 1998, and quickly established himself as a trusted advisor with a deep understanding of business. Later, in 2004, Mr. Simard became EDC's Senior Legal Counsel. He was appointed Assistant General Counsel in 2009, and General Counsel in 2017.
Fluent in English and French, Mr. Simard is a member of the Quebec and Ontario bars, holds a law degree from Université de Sherbrooke and the ESG Designation from Competent Boards. He was a finalist for the 2022 Canadian General Counsel of the Year Awards.