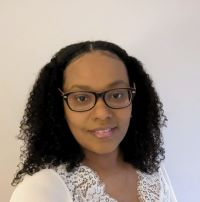 Myriam Francisque
National lead, Inclusive Trade, Black and racialized exporters
Export Development Canada
As EDC's national lead for Black and racialized exporters, Myriam dreams of an equitable economic system where all businesspeople, regardless of race, ethnicity, and gender, will have a seat at the table and benefit from the same opportunities and support. She strives to create generational wealth and economic power through capacity-building, unbiased access to capital and equity awareness.
As a former entrepreneur, and having worked on three continents, Myriam brings passion and energy to her new role in supporting Canadian business owners. She will continue to deepen EDC's understanding of the specific needs and challenges of the Black and racialized exporter communities, to advance the long-term strategy and solutions for serving these markets and to help them achieve their global ambitions.   
Myriam has more than 15 years of experience in the field of international trade and has worked in both the private and public sectors managing various portfolios and projects focused on trade, business development and innovation—with an emphasis on Black and racialized businesses. She holds a master's degree in international business law obtained in France and the United Kingdom and has a post-graduate degree in finance and management from the London School of Business and Finance.