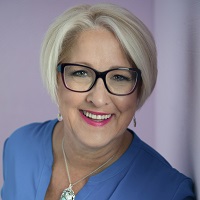 Ruth Vachon
President and Chief Executive Officer
Quebec Women's Business Network
A savvy business woman with a great sense of vision, Ms. Ruth Vachon is the President and CEO of the Quebec Women's Business Network. 
She cumulates more than 30 years of entrepreneurial experience, she has traveled the world to give lectures and conduct trade missions in Canada, the United States, Europe and Africa. For her, individual, collective and business prosperity combines with the feminine.

From 2010, when she became the owner of the RFAQ, she brought together, stimulated and engaged her 2,000 members, active in thirteen (13) regions of Quebec, with projects that have mobilized economic development, entrepreneurship and women's management. She has implemented the 50 + one Advisory Committee and the « Table de la relève », which is respectivly at the origin of the Women's Economic Development program (the WEConnect International certification) and the « Réseau des jeunes femmes d'affaires du Québec ».

She believes in the strength of alliances and therefore has established many partnerships in order for the effectiveness of her networking to bear fruits. Contracts for its members have grown, be they small or very large, thanks to the unique initiatives of the RFAQ. 

Mutual assistance, collaboration, inclusion and prosperity are the four most appropriate words to represent her deepest values.
Committed to the inclusion of women and minorities in the business community, she is the recipient of many distinctions awarded by WEConnect International:
• Female most committed to women's inclusion in supply chains for large enterprises - 2016
• Champion for the diversity of suppliers - 2014, 2015 and 2016
• RFAQ, Canadian partner of the year - 2014