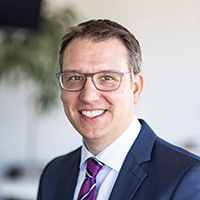 Scott Moore
Senior Vice-President, Finance and Chief Financial Officer
Export Development Canada
Scott Moore
Scott Moore was appointed Senior Vice-President, Finance and Chief Financial Officer in 2022. Mr. Moore leads the Finance organization which includes Treasury, Corporate Finance & Control, Finance Operations and Corporate Services.
Prior to joining EDC, Mr. Moore held various Finance leadership roles with Wells Fargo including as Acting CFO for Commercial Banking and Regional CFO for Canada. Prior to that, Mr. Moore spent 13 years with GE, where his last role was the CFO of GE Capital Canada before the business was acquired by Wells Fargo.
A graduate of McMaster University with a Bachelor of Engineering and Management, Scott is fluently bilingual and based in Montreal.