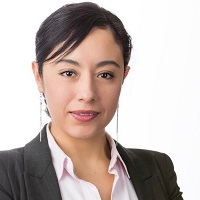 Alejandra Tellez joined Export Development Canada in 2014 as the co-ordinator for the GBD team in Mexico.

Since then, Alejandra has actively worked in the development and promotion of EDC's value proposition with the most important players for Canadian exporters in the Mexican market. In July 2017, Alejandra was promoted associate regional manager for LATAM, in this position Alejandra has played a strategic role in the accomplishments of the market, focusing efforts in the onboarding of existing clients and prospects, relationship management and identification of rising business opportunities and trends, that in partnership with Global Trade, the Trade Commissioner Service and the provinces in the market could lead to the signing of new contracts for Canadian companies. 
Prior to joining EDC, Alejandra held numerous positions at Global Affairs Canada in Mexico and worked for the private sector in the field of international business development. Alejandra has more than 10 years of experience in trade creation between Mexico and Canada, China, and some countries of the European Union.

Alejandra obtained a master's degree in administration and international business at Universidad Nacional Autonoma de Mexico and recently acquired a diploma in corporate finance at Instituto Tecnologico Autonomo de Mexico.