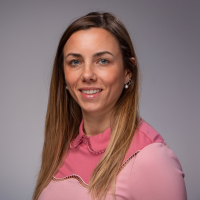 Anne-Marie Gagnon
Director, ESG Growth Advisory Services
Export Development Canada
Anne-Marie Gagnon is the Director of the ESG Growth Advisory Services team at Export Development Canada (EDC). In this capacity, she oversees the foundational work of supporting companies in incorporating ESG considerations into their business with the purpose of growing responsible and sustainable Canadian trade.
Anne-Marie began her career at EDC in 2003, working on various teams across the organization, including Business Development, Credit Insurance Underwriting, Risk Management, Special Risks and ESG.
With over 10 years of credit risk experience, Anne-Marie started her leadership journey with Loan Services, before joining the Corporate Lending/Aerospace team as a manager. Shortly after, she was promoted to director with the Credit Risk Services and International Relations team, where she gained experience working with export credit agencies, as well as intergovernmental organizations such as the OEDC.
Anne-Marie is a strong advocate for ID&E and gender equity. Since 2020, she has led the Women@EDC Employee Resource Group, where she was instrumental in driving progress and transparency in the areas of data, metrics, and reporting.
Outside of work, Anne-Marie loves to travel and to spend time with her husband, and dog, Floyd. She enjoys grounding herself in nature, yoga, paddle boarding, and wine tasting.
Anne-Marie holds a business degree from York University and an MBA from the University of Ottawa.