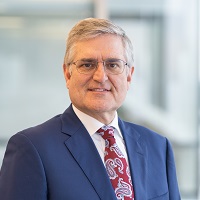 Carl Burlock
Executive Vice-President and Chief Business Officer
Export Development Canada
Carl Burlock
Carl Burlock has been EDC's Executive Vice-President and Chief Business Officer since May 2019. He is responsible for all of EDC's customer segments, business lines, and business enablement functions. Prior to this, as Senior Vice-President and Global Head, Financing and Investments since 2014, he was accountable for a broad range of EDC's financing services, from small business to project financing, and private equity business lines. 
He began his career with EDC in 1997, working in various industry areas, then quickly rising to take on numerous leadership roles, including Vice-President of Commercial Markets and Small Business; Vice-President of HR Client Services; and, Director, Extractive and Resources Financing team.
Before joining EDC, Mr. Burlock spent nine years as a mechanical engineer for Nova Scotia Power Inc. He holds a master's in business administration from Dalhousie University and a bachelor's in mechanical engineering from Dalhousie University/Technical University of Nova Scotia. He has completed the advanced management program at Columbia University and earned the ESG Competent Board Designation (GDB.D).