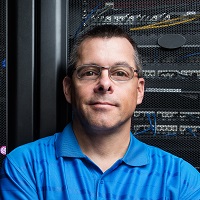 Jacques Latour
Chief Technology Officer
Canadian Internet Registration Authority (CIRA)
As an expert in developing innovative, leading-edge IT solutions, Jacques has established CIRA as a global leader among ccTLD registries. He has 25+ years of experience in the private and not-for-profit sectors and, as CIRA's CTO, is currently leading CIRA Labs, CIRA's innovation hub and providing leadership and direction for the management and security of the .CA registry and its underlying DNS.
A visionary in the internet community, Jacques led the development of CIRA's Internet Performance Test, is an outspoken advocate for the adoption of IPv6 and represents the .CA registry internationally as a member of a variety of working groups and advisory groups. He is committed to the development of a new Canadian internet architecture. He has served as the catalyst for the creation of a national Canadian IXP association, CA-IX, and is a member of the Manitoba Internet Exchange's (MBIX) and the DNS-OARC Board of Directors. Jacques is also a member of ICANN's Security and Stability Advisory Committee (SSAC).
Jacques holds an Electronics Engineering Technologist diploma from Algonquin College, is ITIL v3 Foundation certified and is a certified Agile ScrumMaster.