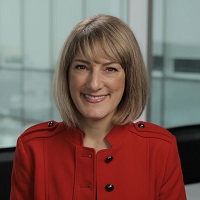 Jennifer Cooke
Director, Inclusive Trade
Export Development Canada
Jennifer Cooke
As a former entrepreneur and a member of the business development team at EDC for 11 years, Jennifer is passionate about working to help Canadian companies succeed in international markets.   
Previously EDC's national lead for Women in Trade, in 2021, she was named Director of Inclusive trade, when EDC created a new team to be accountable for increasing our support to Canadian businesses owned and led by members of all equity-seeking groups.  Through tailored business strategies, she aims to remove barriers and address the unique needs of businesses owned by folks who identify as women, Indigenous, Black, LGBTQ2+ or living with disabilities, to create an equitable playing field and ensure they have the same opportunities to benefit from trade.   
Co-creating with strategic partners and focused on ensuring that our solutions are relevant and accessible, Jennifer is committed to delivering the knowledge, resources, and financial tools Canadian entrepreneurs need to confidently make their mark in international markets and realize their global potential.