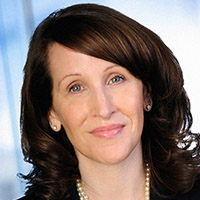 As Head of ESG for Onex, Judy Cotte leads Onex' ESG efforts across all of its platforms. She works with Onex' investors and clients to align Onex with industry best-practices by integrating ESG factors into Onex' investment processes and ongoing reporting. Ms. Cotte is a director of Gibson Energy (TSX: GEI) and PowerSchool (NYSE: PWSC). 
Prior to joining Onex, Ms. Cotte ran ESG Global Advisors, a firm she founded to bridge the gap between companies and investors on ESG. Previously, she was Head of Corporate Governance & Responsible Investment for RBC Global Asset Management. 
Ms. Cotte has a Masters' in Law from Osgoode Hall Law School and a law degree from the University of Toronto Law School.