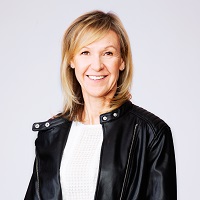 Laura Didyk
Vice President and National Lead Women Entrepreneurs
Business Development Bank of Canada (BDC)
Laura Didyk
Laura Didyk is Vice President and National Lead Women Entrepreneurs at the Business Development Bank of Canada (BDC).  In this newly created role, she leads the bank's national strategy to support Canadian women entrepreneurs and ensures that strategy is integrated across the entire bank.
Laura has always been passionate about entrepreneurship. Since 1994, Laura has held progressively senior roles at BDC across many divisions of the bank. From consulting and finance, to branch support and subordinate financing, Laura has worked with all types of entrepreneurs, at all stages of their business, helping them access the advice and capital needed to grow and succeed. Through this experience, she consistently saw one gap: a lack of women. 
Since 2015, Laura has been an ally and advocate for female business owners and leaders. She began as the regional Women Entrepreneurs Lead in the prairies helping drive the bank's strategy and securing local champions. Today, she drives the bank's mandate to support women entrepreneurs across Canada. She is a sought after speaker and presenter on the topic of women entrepreneurship and leadership and regularly mentors and coaches female entrepreneurs. 
Having lived and worked in Calgary for over 20 years, Laura spends as much time as she can in the mountains skiing and hiking with her husband and two daughters. A Chartered Professional Accountant (CPA), she holds a Business degree and a degree in Actuarial Science from the University of Manitoba.   
Laura is passionate about helping entrepreneurs start and grow their business. She also leads BDC's national strategy to support Canadian women entrepreneurs. Currently, only 16% of small and medium-sized businesses are majority women-owned. BDC, Canada's only bank dedicated to entrepreneurs, has a bold mandate to increase that number and Laura is leading to charge to ensure integration across the bank and awareness among Canadians.
Website: www.bdc.ca/woman