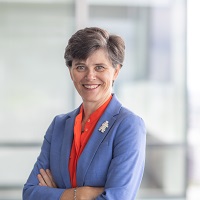 Lorraine Audsley
Senior Vice-President and Chief Sustainability Officer
Export Development Canada
Lorraine Audsley
Lorraine Audsley was appointed Chief Sustainability Officer in January 2023. In this capacity, Ms. Audsley oversees the integration of environmental, social and governance into EDC's strategy and culture, as well as in EDC's support for Canadian companies. 
Prior to her current role, Ms. Audsley was the Chief Risk Officer, Global Risk Management, where she oversaw the financial, operational and strategic risks of the Corporation, including the Compliance & Ethics, Risk Quantification, Enterprise Risk Management, Credit Adjudication and Portfolio Oversight functions. Ms. Audsley also provided oversight of EDC's climate scenario analysis. Beginning in April 2015, she served as Vice-President and Chief Credit Officer where she was responsible for Credit Adjudication, Special Loans, Risk Transfer, and Risk Quantification.  
Previously, Ms. Audsley was Vice-President, International Financing, where she led a group which underwrote financing solutions for small and mid-market Canadian exporters and investors, and Vice-President, Business Intelligence & Innovation, where she led the corporate centres of expertise on Operational Excellence, Business Architecture and Enterprise Information Management. Ms. Audsley has held other roles throughout her career at EDC, primarily in the financing underwriting and risk management fields. 
Ms. Audsley has a Master of Finance from the Henley Business School of the University of Reading in England. In 2022, she completed the Advanced Management Programme at INSEAD Business School in France.