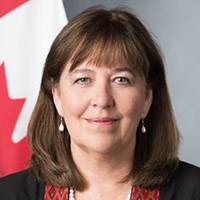 Rosemary McCarney
Diplomat in Residence at
Massey College and the James Coutts Scholar in International Relations at Trinity College, University of Toronto
Rosemary McCarney
Rosemary McCarney is the Diplomat in Residence at Massey College and the James Coutts Scholar in International Relations at Trinity College, University of Toronto where she teaches Multilateral Diplomacy-Global Governance and Global Health Security Policy. She is the immediate past Canadian Ambassador and Permanent Representative to the United Nations in Geneva.  
She is an award‐winning humanitarian, a business leader, an author, a recognized public speaker and an expert in international relations and foreign policy. She has been awarded two Honourary Doctorates. 
She worked with the World Bank, the International Finance Corporation, USAID and the EU, as well as with civil society, foreign governments and UN bodies. In 2005, she became the president and chief executive officer of Plan International Canada Inc., one of the oldest and largest charities in Canada until 2015 and her appointment as Canada's Ambassador to the United Nations. 
Ms. McCarney was first Executive Director of the Canada‐US Law Institute and taught international and constitutional law at Case Western Reserve University, Faculty of Law and International Business Transactions Law at the Faculty of Law, University of Toronto.
She has practised law in the US and Canada and has held executive level management positions in the private and not‐for‐profit sector. 
She is a committed volunteer for many organizations and sits on numerous Boards and Advisory Committees in international development, global health, sustainable development and corporate governance.