When it comes to the global challenge of reducing greenhouse gas (GHG) emissions that cause climate change, many innovative companies are focusing on solutions for the transportation sector. Burning fossil fuels to power everything from cars and trucks to trains, planes and ships accounts for roughly 23% of global GHG emissions, according to the Intergovernmental Panel on Climate Change. The sector therefore presents both enormous challenges and abundant opportunities to address them.
H2 Tek™ has started to make an impact in this area by selling a solution that allows customers to address two issues at once: lower diesel emissions while improving fuel economy, which also reduces operating costs.
H2 Tek sells dynaCERT's HydraGEN™ system, which uses very simple chemistry to improve an engine's consumption of diesel fuel. Using electrolysis, the unit breaks down distilled water into hydrogen and oxygen molecules and then feeds them into the engine's air intake on demand. The added hydrogen and oxygen enable the diesel fuel to burn faster and more completely with each power stroke of the engine. This means less unburned fuel is released into the atmosphere through the engine's exhaust as well as less toxic chemicals like nitrogen oxides, carbon monoxide and hydrocarbons. It also improves fuel economy, driving down fuel consumption.
David Van Klaveren, vice-president of global sales for H2 Tek, notes that the two-pronged benefit gives the company different levers to pull in different export markets, depending on what is more important to potential customers.
"Lever one is, of course, carbon-emissions reduction and lever two is operating-expense reduction. In some markets they're more interested in lever one and other markets are more interested in lever two. And in the end, they both get pulled, so it's a win-win for all stakeholders involved."

The payback period for customers that invest in the technology is usually well under a year and sometimes only a few months, says Van Klaveren. 
While HydraGEN sales are indeed picking up speed in the transport sector—Van Klaveren points to recent deals with customers in Mexico and Germany—H2 Tek identified the mining industry as a key sector where the market is global, diesel fuel consumption is high and the technology could have massive impact. 
"I just got back from a mine that burns six million litres of diesel fuel a month, and that's just an average-sized mining operation," explains Van Klaveren.
The challenge for H2 Tek was to find ways to get in front of key players in the mining industry where they could explain and demonstrate dynaCERT's HydraGEN technology. "We needed to know how to access global markets as a small startup with very little resources outside of Canada," Van Klaveren says.
Joao Araujo, vice president for global operations at H2 Tek, began by reaching out to the Trade Commissioner Service (TCS) in Toronto and doing a presentation for them to explain dynaCERT's technology. At the suggestion of the connections they made through TCS, Araujo and Van Klaveren decided to attend a cleantech fair in Brazil. From there, introductions were made to representatives from Export Development Canada (EDC), as well as the Mining Suppliers Trade Association (MSTA).
The credibility that comes with an introduction from EDC far surpasses any effort that a small business can do on their own.
Van Klaveren and his colleagues quickly realized the benefits of attending these events. "Whether it was a cleantech conference, trade mission or an invitation to a trade show where EDC would have a presence, there would be B2B meetings set up. As EDC and TCS saw what we were doing, how we were doing it, how professionally our story tracked, it became clear we needed to be at a lot more events and the invitations followed," he says.
As H2 Tek's relationship with EDC and TCS deepened, the quality of the connection opportunities that were presented to them became even more meaningful. Van Klaveren cites an invitation to participate in a cleantech fair held at the Colorado governor's mansion as an important turning point.
"Eight American companies, three Canadian companies and one Israeli company were selected to present to mining industry executives and dignitaries from Canada and the U.S. We were thrilled that our Canadian cleantech story won that competition, taking first prize. News of that win went around to all sorts of folks and people began to realize the importance of our work, resulting in even more exposure and cleantech event invites." 

The connections H2 Tek has made are now starting to turn into deals with some of the world's largest mining companies. In August 2019, EDC invited H2 Tek to participate in an outbound trade mission in Santiago, Chile, where they were introduced to representatives from three global mining giants with operations there.
"I think we'll be securing each of them as clients in the next 90 days," says Van Klaveren.
The sales process in major industries like mining and energy is typically very long, explains Van Klaveren. "From the first point of contact to first purchase order (PO), it can take anywhere from two to three years," he says. "I can say definitively that by virtue of the assistance of EDC and TCS, we got our first PO with a major mining company after only eight months."
Equally challenging is the task of simply obtaining a meeting with a company that has a market capitalization in the billions.
"Every company that has a solution for mining wants to deal with these people. If you don't get an audience, it's extremely hard to tell your story. EDC can facilitate that," he says. 
"If you're selling innovation instead of nuts and bolts, you're typically going to have to deal with multiple people from different departments and business units. And when there are that many people involved, it really does help that you have someone to nudge your name forward."
EDC Service used
EDC Business Connection Program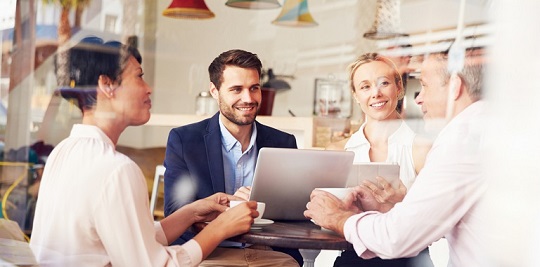 EDC customers can take advantage of our deep understanding of Canadian capabilities and specific needs of major international buyers with the EDC Business Connection Program. Through this program, Canadian companies are "connected" with international buyers through formal matchmaking events and other introductions.