To mark Black History Month in February, many will be celebrating the achievements and contributions of Black Canadians, who have done so much to make Canada the culturally diverse and prosperous nation it is today. Black-owned businesses are crucial to growing our economy, but these companies continue to face significant challenges in growth and profitability.
Dave D'Oyen has his work cut out for him. As Export Development Canada's first national lead for Black exporters, his job is to create a strategy to enable them to go, grow and succeed on the international stage. 
Brimming with optimism, the charismatic D'Oyen is up for the challenge of blazing a new trail at EDC in support of Black entrepreneurs—something that hasn't been done in the Crown corporation's 77-year history.
"Part of my mission is to raise awareness about EDC and to encourage Black entrepreneurs to grow their companies by exporting. This requires building partnerships with Black business-serving organizations to gain a thorough understanding of the barriers to exporting for Black businesses," D'Oyen says.
You should also check out

One of his main initiatives in 2021 was to organize a national roadshow in partnership with the Business Development Bank of Canada (BDC) and Canadian Trade Commissioner Service (TCS), to meet with Black entrepreneurs across Canada and promote the products and services available to them. He's also been meeting with organizations and financial institutions, like RBC, which have developed their own financial solutions for Black entrepreneurs. This year, as he devises EDC's strategy to support Black exporters, D'Oyen will be delving into the challenges of exporting faced by Black-owned businesses.
"EDC has the knowledge, financial solutions and programs in place to help businesses that are exporting or planning to export. Our current offerings serve medium and large enterprises well. Most Black businesses fall into the micro and small segments. We need to review our solutions to ensure they're accessible to and meet the needs of Black businesses. To do this, we need to work with them."
Recognizing these unique needs, EDC leverages its partnerships with select financial institutions to help small businesses access capital and financial solutions to support their growth.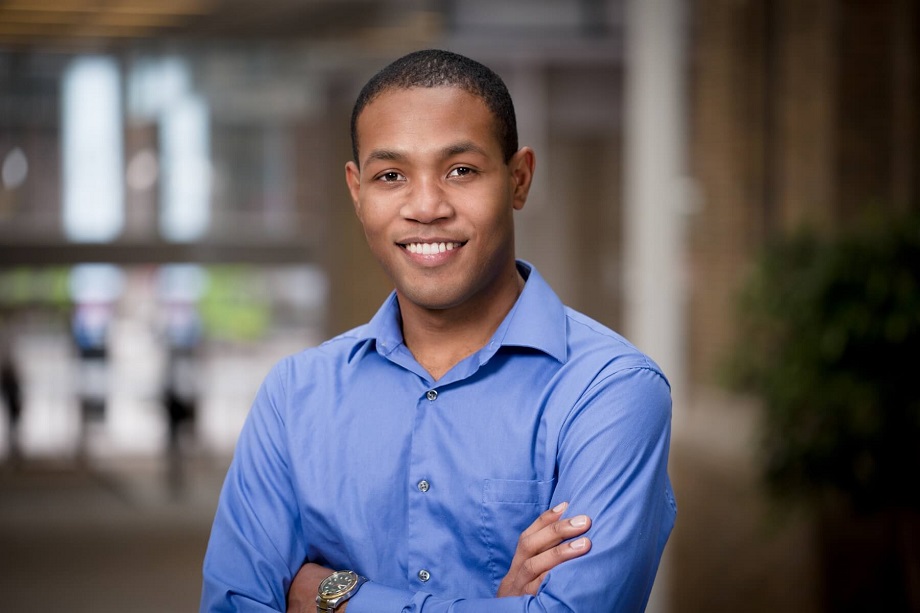 Originally from Jamaica, D'Oyen moved to Canada in 2010 to study at McGill University. A longtime champion and consultant on anti-racism, diversity, equity and inclusion initiatives, he's worked for a number of organizations, including Shopify, the City of Toronto and Corus Entertainment. He's also a member of the advisory board of Marigold Capital, a venture capital firm that applies a gender and social equity lens to its investment decisions. 
When D'Oyen began his role at EDC in July 2021, there was little data and research conducted on Black businesses throughout Canada. He's spent the past several months filling in "the missing gaps."
"In 2021, five reports were published by various organizations about Black businesses. I would consider them inaugural as we often use information about Black businesses in the United States to make inferences about Black businesses in Canada. While these reports didn't examine exporting, they offer very helpful insights such as barriers to starting and growing a business and the impact of anti-Black racism."
In addition to reviewing the reports, he's been meeting with Black entrepreneurs. Three challenges facing those he has spoken with include:
1. The prohibitive costs of shipping and logistics;
2. The systemic barriers for companies making less than $100,000; and
3. The cost of supplier diversity certification, which increases if one identifies as a member of more than one equity-seeking group rather than a single or integrated fee.
While many micro businesses face similar challenges, Black entrepreneurs contend with the additional burden of racial discrimination in business and society. 
"If we want Black-owned businesses to successfully enter and thrive in foreign markets, we need to design solutions with their situations in mind," says the strong proponent for inclusive trade.
Despite the challenges, D'Oyen is optimistic about the future. In the past couple of years, there's been a flurry of government and corporate announcements in support of Black businesses. EDC's focus on inclusive trade has grown steadily in recent years and in July 2021, we announced a $200-million Inclusive Trade Investments Program (ITIP) to provide equity capital to Canadian exporting businesses owned and led by people identifying as Black, women, Indigenous, and other equity-seeking groups. 
Under ITIP, EDC has committed to the Black Innovation Fund, which focuses on investing in Canadian pre-seed and seed stage technology companies founded by Black entrepreneurs.
"My goal is to ensure that Black entrepreneurs have the tools and supports they need to scale up their business. We need to create a trade ecosystem that's responsive to the needs of Black businesses. This is possible through collaboration and co-ordination with Black business-serving organizations, other government agencies and the private sector," D'Oyen says. 
"This is an exciting time as we see more discussions about economic development, entrepreneurship and wealth creation in the Black community."