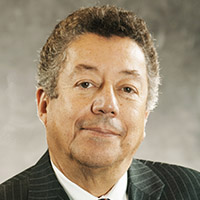 Mario Thomas
President and Board Chair,
Precision Biomonitoring
Mario Thomas
Dr. Mario Thomas is a broad-skilled senior executive with solid international credentials in the knowledge-based industry, including environment and biodiversity preservation. With over 30 years in leadership roles directing high-performance teams and corporate development, he creates remarkable value for all stakeholders.
The broad scope of Dr. Thomas' business engagements has taken place worldwide. He conducts business in a broad variety of settings and cultures globally. He is known as a solution provider to complex business challenges with a wealth of experience in directing diverse business transactions. His inclusive management philosophy brings people together fostering collaboration while leveraging all available resources to bring focus and precision to every project.  

Dr. Thomas founded Precision Biomonitoring Inc. six years ago where he is now President and Board Chair. Prior to founding Precision Biomonitoring, Dr. Thomas was Chief Executive Officer of the Biodiversity Institute of Ontario at University of Guelph, a world leader in biodiversity genomics. During his tenure at the University, Dr. Thomas was a board member of the Ontario Biodiversity Council and academic advisor to Team Canada for the COP on Biological Diversity.

Dr. Thomas holds a Ph.D. and a B.Sc. in chemistry from Université Laval in Québec City, and a diploma in business administration from École des Hautes Études Commerciales of Université de Montréal. He is also a Chartered Board Director.