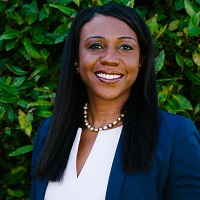 Tanya graduated from McMaster University in 2002 with an Honours Commerce degree, minoring in Economics. She then attended Osgoode Hall Law School, where she graduated in 2005 and received her law license in 2006. Tanya practiced at two Bay Street firms before opening Walker Law Professional Corporation ("Walker Law"), which was originally located on Bay Street and is now located in the financial district in downtown Toronto. Walker Law employs eight full-time employees in the area of commercial litigation. Walker Law prides itself on providing cost-effective legal services to resolve legal disputes instead of focusing on billable hours. Walker Law also delegates tasks based on complexity, which results in the client saving costs.
On August 9, 2016, Tanya was sworn in by the Law Society of Ontario to be the first black elected female bencher from Toronto in the now 224-year history of the Law Society and was re-elected in 2019. Benchers are similar to board of directors and are comprised of lawyers, paralegals and members of the public appointed by the government. All Benchers create rules to regulate nearly 64,000 lawyers and paralegals in the province. 
In 2018, Tanya was the recipient of the Lexpert (owned by Thomson Reuters) Rising Star Award, Minority Business Enterprise Award, and We Connect International Women's Business Enterprise of the Year Award. In 2019, Tanya was honoured with the Osgoode Hall Law School Gold Key Award. 
Tanya appears regularly on national television stations such as CityTV, CBC and CTV as a legal analyst.