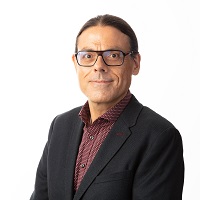 Todd Evans
National lead, Inclusive Trade, Indigenous Exporters
Export Development Canada
Todd Evans
A Miꞌkmaw from Newfoundland and Labrador, who's worked at EDC primarily as an economist for the past 25 years, Todd was thrilled to take on this new role in 2019. His job involves working with Indigenous organizations, along with First Nations, Metis and Inuit businesses⁠, and leveraging these partnerships to ensure EDC provides products and services that are relevant to them. 
Building self-sufficiency, financial sovereignty and community prosperity are common goals for Indigenous entrepreneurs and exporting can be the key to their success. Todd's ultimate goal is to help them take advantage of all that EDC's international trade ecosystem has to offer to achieve sustainable growth, both at home and abroad. 
More than 30 years ago, Todd started his career in economic development for Indian and Northern Affairs. In his new role at EDC, he says working with Indigenous businesses and communities feels like he's come full circle.