Trade was key to Indigenous prosperity long before the arrival of the first settlers. Facilitated by treaties and a continental network of trading routes, nations across Turtle Island (North America) relied on their unique expertise and resources to succeed. 
Today, Indigenous entrepreneurs and communities are looking to international trade to help them expand their businesses and achieve financial sovereignty. 
In 2019, as part of our commitment to inclusive trade, Export Development Canada (EDC) launched a program to support Indigenous businesses looking to export. After 23 years as an economist at EDC, I was excited to become the national lead. I imagined visiting First Nations, Métis and Inuit communities, collaborating with partners at conferences and dancing at powwows—a passion that's normally the highlight of my summer. 
But COVID-19 had other plans. Instead of hitting the road, I set up my home office and relied on video-conferencing to connect with the Indigenous business community. I discovered that the systematic barriers Indigenous people face made their businesses more vulnerable to disruption from the pandemic. Many struggled to survive and some once-thriving industries such as Indigenous tourism were left reeling. 
But I also witnessed the resilience of Indigenous entrepreneurs in the face of these challenges. I met many talented people determined to create jobs and prosperity in their communities, and I saw First Nations, Métis and Inuit economic development corporations sign significant deals to execute and take ownership in major projects on their traditional territories. 
I was proud to have EDC participate in the $150-million Indigenous Growth Fund, managed by our partner, the National Aboriginal Capital Corporations Association (NACCA). Working with their local Aboriginal financial institutions (AFIs), more Indigenous businesses will have access to the cash they need to grow. 
I also noted a growing awareness of Indigenous perspectives and issues among government organizations and private enterprises. There is still plenty to do, but I can see the map to a more equitable future emerging.
As we put the challenges of COVID-19 behind us, I hope more Indigenous businesses take on the world and achieve sustainability through exporting. Here are a few of the trends driving growth, innovation and inspiration in the Indigenous business community today.    
Economic reconciliation is good business
Last year, the discovery of unmarked graves on former residential schoolgrounds was a painful reminder of the toxic impact on generations of Indigenous peoples. Conversations about reconciliation took on new urgency, as more Canadians confronted the difficult aspects of the nation's history and committed to building new, respectful relationships with First Nations, Métis and Inuit peoples and communities. 
Economic reconciliation involving both public- and private-sector partners is a critical part of this conversation. Call to Action #92 from the Truth and Reconciliation Commission's final report outlines ways that corporate Canada can advance reconciliation through employee education, meaningful consultation and job equity. Call to Action #57 emphasizes the need for public servants to learn about the history of Indigenous peoples and receive skills-based training in intercultural competency. 
The benefits of partnering with Indigenous businesses flow both ways. Indigenous communities are seeking to develop sustainable, prosperous economies for their people. The business opportunity is tremendous. A TD Bank report estimates that the Indigenous economy in Canada could grow from its current $32 billion to $100 billion annually within five years, given the right investments. 
To get there, both government and private enterprise need to listen, confront their biases, and commit to breaking down barriers to growth by developing fair solutions and equitable access to capital that will allow Indigenous entrepreneurs and communities to thrive. The resulting prosperity will have a positive impact on the Canadian economy, and our society. 
You should also check out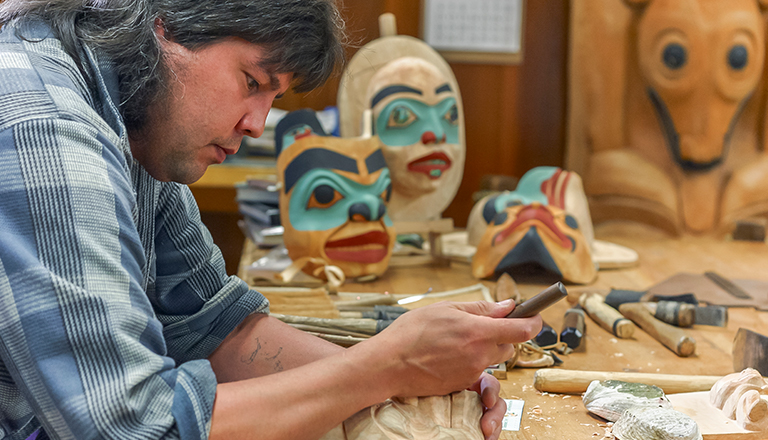 A flexible approach delivers the export impact
EDC understands that innovation and flexibility within our own programs are often required to ensure Indigenous businesses have the same opportunities as all Canadians to grow internationally. A great example is a shared risk financing deal we supported for our client, Niqitaq Fisheries Ltd., an Inuit-owned company managed by the Baffin Fisheries Coalition in Nunavut. 
Niqitaq exports cold-water shrimp and halibut to Europe and Asia. The company needed financing to build an innovative new trawler that would enable Niqitaq to scale up, operate more efficiently, and reduce its carbon footprint. 
Recognizing the export impact the vessel would have for the company, its employees and their communities, EDC collaborated with Scotiabank to structure financing to enable Niqitaq to build the trawler. When it's delivered in 2024, it's expected to be the largest Canadian-owned fishing vessel from coast-to-coast-to-coast.
EDC's work building sustainable, profitable export opportunities for Indigenous companies carries a community aspect that's incredibly important to me.
Be your own boss: entrepreneurship is rising 
Most Indigenous-owned companies in Canada are small- to medium-sized enterprises (SMEs), and many in the small category are sole proprietorships. This reflects the challenges Indigenous businesses face in scaling up, but it also illustrates a positive development: A lot of these businesses are small because they're new, as more Indigenous people are embracing entrepreneurship. 
Paul Macedo is the director of communications for Cando, a national organization that provides programming and services for First Nations economic development officers. He believes the trend is significant: "A growing number of Indigenous people, especially youth, are becoming entrepreneurs. Especially in rural areas, young people are creating businesses and employing themselves." 
Nothing captures the spirit of Indigenous entrepreneurship like Pow Wow Pitch, a program founded by Sunshine Tenasco to educate, support and empower Indigenous entrepreneurs and give them an opportunity to showcase their businesses in a national competition for seed funding.  
In 2021, more than 1,600 First Nations, Métis and Inuit entrepreneurs entered Pow Wow Pitch. This year, the contest is growing internationally, with an exciting program featuring both live and online pitch competitions.
EDC's work building sustainable, profitable export opportunities for Indigenous companies carries a community aspect that's incredibly important to me. As a judge for last year's Prairie Region semi-finals, I was impressed by the quality of the pitches, and inspired to hear how many contestants were motivated by a desire to bring economic benefits to their communities by starting new businesses. 
According to Tenasco, this impulse comes naturally: "As Indigenous people, we see the challenges in our communities, like lack of access to nutritious food and clean water, and we aim to use our businesses to solve the problems and challenges our communities face." 
 
Sunshine Tenasco with her daughter, Keggy Tenasco, at the 2022 Gathering of Nations Pow Wow in Albuquerque, New Mexico.
She also sees their efforts as part of a broader movement to Indigenize business: "Entrepreneurship is innate to Indigenous people. We create value and use for things and have a long history of trading. Today, Indigenous people are reclaiming and redefining business, entrepreneurship and trade in our own way, based on a reverence for the environment, honouring of unique cultures and values, and in a way that stewards a better future for generations. We are building business in a 'good way.'"
Indigenous brands have global potential
For many Indigenous entrepreneurs, building business in a "good way" includes putting their heritage and values front-and-centre in their brand identity. This strategy helps connect their business to their community while standing out in domestic and international markets. 
For Cheekbone Beauty, an Indigenous-owned makeup company based in St. Catharines, Ontario, building a strong international brand has always been about creating quality cosmetics with minimal impact on the environment. 
"Globally, consumers are demanding sustainability and see this as a must when making purchasing decisions. Our innovation in the sustainability world will only increase our global efforts," says Jenn Harper, founder and CEO of the direct-to-consumer brand. "I believe this gives us a competitive edge because we have incorporated Indigenous wisdom with western science and prioritized people and planet before it was trendy."
Over the past two years, Cheekbone Beauty has hit some impressive targets. The world's largest cosmetics retailer, Sephora, now sells Cheekbone products online and in 15 of its stores. Cheekbone also received B Corp certification for its responsible and sustainable business practices and Harper recently won the 2022 award for Business & Commerce leadership from Indspire, a national charity that invests in the education of First Nations, Inuit and Métis peoples. 
Through it all, Cheekbone has never wavered in its commitment to give back to the community. To date, the company has donated more than $150,000 to help Indigenous youth and women, including projects for clean drinking water, solar power and tree planting in Indigenous communities.
We're just getting started
EDC's commitment to Indigenous businesses is steadfast. We want you to succeed and there's an entire ecosystem of support available as you grow your business. Working with us gives you the opportunity to build relationships with our global network of partners and trade advisors, as well as other Indigenous businesses, associations and financial institutions. 
I encourage all Canadians to use National Indigenous History Month in June as an opportunity to learn more about the rich history and culture of First Nations, Métis and Inuit peoples, support Indigenous businesses and enjoy the amazing books, music, dance and artwork from Indigenous creators. 
EDC's 2023 Indigenous business targets:
Increase to 400 customers served, from 77 in 2020
Increase to $650 million in trade facilitated, from $119.3 million in 2020
As of March 2022, EDC facilitated $452 million in business (through direct lending, loan guarantees and trade credit insurance) for 210 Indigenous companies.