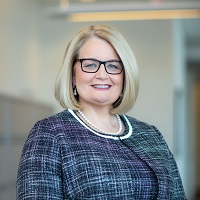 Mairead Lavery
President and Chief Executive Officer
Export Development Canada
Mairead Lavery
Mairead Lavery joined Export Development Canada in 2014 as Senior Vice-President for Business Development. From day one, she has been a passionate promoter of the Crown corporation and Canada's exporters. Appointed President and CEO on February 5, 2019, Mairead is determined to see EDC help thousands more Canadian companies "go, grow and succeed internationally."
Prior to EDC, Mairead held numerous executive roles at Bombardier. During sixteen years, she managed large and complex portfolios, including Finance, Strategy, Business Development and Business Transformation. Since coming to EDC, her focus has been on expanding the Crown corporation's impact in support of Canadian exporters by understanding their needs and championing their objectives here in Canada and in markets around the world.
Mairead is committed to social and environmental responsibility, addressing in particular the challenges of climate change, human rights and gender equity. She also believes in the imperative of a diverse and culturally inclusive workforce. 
Mairead is also the first woman to occupy EDC's chief executive role in its 75-year history.
A native of Northern Ireland, with a degree in Management and Accounting from Queen's University Belfast, Mairead is a Fellow of the Institute of Chartered Accountants in Ireland. In 2015, shortly after joining EDC, Mairead experienced another very personal and proud landmark when she became a Canadian citizen.