You'll find Aspin Kemp & Associates' (AKA) best-in-class green technology solutions onboard marine vessels around the world—from deep-water drill ships and passenger ferries to tugboats, and most recently, hybrid-powered fishing boats. Having conquered the seas, they've now set their sights on land, putting their solutions to work in solar farms, a variety of microgrid applications, and even hydrogen generators. 
Based in Prince Edward Island, the systems integrator and engineering company designs, manufacturers, and supports the power and propulsion needs for marine, offshore oil and gas, and land-based industries.  
Propelling safer, cleaner, and more cost-effective solutions
As diverse as their applications are, the company is laser-focused on engineering solutions that make power systems more reliable, safer and cost-effective to operate, with less of an environmental footprint. "We're No. 1 in terms of safety and reliability in marine power and propulsion systems," says CEO Jason Aspin, adding that they've also reduced fuel consumption, and subsequent carbon emissions, in marine vessels from 20% to 65%.
We're No. 1 in terms of safety and reliability in marine power and propulsion systems
For those familiar with this space, AKA's global strategic partners and customers read from the Who's Who list, and include leading German multinationals, MAN Energy Solutions and Siemens Energy, as well as American behemoths, GE Energy and Transocean Ltd. 
Being in the right space at the right time
The company was founded in 1996 and operated chiefly as a technical documentation company, specializing in marine mechanical systems. As they learned more about their customers' operations, they quickly discovered that not all of their component parts worked well together: There were gaps—and lots of them. So, they became systems integrators, devising innovative and customized solutions to fill those gaps and make everything work flawlessly and cohesively.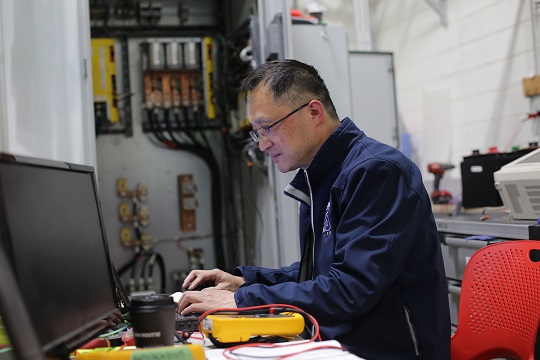 At the same time, the marine industry was undergoing a massive transformation. The technology shift from mechanical to electrical motors and the drive to automate is what propelled the young company forward. AKA was definitely in the right space at exactly the right time, with all hands on deck.
You should also check out
Although AKA had been exporting their documentation and engineering services from Day 1, 2013 marked a watershed moment. They landed an $80-million contract for the design and supply of power and propulsion systems for five new drill ships being built in South Korea. 
"This was a huge deal for them, well outside their normal scope," recalls Patrick Murphy, their account manager at Export Development Canada (EDC). "But their bank really believed in their capabilities, so they brought us in to help."
Typically, contracts of that size come with stipulations from both the buyer and seller. The buyer wants assurances that they'll get what they pay for; the seller needs their customer to provide money upfront, so they'll have the funds necessary to start delivering on the contract. But the buyer needs to know that they'll get their advance payment returned if the deal hits the rocks.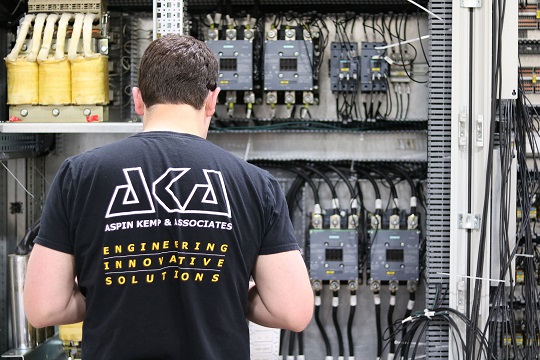 That's where letters of guarantee (LG) come in. Various types of LGs are issued by financial institutions (FI) on behalf of their customers to assure the buyer that the terms of the contract will be met. But in order to issue that type of guarantee, the FI needs to know that if their customer fails to meet their obligations—and their buyer makes a call on the guarantee—the FI is covered. That coverage comes in the form of collateral, whereby the FI freezes their customer's cash reserves or line of credit for an amount equal to the LG's value.
Although understandable from the FI's perspective, having to set aside $20 million as collateral in order to receive a $20-million advance payment defeats the purpose for the client. It ties up the funds needed to start work on the project. Unless you have an EDC Account Performance Security Guarantee (APSG).
Putting their collateral to work
EDC's APSG is the only guarantee solution offered in Canada that frees up the collateral used to secure LG requirements. It provides FIs with a 100% unconditional and irrevocable guarantee that replaces their need to collateralize their customers LGs. "At its core, the APSG is a collateral replacement tool," says Murphy. "It's a total risk transfer from the FI to EDC." 
An EDC APSG provides FIs with a 100% unconditional and irrevocable guarantee that replaces their need to collateralize their clients' LGs.
With an ASPG in place and no need to set aside collateral, AKA put their customer's advance payment to work immediately. "Once the contract was awarded, we had to set up orders with our own suppliers for long lead-time, custom-built items that would take up to 18 months to deliver, and they, in turn, asked for advance payments," explains Ravi Naidu, AKA's director of finance. In fact, this is standard operating procedure for the company.
For a new-build vessel, 24 months is the typical timeframe from contract award to completion. The APSG facility they have in place with their FI is used to cover advance payment, performance, and warranty LG requirements. The facility adapts to the different needs throughout the life of the contract, according to Naidu. 
The advance payment guarantee extends from contract award through to delivery of equipment. It's then replaced by a performance guarantee throughout the commissioning period, which can take up to nine months to complete. Once the project is running and certified, the warranty guarantee kicks in, which usually lasts for another year or two.
How an APSG can greenlight a project
 "The way we see it, the APSG eases the project burden of collateral, which is really important to us. Without EDC, it would have been difficult to execute contracts worth tens of millions in Korea, Singapore and Europe." Naidu goes on to explain that many of the projects AKA bids on are ground-breaking: They involve new, untested cleantech solutions that are the first of their kind in the world. Being able to offer performance guarantees can make the difference between a buyer being wary to take on the development risk, and them deciding to greenlight a project. 
Without EDC, it would have been difficult to execute contracts worth tens of millions in Korea, Singapore and Europe.
The initial $80-million South Korean contract was augmented by $20 million the following year, with a new $40 million contract awarded in quick succession to build two vessels in Singapore. Not long afterwards, AKA forged a strategic partnership with MAN Energy Solutions, one of the largest diesel engine manufacturers in the world. The partnership has enabled AKA to expand their market share, develop new technology to address environmental footprint concerns, and deliver turnkey packages to the marine market, as well as land-based industries.
Even the best-laid plans can't foresee global pandemics, tangled supply chains, wars and surging gas prices. As Naidu explains, when you bid on a project two to three years in advance—with no similar frame of reference—you don't factor in things like having to quarantine the specialists you fly all around the world, paying exponentially higher shipping costs, or dealing with run-away inflation. Despite these global storms—and thanks to their strong financial position—the company has been able to ride things out and has emerged firmly on solid ground.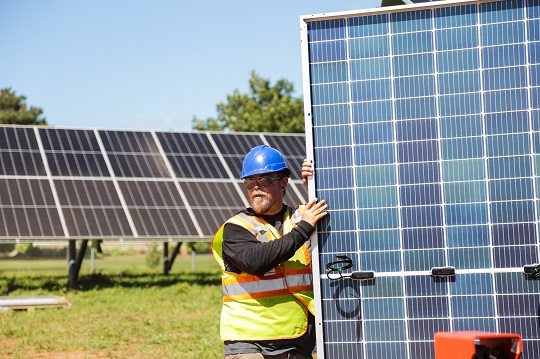 The huge returns of net zero
With net zero becoming a unifying call sounded around the world, AKA's future looks bright. They're immensely proud of the engineering, procurement and construction role they're playing in PEI's $69-million solar farm project in Summerside. And while still in the prototype stage, their hybrid fishing boats could be a boon to the Atlantic provinces, and indeed, any nation with a seafood industry. Their hybrid systems are being deployed on drill ships, ferries and barges around the world, helping to improve the quality of our oceans and waterways. On land, their solutions are enabling island states, like the Caymans, to provide cleaner, more efficient and reliable sources of power to their people.
Perhaps most telling is AKA's growing relationship with Shell Energy. In their quest to meet their environmental, social and governance (ESG) goals, the energy giant is actually forcing their original equipment manufacturers (OEMs) and other vendors within their supply chain to use AKA technologies. Of course, Aspin and his team won't waste any time before they start knocking on the doors of other global energy giants. Not a bad position to be in for what was once a small Canadian documentation company. 
You should also check out