When software developer Stuart Lombard tried to lower his family's energy use by programming their thermostat, he found that it was too complicated — even for an engineer. After coming home to a freezing house in the middle of winter, he decided it would be easier to just build a better device.
Lombard created ecobee, the world's first Wi-Fi-connected thermostat, controlled using a mobile device. Sales took off immediately.
Year after year, ecobee's sales more than doubled. Lombard found international partnerships for manufacturing and distribution. From day one, ecobee followed a North America strategy, and exported to the U.S. successfully.
But when the Google Nest was announced, along with countless other smart devices from industry giants, ecobee faced very real competition.
When we started we were the only product in the market and people really loved us," said Lombard. "We thought we were playing in the NHL but when Nest came along, we realized we were just the champions of bantam house league hockey.
To compete with large global competitors in the emerging "Connected Home" segment, ecobee needed to raise significant amounts of capital — far beyond its historical needs. EDC first met ecobee in 2011 and was well-positioned to help.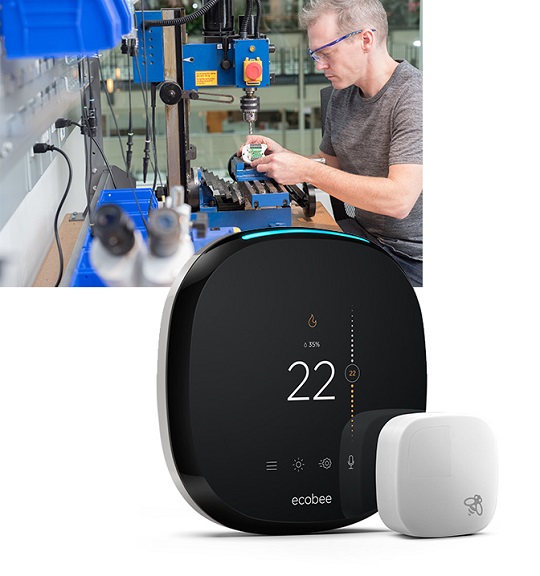 At the time, ecobee was not yet mature enough to access traditional financing products, but had made significant progress in the market. EDC's Investments team, which leads equity investing efforts for emerging next generation exporters, engaged.
EDC played an important catalytic role, with meaningful participation, in ecobee's $35 million Preferred Share equity financing. Those funds allowed ecobee to expand product development, and develop the world's first voice-enabled smart thermostat, the ecobee4, in 2017. They are also in the process of debuting an exciting new voice-enabled smart light switch, expected to be released in 2018.
The funding also enabled ecobee to grow market share and reach other milestones that allowed the company to attract an important new investor, and conclude an even larger financing round in 2018.

"We did really well against the Google Nest," said Lombard. "Competition makes us stronger and customers win."

The company is now well-positioned to compete globally. Today, ecobee products can be found in retailers such as Best Buy, Lowes, Walmart, Amazon and the Apple Store.

ecobee is a very strong competitor in the new home and home renovation segments, and partnered with many utility companies who promote its products to customers looking to save money and reduce their carbon footprint. These partnerships helped ecobee reach the number two spot in the U.S. market, with 24% market share.

With the global market for smart thermostats expected to quadruple in the next 10 years, ecobee is ready to continue their trend of export success.