Simmons Edeco is an international onshore drilling company with humble beginnings. The family-owned company was started in Saskatchewan in 1962 by Dale Simmons and his wife Joan. They acquired one drilling rig, then began to grow until soon after, opening offices in Calgary, Alberta. Throughout their company's journey, the Simmons have worked in many facets of the oil and gas industry. They've also owned a fleet of helicopters, drilled geothermal wells, and at one time, had a pipeline from Edmonton to Fort McMurray that fed from the oil sands natural gas. 
Niels Versfeld, CEO of Simmons Edeco, says, "Our core values have always been the same and they've sprung out of Dale's curiosity and desire to solve problems."


One of the biggest steps the company took was expanding outside of Canada. The first international country Simmons Edeco entered in partnership with EDC was El Salvador, with an EDC product known then as the EDC Performance Bond. "The performance bond was critical to us being awarded the work and helping to drive our international growth," says Versfeld. "Since that point, we've had a variety of interactions with EDC, such as EDC Credit Insurance, helping to springboard us into international markets."
Since that first step into international markets, the company has grown significantly, and continued using EDC's products along the way. "We feel EDC grew up with us as we grew up. Initially EDC only had a few products, but while working with us and other customers, EDC evolved to where it is now, just as we've evolved," says Versfeld.

Internationally, Simmons Edeco has done work over all continents, including in Albania, the Middle East, Papua New Guinea, Indonesia, Angola, Africa, Antarctica, Denmark, Germany, Vietnam, Latin America, Australia and the U.K. When they expanded into Mexico and opened a new office, they leveraged EDC's Export Guarantee Program, due to the payment terms in Mexico. This allowed them to access additional working capital and freed up cash flow so they could continue to operate their business while expanding. "That expansion may not have happened without EDC's support. We wouldn't have had the confidence to go forward with it," says Versfeld.
Throughout its history, Simmons Edeco used almost all of EDC's financial products. "Through products like accounts receivable insurance we have the confidence that we're going to get paid for our work, which allows us to expand."

Simmons Edeco also benefited beyond the financial products that EDC offers. Versfeld says that while the products have been paramount to the company's success, it's really benefited from a threefold approach. "EDC has helped us succeed by providing us with confidence, connections and cash." 
EDC's Business Connection Program provided Simmons Edeco with knowledge about markets, suppliers and more. "It has helped us build relationships, meet local partners, understand banking and legal services, and the overall political environment in the countries we're working in," says Versfeld. "And, since we've had such a long relationship with EDC, we've been able to get a variety of connections."


One of those connections is with Newpek, an oil and gas subsidiary of leading industrial conglomerate, ALFA. Simmons Edeco was introduced to Newpek through the EDC Business Connection Program, and has since submitted some proposals for work with them in Mexico. While Simmons Edeco knew a bit about Newpek from being in Mexico, Versfeld says having EDC's backing solidified the relationship for the company. "To get the independent connection from EDC really finishes the circle for us."
Although Mexico has been Simmons Edeco's main focus for a while, they're looking at other opportunities. "We're always open to new markets. Right now we are focused on expanding our Latin America business, for example Colombia and Ecuador," says Versfeld. The South American countries are a natural extension for Simmons Edeco because of how similar they are to Mexico and because there are Canadian operators already there.

They're also not opposed to coming back to Canada, but are very comfortable doing business internationally, so it's not an immediate plan. "We're always looking at opportunities at home, but by being creative and flexible abroad we've been able to create a niche," says Versfeld. "EDC's willingness to support our international risks has helped us provide Canadian solutions to markets around the world."
The company also wants to help other Canadian businesses understand the power of exporting. "We want to encourage exporting Canadian expertise, which we feel, and everyone else in the world knows, is the cream of the crop."
EDC Service used
EDC Business Connection Program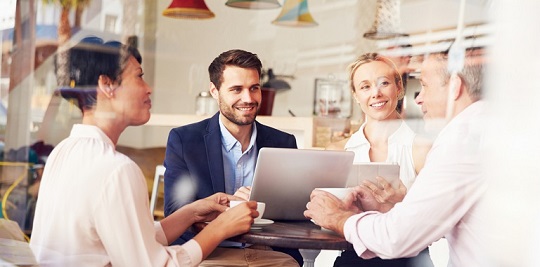 EDC customers can take advantage of our deep understanding of Canadian capabilities and specific needs of major international buyers with the EDC Business Connection Program. Through this program, Canadian companies are "connected" with international buyers through formal matchmaking events and other introductions.