Tornado Spectral Systems manufactures Raman spectrometers—chemical analysis and measurement products—in a way that no other company has been able to do. Raman spectroscopy is a technology that uses laser light to analyze materials at the microscopic level, providing valuable data to the pharmaceutical, biopharma, biotech and other industries. 
The tool that Tornado Spectral Systems has developed uses the company's patented high-throughput virtual slit (HTVS™) technology to collect light in a non-invasive way, allowing scientists to more thoroughly measure the information they need. 
"The nice thing about our technique is that it's not invasive. We don't destroy what's being analyzed when we take the measurement," says CEO Scott Baker.  The technique is unique in many ways, one being that it retains 90% of the light it uses, whereas previous tools allowed 90% of the light to go to waste. Tornado Spectral Systems' key sectors are pharmaceutical, bio-pharmaceutical, specialty chemicals or anyone making products in which they don't want to alter the product as it's being measured.
The company's other unique differentiator is that their technology significantly improves the sensitivity of the measurements. Manufacturers who use the Raman spectrometer can analyze the quality of their products in a tenth of the time than was previously possible. "With our technology, it's now possible to move the measurement from offline to online testing, saving time, improving yields and helping to reduce waste and costs," says Baker.
Many major pharmaceutical companies are in the United States, and a lot of research and development takes place for drugs in Europe and Asia. Knowing their target industries were mostly outside of Canada, Tornado Spectral Systems knew they would need a plan to sell outside of the country. 
Creating an export plan
Tornado Spectral Systems engaged with Export Development Canada (EDC) during their early stages, and took advantage of EDC's services a couple years later. When the company realized the majority of their customers would be abroad, they needed trade information and a strategy on how to reach them. "We knew in order for this company to be successful it couldn't just be a North American play. It had to be a global play because all of the work is being done worldwide," says Baker. 
On EDC's advice, the company engaged in many working groups, seminars and conferences to learn more about exporting, and when they were ready for financial support, EDC was there to help. "Developing an export strategy is a crucial step and EDC's been very instrumental in helping us move forward on that front," says Omar Abbasi, marketing communications specialist at Tornado Spectral Systems.
Developing an export strategy is a crucial step and EDC's been very instrumental in helping us move forward on that front.
Tornado Spectral Systems was getting a growing number of international orders and needed the cash flow to keep up. That's when EDC's Export Guarantee Program came into play. "EDC was wonderful in getting us connections with potential lenders. We were able to put an operating line in place so we could grow and have that working-capital comfort to buy inventory to supply our global orders," says Baker.

Baker adds he was pleased with how EDC worked with Tornado Spectral System's financial institution. "I was very happy with the support we got from EDC; it smoothed out the process for us and created confidence with our lenders."
Just getting started
To start their exporting journey, Tornado Spectral Systems focused on the United States and Europe. "We were small and knew we couldn't tackle more than one market at once," says Baker.
In the past year, the company met its goal of entering Asia-Pacific markets. They did a tour of Japan, South Korea and Taiwan, in hopes of reigniting some discussions they had had previously. "Now that we've had those talks again, there's a lot of activity in Japan for us and hopefully South Korea will start to manifest," says Baker.
In Japan, the company is comfortable having distributors sell their products on their behalf, and are even selling to manufacturers and R&D groups.
As the company grows, Baker says they'll keep turning to EDC for support and are considering EDC Credit Insurance to insure payment on their receivables. "We're always open to anything that EDC can help us out with globally."
EDC service used
Working capital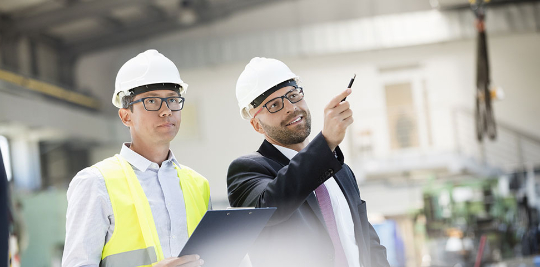 Our Export Guarantee Program (EGP) can help your bank provide you with additional financing.
We share the risk with your bank by providing a guarantee on the money you borrow, encouraging them to increase your access to working capital.