At this very moment, thousands of companies across Canada are searching for answers about exporting. That thundering sound you hear are the fingers of entrepreneurs and exporters pounding on their laptops to find out, "What's the best market for my product?" or "What are the risks of expanding outside Canada?" The problem is that in a fraction of a second, they'll be buried by an avalanche of 50,300,347 results.
Some will never dig themselves out, but for those who wade through the deluge of information, they'll find results from sketchy-looking websites, outdated articles from 1994 and irrelevant facts, like "Brazil's weirdest export" (which turns out to be badminton rackets). Hours later, they're no closer to finding relevant, timely trade information from sources they can trust.
Why finding trade knowledge can be such a pain for exporters
If you can relate to this scenario, you're not alone. Not having access to quality information or quick, actionable answers to trade-related questions is one of the top pain points for exporters, according to research conducted by EDC. And as more companies start realizing the benefits of exporting, including higher profits and sustained growth, the demand for trade information will increase.
Here's why it matters to you.
  If you're a business owner or entrepreneur, then your expertise likely lies in your business sector, from mining to medical equipment, rather than international trade.
  The majority of Canadian companies are micro-, small- or medium-sized enterprises, and therefore less able to afford in-house trade experts.
  The global marketplace is undergoing continuous and rapid change. Even international-trade experts need to climb fast to stay on top of—and analyze—the mountain of current economic, political and social impacts on trade.
Luckily, there's a better way
EDC's sole purpose is to help Canadian companies of all sizes go, grow and succeed internationally. To do that, we've created effective solutions and tools to provide expert trade information. Whether you want a more in-depth understanding of a specific market or a list of potential opportunities in different countries, the following resources from EDC and its trade partners, Global Affairs Canada and the Business Development Bank of Canada, can help.
Start by signing up with a MyEDC Account
There's no need to have a dozen different sites bookmarked to get access to the information you need. MyEDC is a new online portal that gives Canadian companies unlimited one-click access to EDC's international insights and guides. Just register once for a MyEDC Account, and you'll find free resources to help you make smart business decisions, mitigate risks and increase success in international markets. Our sources of trade knowledge and expert market intelligence include many of the resources you'll read about below, such as EDC InList, EDC Company InSight, EDC export help team (and the EDC Export Help Hub), plus a variety of timely reports, how-to articles, and much more. Create your MyEDC Account today.
Our website can help you determine if your company is ready to export and what your next steps should be. It also provides insights about markets around the world, timely forecasts about the global economy, and information about opportunities and risks for Canadian businesses beyond our borders.
You should also check out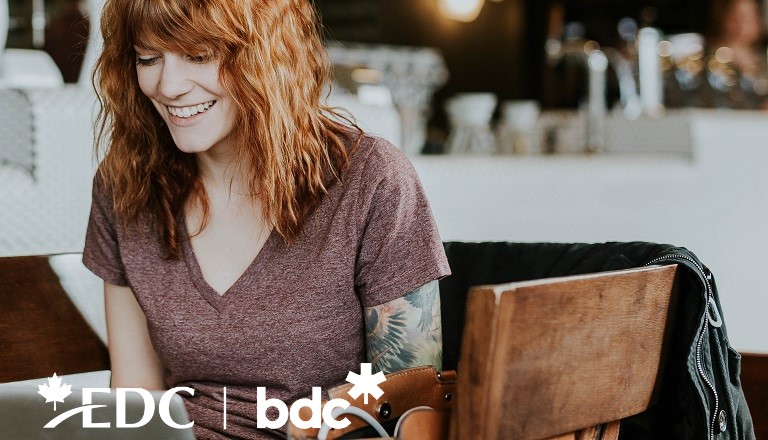 Live and on-demand EDC webinars
Want to benefit from expert insights on a variety of timely trade topics—from the impacts of today's economic, political, and cultural trends on exporting to how to get more money to grow internationally? EDC's live, value-packed webinars delve into a range of topics you need to know to go global, and provide a question-and-answer session so you can get more information about your company's specific needs.
And if you can't tune into the live broadcasts, no worries. You can browse our gallery of on-demand webinars at your leisure. See all the upcoming and on-demand webinars here. 
Good suppliers are critical to your success. They're often the ones you rely on for your product's materials, construction, marketing, sales and distribution, and after-sales service. One bad apple who fails to deliver on time or compromises the quality of your products can put your company at great risk. This can tarnish your brand and result in poor sales, decreased customer satisfaction, and unforeseen expenses.
That's why EDC InList was created. EDC InList draws on our extensive global network to bring you trusted service providers in Canada and in markets around the world. Right now, EDC InList is featuring freight forwarders, but different types of suppliers will be added in the near future. All of the suppliers in the directory have been vetted by EDC and must follow our code of conduct, so EDC InList is the quick and easy way to find trusted suppliers to match your needs.
Dealing with companies in other countries comes with added risks, so it's natural to be cautious when doing business abroad. Now, you can get the business intelligence you need—and peace of mind—with EDC Company InSight.
EDC Company InSight helps you find reliable information about international companies by giving you access to the same business registries and resources we use when evaluating a new customer, distributor or partner. The service also walks you through the validation process and provides helpful tips and resources. It enables you to find out what you need to know about a company to make better business decisions, including verifying a company's identity, validating its information and ownership.
EDC's Export Help Advisors have helped thousands of companies, large and small, to find success abroad. Using our global expertise and market know-how, we help you find the best export information and resources. Simply send us your questions and we'll follow up with detailed answers tailored to your business's needs, as well as provide referrals to relevant business partners. This saves you time and money so you can focus on what matters most: growing your business globally.
You'll also want to check out the new online EDC Export Help Hub, which provides the information you need to know about the U.S. and EU markets all in one place. It can help you hone your export strategy, find customers, and understand customs, trade regulations, and tax requirements. More countries will be added in the future, so check back often.
EDC x FITT Lite Learning Series
If you're a business owner who's expanding into international markets, or you work for a company that needs international trade expertise, it can be difficult to find the time to research markets and potential opportunities. 
That's where EDC x FITT Lite Learning Series can help. When you run into trade-related problems on the job or in your business, the EDC x FITT Lite Learning Series gives you solutions you can apply right away—and you can read through each unit in just one hour or less. The topics covered include selecting a market entry strategy, cash flow management, establishing sales channels to international markets, marketing with digital technology, and analyzing and mitigating currency/foreign exchange risk. The free downloads are taken directly from the acclaimed FITTskills courses, published by EDC and the Forum for International Trade Training (FITT), the industry experts you can trust.
Global Affairs Canada's Trade Commissioner Service
The Trade Commissioner Service (TCS), one of EDC's partners, helps Canadian companies navigate international markets, with commissioners located in Canada and in more than 160 cities worldwide. Trade commissioners can provide you with key business insights and access to an unbeatable network of international contacts, as well as on-the-ground market-specific export advice to help you achieve your international business goals. Their website also has a wealth of resources, including the free download, A Step-by-Step Guide to Exporting, ideal for companies that are new to selling overseas. 
Business Development Bank of Canada
Although not directly involved with exporting, the Business Development Bank of Canada is the only financial institution devoted exclusively to entrepreneurs. In addition to financing, it offers practical solutions and advice to help Canadian businesses successfully address a range of challenges and opportunities. Their website is also loaded with resources, including articles and tools to help you on your exporter journey. 
Check back often to learn the latest
The world of international trade is in a constant state of change, so EDC updates its resources regularly. Check back often to stay abreast of the latest trends, opportunities and risks, so you can make smart export moves for your company.