Export Development Canada (EDC) has worked with Farmers Edge since 2008 to support the development of sustainable, Cleantech solutions in agriculture. Most recently, EDC provided credit support to help Farmers Edge complete sales and establish a presence in new markets.
Farmers Edge is one of a small clutch of companies at the leading edge of what some people are calling the second agricultural revolution – the development of data-driven precision agriculture that will allow farmers to continue feeding the world's growing population.
The story begins in 2005 when two western Manitoban agronomists, Wade Barnes and Curtis McKinnon, realized that agricultural productivity could increase dramatically, with less water and fertilizer, by collecting and analyzing data on soil chemistry, moisture content and more. The two decided to start their own business, and Farmers Edge was born.
From those roots, Farmers Edge launched the industry's first and most complete suite of Precision Digital Solutions that focus on extracting value from farm data to help growers and agricultural professionals manage risks, maximize profitability and make more informed management decisions.
Today, the company's services still focus on data, but from a much larger range of sources that include daily satellite imagery, on-farm weather stations, soil sampling, nutrient management, precision application technologies for fertilizer and water, and artificial-intelligence-based software that gives producers a full understanding and direct control of their land and productivity.
"Precision agriculture is the biggest change to farming since the first agricultural revolution, and no other company has anything close to the suite of services we provide," says Wade Barnes, the company's CEO. "For example, we recently began working with an insurance provider to assess crop risk for individual farms, which will allow crop insurance to be tailored for specific needs and at a lower cost."
With over 550 employees in five countries and a growing customer list, Farmers Edge already has a presence in several export markets, especially the United States. Still, it has stiff competition in an industry dominated by global conglomerates that offer fewer services but enjoy name recognition and access to unlimited capital.
"We know precision agriculture is the way of the future and we are ready to gear up for it, but so are a lot of other companies that don't offer as much as we do but have a lot more money to expand," Barnes says. "We primarily sell software and knowledge, which means we don't have the infrastructure or inventory a lot of banks are looking for. Working with EDC shows we're a serious option."
Farmers Edge is a perfect example of how Canadians are making important improvements in our country's traditional, core industries, such as agriculture. Its commitment to precision agriculture and the potential impacts that technology can bring to the world are globally important, and we recognize Farmers Edge as one of Canada's "Cleantech Export Stars."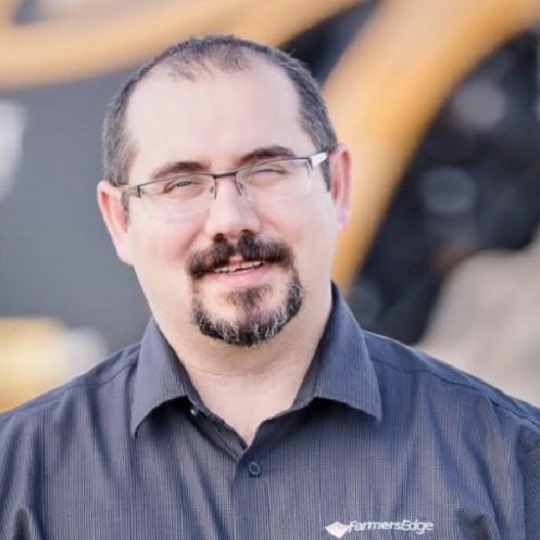 Wade Barnes
CEO Winnipeg
Manitoba