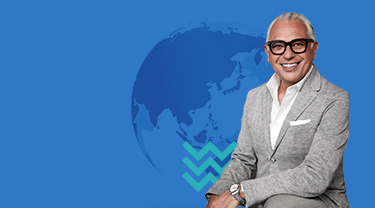 How Canada's Joe Mimran went from accountant to fashion mogul
You may not know fashion, but you probably know Joe Mimran.
Mimran is a Canadian fashion legend and entrepreneur who's been shaping the industry for more than 40 years. He's the founder of iconic brands like Alfred Sung, Joe Fresh and Club Monaco, and a former judge on CBC's Dragon's Den. He's the Chair of Gibraltar & Company, a Toronto-based investment firm that seeks out fast-growing Canadian disruptors.
As the Chairman of the Fashion Design Council of Canada, he helped transform Toronto Fashion Week into a global event that was acquired by IMG World. He was the honorary Chairman of the inaugural Canadian Arts and Fashion Awards and the recipient of several major distinctions, including the Canadian Style Award.
His distinctive style and vision have shaped some of the most successful brands in the world. Now, he's joining forces with Export Development Canada (EDC) as the host of our new Export Impact Podcast: A biweekly one-on-one sitdown with intriguing and successful entrepreneurs from across Canada.
But who's the man behind the silver hair and signature dark tortoise frames? 
Where to listen
Follow us on your favourite streaming platforms to never miss an episode of the Export Impact Podcast. Tune in to our podcast for new episodes every second Wednesday at 6 a.m. EDT.
The Beauty of Being Naive
You could say that fashion is in Joe Mimran's blood. "I loved fashion from a very early age," recalls the 70-year-old designer, who was born in Casablanca, Morocco and immigrated to Canada with his family in the mid-1950s. "My mother was a couturier, so I grew up with textiles throughout the house and the sound of a sewing machine always in the background."
But young Joe also had a head for business, graduating as a certified public accountant (CPA) with a deep background in finance. So, when his older brother Saul announced he was accepting a job with an apparel company, Joe proposed they start their own business instead.
Less than a year later, the brothers were selling dresses designed by their mother. "We realized very early on that famous brands and designers controlled the (clothing) market," he says.
Their first thought was to find brands to import to Canada—a common strategy for Canadian clothiers at the time. But it was only after a successful meeting with world-famous designer, Oscar de la Renta, that the brothers decided to create their own label rather than try to profit from the success of other designers.
"We thought, why should we pay a licence fee? What's stopping us from creating our own brand?" Joe laughs. "That's the beauty of being naïve because it's very difficult to build your own brand in Canada."
The Mimran brothers worked hard to overcome the odds. One of their earliest and biggest wins was forming a strong relationship with Alfred Sung, then a relatively unknown clothing designer living in Toronto. Impressed by Sung's talent and work ethic, they invited him to design a new collection.
"We told [Alfred] that we were going to make him famous," Joe recalls. "He was a little bit skeptical."
But their confidence turned out to be well-founded. The early 1980s saw a massive demographic shift as women started entering the workforce in vast numbers, and the Alfred Sung label offered the kind of stylish-but-practical workwear the market lacked.
The brothers brought Alfred into their business in 1980. Within three years, the Alfred Sung label was a household name in both Canada and the United States and the designer was hailed on the cover of Maclean's magazine as Canada's "King of Fashion." 
Club Monaco Conquers the World
In 1985, Joe parlayed the success of the Alfred Sung brand into the launch of a new label. Inspired by a visit to Japan, the line was going to focus on affordability and the sort of classic, clean lines typical of Japanese fashion. The name? Club Monaco.
The new brand was a runaway success. It quickly became one of Canada's most recognizable clothing labels and grew to more than 150 stores in Canada, the U.S. and Asia at its peak.
"The goal with Club Monaco was always to build it into an international brand, and I think we succeeded in that," says Joe. "It always comes back to integrity of product and ensuring that there's an actual market for what you're building. Lots of people come up with ideas for products or brands, but they don't know if there's a market or not."
The road wasn't always smooth. The economic recession of the early 1990s slowed the company's growth. There were also ongoing supply chain challenges, increased foreign competition and the ever-evolving demands of ESG (environmental, social and governance) compliance—a key concern in the apparel industry.
"Social compliance, in particular, has been very, very important throughout my entire career," says the father of four. "It has to become part of the company's DNA in terms of how it moves forward. And today, we have additional environmental and governance issues, which are also extremely important."
But he also believes that ESG compliance can yield major benefits. "Lots of private equity groups and other investors are only going to invest in companies that have great ESG compliance," he says.
There's also a major reputational angle. "Consumers today are very aware, very interested, very caring," he says, adding that he's had long discussions with his own children about how their ethical beliefs shape their shopping habits. "They want to vote with their wallets."
 
The Club Monaco brand grew so large that it attracted the attention of American fashion sensation, Ralph Lauren. "When I got the call from Ralph Lauren that he wanted to buy the company, that was a pretty big moment," Joe confesses. "He was one of the best brand builders in the world. And when somebody says, 'I've never bought any other brand before, but I love yours so much that I want to buy it,' it was definitely a highlight."
Sure enough, Club Monaco and Caban (Mimran's groundbreaking lifestyle and furnishings brand) were both sold in 2000. This marked Ralph Lauren's first-ever brand acquisition. 
In 2006, Joe partnered with Loblaws and President's Choice to launch the Joe Fresh label, driven by a vision of stylish clothing at a price point suitable for growing families. He retired as creative director of Joe Fresh in 2014, but he looks back on it with pride.
"The highlight was when we grew to 400 locations across Canada," he says. "At one point, it was the No. 1 apparel brand in dollars-per-unit in Canada, and it was so different than anything I had done before."
Most Canadians know Joe best, though, from CBC's popular Dragons' Den. He was a staple of the long-running program from 2015 through 2017, where he and the other investors, aka "dragons," heard pitches from aspiring entrepreneurs, hoping to secure financing and partnerships for their businesses.
"That was a lot of fun," he recalls. "I got to meet a lot of people and it was totally different from anything I'd done before."
These days, the fashion trendsetter is directing his attention toward several different brands. He supports Pink Tartan, a sophisticated sportswear brand led by his wife, Kimberley Newport-Mimran. He also aims to revitalize Tilley Endurables, a classic Canadian fashion brand known for its hats and travel clothing. And he co-owns Unity Brands, which recently bought Kit and Ace, a Vancouver-based brand that specializes in technical lifestyle apparel.
Joe has also launched his own creative projects. In 2021, he created Rise Little Earthling, a brand offering clothing and lifestyle products for young children. He also developed Gry Mattr, a line of home office essentials and accessories for flexible workers.
With his vast experience in international business, we asked Joe if he had any advice for Canadian exporters, and this is what he told us:
Find the funding first. Growing in an international market will never be easy. It's absolutely critical to have enough funding, or you could find yourself struggling both internationally and domestically.
Be certain the demand is there. You'll need to know in advance that yours is a proposition that people really want—and that it's as good as, or better, than anything in the rest of the world.
Attract partners. You can't do everything yourself. From sales and marketing to accounting and R&D, you have to ensure that things get done right to avoid costly mistakes. To accomplish all that, you're going to need lots of talented and trustworthy help.
Be passionate. You'll need to commit to being successful on a global scale. You'll have to work as hard—if not harder—than you worked to succeed at home. But the rewards are immense if you do it right.
Want to hear more from the savvy businessman? Be sure to check out EDC's Export Impact Podcast. He'll be sitting down with some of the most exciting names in Canadian business to learn the secrets of their success.