In today's business landscape, many things define a company's ability to thrive. When it comes to succeeding in the global economy, there's an absolute necessity to diversify. By diversification, I mean adapting every aspect of the way you do business. Gone are the days when you could rest on your advantage. If you're not constantly evaluating the who, what, where, when and why of your operations, chances are your competition is and they're looking for an opportunity to drive a wedge between you and your customers.
I don't mean to paint a bleak picture of business because that hasn't been my experience. But I do want to stress the necessity of adopting a diversification mindset. We often hear the words "nimble" and "agile" tossed around these days, not to mention the ability to "pivot." These are all important characteristics of the diversification mindset; however, to those qualities, I'd also add the secret ingredient: Curiosity. Simply put, you need to be eager to learn or try something new—that's the difference. 
Poster child of diversification
I was recently told that Titan was the poster child for diversification. I laughed at first, but honestly, it's the best kind of compliment. We're in the business of supplying, fabricating and installing high-quality geosynthetics, containment systems and specialty civil engineering products. What's most gratifying is that we not only save our customers money, we help them reduce risk and minimize their environmental impact. 
Today, our solutions are used in a wide range of sectors such as road construction, water and waste management, oil and gas, mining, hydro-electric production, and agriculture. In fact, it all started with agriculture 13 years ago, in a garage in Grande Point just outside of Winnipeg. Back then, we were 100% construction-based, and the bulk of our business was installing geomembrane liners for animal waste lagoons in the agricultural sector. The hog production industry was booming in Manitoba, there was a constant stream of installation projects from spring to fall, then winter hit—four months of it—freezing both the ground and our sales.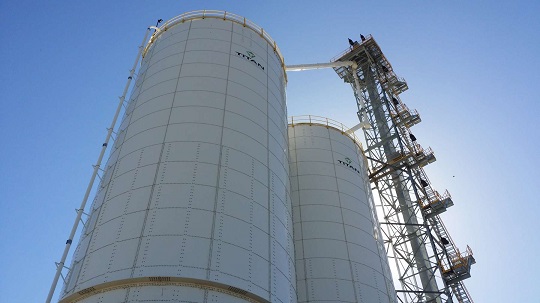 The boom in hog production in the province clearly had a domino effect on Titan's business. But as time went on, things subsided and so the question became, how can we find new, different customers? More to the point, how can we tweak our offerings to cater to a larger customer base? We knew we had to look beyond agriculture to other sectors. From there, we started drumming up opportunities in water and waste management, oil and gas, mining, and eventually into civil infrastructure with the expansion of our product lines, which grew our "supply only" division. Our basket of geotechnical and civil engineering solutions grew larger and so did our customer base. 
Expanding beyond Manitoba happened in tandem with our product and sector expansion. We started doing business in Alberta and British Columbia, then Saskatchewan, and eventually in Ontario. For us, it was a little bit like exporting because we had to learn the market differences in each province. There were things, like logistics, to consider, not to mention after-sales service. Sometimes in business, it's a case of: Be careful what you wish for. You really want that big order, but you need to be sure you're able to fill it. Before you begin to expand in earnest, you have to make absolutely sure that your business has the capacity to expand: Do you have the people, financing and operations in place capable of carrying through with your expansion plans?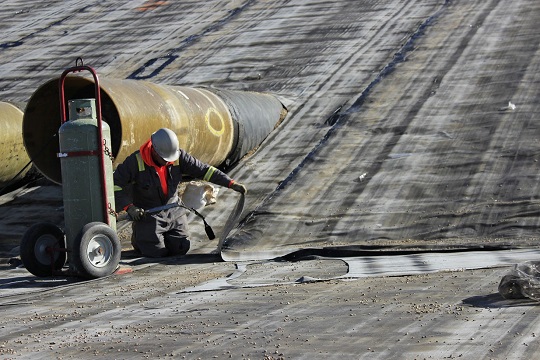 All that regional expansion was a great primer in readying us for the much bigger world of exporting beyond Canada. The United States was an obvious first choice. In the beginning, we both supplied and installed geomembranes for water and waste management projects, but we have since moved to strictly fabricating custom geomembrane panels, with the opening of a fabrication facility in Houston, TX. We recently won a bid to supply a project in Angola and are looking to make inroads for other supply opportunities in Asia and South America. In addition to our business in Canada and the U.S., we work with dedicated distribution partners in Mexico, Chile, Ireland, India, Malaysia, Australia and New Zealand who distribute our very own line of TE geogrids that we manufacture in-house.
Curiosity, humility and strength in numbers
In business, as in life, you often don't know what you don't know. Just because you've started a business and run it successfully for a number of years, it doesn't mean you've got what it takes to go global. Admit to what you don't know and seek out those who can help you fill in the blanks. For Titan, that meant working with Canada's three leading trade organizations: 
1. More than just a bank. The Business Development Bank of Canada (BDC) is so much more than just a bank for Canadian entrepreneurs. They're strategic advisors who can help you fine-tune your operations, so you're able to expand from a position of strength. We're now in our third year of their Growth Driver Program. They've been invaluable in helping us go from a high-level strategic plan to one where all the details have been fine-tuned. We've used their services, including consultation on website optimization, business process optimization, internal process efficiencies, and of course, financing. BDC introduced us to the World Trade Centre-Winnipeg's Trade Accelerator Program (TAP), and let me just say, that's a must-do for any exporter. TAP opened our eyes to the necessity of having a fully researched and vetted export plan, and by the time we finished their program, we had just that. 
2. Your access to 160-plus markets around the world. The Trade Commissioner Service (TCS) is one of the most incredible resources available to all Canadian companies, and to make matters better, their services are absolutely free. They have more than 1,000 trade officers located around the world. It's their job to connect you to global opportunities, including potential customers, agents, distributors, lawyers, accountants, interpreters…you name it, if you need an in-market professional, they'll connect you with them. Because they have such in-depth knowledge of every global market, they're able to point you in the right direction. For example, it was the TCS that alerted us to opportunities in Chile. What's more, they told us about the CanExport program, which will help cover expenses when entering new markets.
3. De-risking your international sales. Export Development Canada (EDC) has helped us by providing background credit information on international customers, as well as credit insurance, which ensures we get paid and provides huge peace of mind as a business owner. It acts as another strong layer on our credit policy. Recently, EDC was able to provide buyer financing for a potential $10-million deal in Chile. This involved sending a letter to our buyer offering to finance the contract—certainly invaluable as far as risk mitigation and fostering a level of comfort with our growth.
For Titan, the road to diversification has been paved by these partnerships. Quite honestly, they know what we don't, we trust their advice and they've never steered us wrong.