For many Canadian companies, OECD markets within the European Union are worth considering as part of their export growth strategy.
We know from our research that the United States is typically the first market Canadian exporters sell to. In fact, 65% of current exporters say they started in the U.S. and 62% of those companies planning to export intend to do the same.
Why? There are a number of excellent reasons. Tackling the U.S. market first allows companies to quickly increase sales and revenues. It is close to home allowing face-to-face contact with potential customers and and we have similar business practices. Finally, exporters can take advantage of North American Free Trade Agreement (NAFTA).
Another common strategy is for companies to target countries that are members in the Organisation for Economic Co-operation and Development (OECD) or those nations boasting a trade agreement with Canada. Research shows us that 22% of current exporters choose one of these two options, and 17% of those planning to export plan to do the same. This is also a natural next step for those looking to expand or diversify beyond the U.S.
What drives this decision?
No matter where companies decide to export first, their motivations are pretty much the same. Not surprisingly, the number one reason cited is to find more customers. Next is the desire for higher revenues and improved profit margins.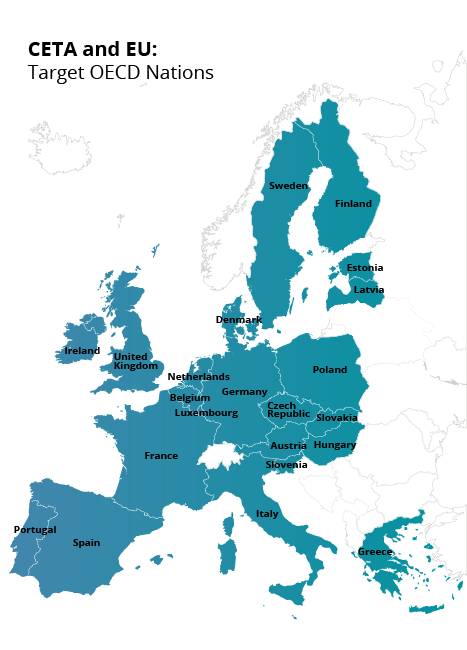 For companies planning to export to OECD countries, or to those countries that have a trade agreement with Canada, 37% said they felt they had a unique product or service they feel would do well in that market. Another 24% said they were following up on a unsolicited business opportunity.
Why target EU and OECD countries?
In a word, opportunity. The EU is one of the largest economies giving Canada access to 500 million potential new customers.
The potential for sales opportunities is even higher in OECD markets within the EU. That's because the OECD was created to share data, develop policies favourable to growth and help foster trade among its members. It has 35 members including Canada and 23 EU nations. Not only is it possible for companies to be more profitable selling to OECD countries compared to the saturated U.S. market,it can help exporters diversify, thereby reducing risks from regional economic shifts. Even better it can help extend product life.

Still, OECD nations offer their share of challenges. Language and logistics can be a barrier, as can differences in business practices and payment terms.
Fortunately, there are ways to help overcome these barriers.
How do trade agreements help?
The majority of Canadian exporters surveyed said they found navigating tariffs, export documentation and regulatory environments easier in countries with free trade agreements (FTAs) than in those without.
The Canada-European Union Comprehensive Economic and Trade Agreement (CETA) is one of the latest trade agreements to be signed and is expected to be highly beneficial as the majority of customs duties will be eliminated for Canadian companies.

Like all FTAs, however, it has complicated wording so companies need to understand their obligations and provide various documents including proof of origin.

You will need to have an employee, partner or broker that understands all of the legal ins and outs of these agreements.

Between the size of the European economy, the advantages of OECD markets, and the benefits of CETA to Canadian exporters, there is a real opportunity for expansion and profit in OECD nations within the EU.