Gender equality in business isn't a new issue. But if we don't make a "concerted effort" to change biases and support women's economic empowerment, it'll take centuries to level the playing field at the rate we're going.
That was the message Anne-Marie Lévesque, head of gender and impact service for FinDev Canada, shared at a conference in Ottawa earlier this year.
"Inertia is a very powerful force. Going against the status quo is always harder than just doing the thing we've been doing forever," said Lévesque during a panel discussion on women in trade and gender equality. 
"The last report from the World Economic Forum said that if we keep the current pace—because there are efforts being made towards a more gender-equal world—it'll still take about 200 years before we close the economic gender gap," she said.
Only 16% of small- to medium-size enterprises (SMEs) in Canada are majority-owned by women and of them, only 11%, are exporting today, says Jennifer Cooke, Export Development Canada's national lead of women in trade strategy.

The good news is "Canadian women are starting businesses at a faster and faster rate and we just need to continue to do our work to inspire them to think big and grow globally," Cooke says.
In February 2020, EDC doubled our Women in Trade Investments Program for Canadian women entrepreneurs to $100 million. The fund is one of many initiatives by EDC to serve the needs of women-owned and women-led businesses to expanding into international markets.
"We're investing directly into women-owned businesses, but also into funds that are led by women and have a commitment to having more women decision-makers on their investment team," says Cooke. "There's a clear gap in terms of women accessing capital at the critical commercialization stage."
Gender equality in business isn't a new issue. But if we don't make a concerted effort to change biases and support women's economic empowerment, it'll take centuries to level the playing field at the rate we're going.
But changing the narrative around women in business won't happen overnight.
"Incorporating or promoting women's economic empowerment is a very multifaceted issue that will require an equally multifaceted and holistic response," insists Lévesque, whose job at FinDev Canada is to help promote social economic development in emerging markets, including Latin America, the Caribbean and Sub-Saharan Africa.
"We're talking about very deeply entrenched biases and social norms about the type of jobs, studies or behaviours that men and women can and cannot have. That will require a concerted effort."
You should also check out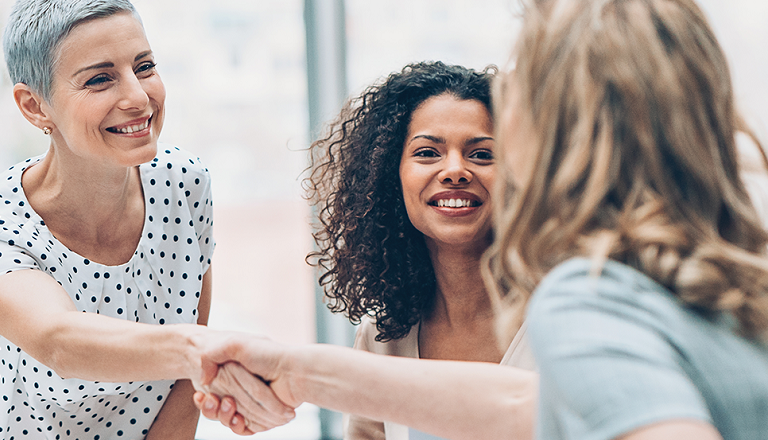 Nadia Theodore, Canada's consul general to the southeast United States, agrees there has to be a shift in mindsets and the proper framework in place to help more women entrepreneurs take on the world.
"This idea that if I have, then you don't or if I win, you lose. I think that is honestly at the root of so many problems that we're seeing generally in the world and I think we have to ultimately and vehemently reject that idea and we do that by setting up infrastructure and putting out the facts," says Theodore, former executive director for Canada's minister of international trade.
Based in Atlanta, the senior diplomat was involved in the negotiations of several of Canada's free trade agreements (FTAs), including the Comprehensive and Progressive Agreement for Trans-Pacific Partnership (CPTPP) and the Canada-European Union Comprehensive Economic and Trade Agreement (CETA). Both pacts now have gender chapters to help promote and support more women in trade. 
"Trade agreements don't make people trade or they don't make people or companies do business or export, but they develop a framework that allows governments to think about policies they want to put in place to help women-owned businesses and that's what the gender chapter in the trade agreements do," Theodore says. 
Other benefits:
They set up a framework for governments to share facts about the state of women in businesses in their respective countries.
They set up a framework for having a consul between our countries that helps us share ideas on how to get more women in business and more women-owned businesses exporting.
They demonstrate a commitment from those countries—from a policy perspective—to move forward with engaging more women in their economies.
Overcoming unconscious bias
It's common to judge others simply by the company they keep.  But in business, that can be detrimental. 
"As a business person, you feel differently and behave differently and strive to different heights when the people you are dealing with and sponsoring you and helping you along way look like you," says Theodore. "But if you're not intentional about reaching out to people who don't look like you, who have a different perspective than you in business, then you run the risk of not being inclusive."
Her advice?
"You need to be intentional. You need to set up the infrastructure or the systems that force you to reach out intentionally to women-owned businesses, Indigenous-owned businesses, black-owned businesses—underrepresented groups—to show them that you can support them and meet them where they are."
When it comes to funding—whether it's equity or debt—studies on unconscious bias have found that 66% of men versus 33% of women were approved for financing after using "the exact same pitch," Cooke says.
"What we forget is that women aren't a minority and we aren't all the same. We don't all have the same lived experience or barriers, but together, we're half the population," Lévesque points out. "But we don't have half the management positions or half the prime-ministerial roles in the world."
But she says the future is bright.
"The International Finance Corporation (IFC), a World Bank organization, published data recently saying women fund managers and women investment officers are twice as likely as other investors to invest in women. That's a real, tangible way to break down barriers."
With institutions, like FinDev Canada or EDC, that control capital and make investment decisions, more women can succeed in decision-making roles, especially and including investment decisions, she says.
To find out more about how EDC can help women-owned and women-led businesses, visit https://www.edc.ca/women-in-trade