With climate change and net zero emissions on the top of everyone's minds, many companies are looking for ways to reduce their impact on the environment and improve working conditions for their employees. One way to achieve this is by ensuring supply chains are sustainable as your products travel through different markets.
At Export Development Canada (EDC), we know that responsible and sustainable business is a proven formula for long-term success. That's why our goal is to help Canadian companies become internationally recognized as leaders in sustainability and responsibility to give them the competitive advantage they need to succeed. In today's global economy, strong environmental, social and governance (ESG) practices are key to growing your business and meeting  customer and stakeholder expectations.
Increasingly, consumers want to know that the goods they buy are responsibly sourced, both environmentally and socially, and are willing to pay a premium for that transparency.
In this blog, we reach out to Kevin Lyons, the associate professor of supply chain archeology at the Rutgers Business School in New Jersey, and Arnon Melo, managing director of MELLOHAWK Logistics, one of EDC's customers, to discuss the importance of supply chain sustainability.  
What is it?
Supply chain sustainability is a business strategy implemented by an organization to ensure its supply chain network has a minimum impact on people (human rights, the health and safety of employees) and the planet. In this blog, we'll focus on the environmental side of supply chain sustainability, which aims to: 
Reduce energy and water consumption
Generate less waste 
Adapt more energy-efficient systems/processes
Manage inventory to avoid overstocking
Reduce logistics-related impacts (emissions) 
According to the Boston Consulting Group (BCG), global supply chains account for 80% of the planet's carbon emissions. Of these, more than 90% of the companies in the supply chains are small- to medium-sized enterprises (SMEs).
How has MELLOHAWK Logistics helped a Canadian exporter go from a non-sustainable supply chain to a more sustainable supply chain?
Melo: Every client we have is on this journey. But one key exporter, who was always on very tight timelines, kept using the most expensive and carbon-intensive means to deliver her product. By encouraging her to talk to her clients about extending timelines and streamlining procurement and production schedules, she was able to make larger shipments—rather than several smaller ones—to significantly reduce her company's carbon emissions. 
You should also check out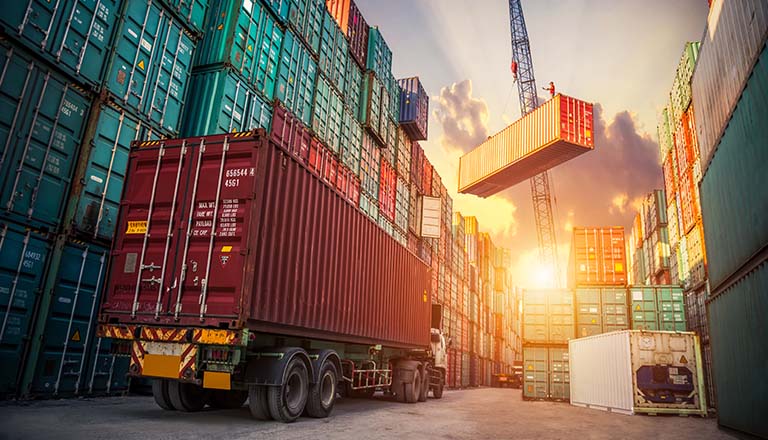 Non-sustainable supply chain: What not to do 
What are some of the worst non-sustainable supply chain examples you've seen? 
Lyon: Exploitation of workers and exposure of these workers to non-environmentally responsible conditions. One example is chemicals used in the clothing industry that harm the workers and clean water systems where they're disposed or dumped. Another non-sustainable practice is the inefficient use of energy within the supply chain, including logistics and warehousing. For example, if your company has to lease extra warehouse space to store overstock. Not only are you wasting energy moving the excess inventory, but also on the costs to store it until it's sold. Ideally, you only want to have enough stock in your warehouse to fill your client orders. Producing and shipping using the just-in-time concept can help make your supply chain more sustainable.   
Corporate social responsibility (CSR), ESG or supply chain sustainability?
How can they benefit each other?

Lyons: Supply chain sustainability can greatly enhance an organization's ESG (sometimes referred to as CSR) strategy because it's a value proposition that provides visibility beyond the walls of the organization. Your procurement or logistics department can work with their first, second and third tier suppliers to trace and track environmental impacts, which could be a risk or liability to the organization responsible for the original contract. ESG programs can also be designed and built around a strong supply chain sustainability program if this is the goal, mission and strategic plan of the organization.
Implement today, benefit tomorrow
If a Canadian exporter asks about "making their supply chain more sustainable," what advice do you give them?

Melo: There are many simple zero-cost ways to make your supply chain more sustainable. 
1. We encourage our clients to take a strong interest in how their products travel and how they're packed, so they aren't shipping air. It's also a good idea to recycle packaging whenever possible. 
2. Keep in good communication with your forwarder about the delivery schedule. Make sure they're on time, so the delivery truck isn't left idling waiting for the shipment to arrive. 
3. Research, plan and execute the packing and shipping of your products to prevent excess environmental harm and waste. 
4. Communicate with your customers about timelines and effective shipping. All parties are open to this discussion. Sharing awareness of the need for a sustainable supply chain can become a selling and marketing tool for your business.
Implementing sustainability in a supply chain can be difficult. What's one easy step an exporter can take to get started?
Lyons: Let your suppliers know that sustainability is a top priority for your company. Ask all of your partners and suppliers to contribute their Top 5 low- or no-cost innovative sustainability practices that they could implement to help reduce your company's environmental impacts. Once you receive their responses, prioritize and implement them as part of your new sustainability program.
A strong supporter of initiatives to address climate change, EDC is committed to achieving net zero emissions by 2050 by enabling Canadian businesses to position themselves for growth by investing in their ESG performance.