Whether you're an optimist or a pessimist, there's something for you in EDC's latest Trade Confidence Index, which provides a window into the past year and look ahead to 2019 with both good omens and dark clouds on the horizon for Canadian exporters.
First, the good news from our bi-annual survey of 1,000 Canadian exporters: even during contentious NAFTA renegotiations, orders from U.S. customers were robust throughout 2018. The strong U.S. economy is a key reason why Canada's merchandise exports are currently running 10% above levels a year ago.
According to those "on the ground," the outlook for Canadian exports remains upbeat going into 2019—the second best since the Great Recession. In fact, almost two-thirds of respondents expect their exports to grow over the next six months.
Canadian exports expected to increase over the next six months % of survey respondents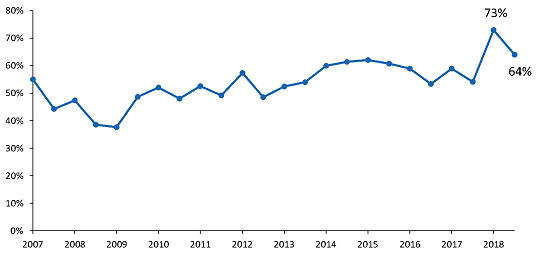 Source: EDC's Trade Confidence Index Survey
Foreign demand should provide domestic benefits, with almost half of exporters planning to increase hiring, even though they're increasingly having trouble finding skilled labour. Beyond our borders, the near-term outlooks for both foreign affiliate sales and outward direct investment remain above historical averages.
Perhaps the most positive development last year for Canadian exporters was getting a trilateral deal in September to update NAFTA, now referred to as CUSMA (Canada-United States-Mexico Agreement). The 14-month negotiation featured plenty of drama, including U.S. threats to withdraw from the deal. This was the top concern for Canadian exporters, reflected in EDC's surveys and discussions with exporters across the country—particularly for manufacturers in south-western Ontario, whose supply chains are deeply integrated with the U.S. economy.
All told, more than three-quarters of respondents held either a positive or neutral view of CUSMA. With the benefit of hindsight, it seems clear that in 2018, the elevated uncertainty associated with these talks, restrained investment intentions in Canada.
See a snapshot of the 2018 year-end Trade Confidence Index survey results
As negotiations proceeded, on-again, off-again deadlines created hard choices for Canadian exporters. Although many needed to invest—due to strong orders and limited additional productive capacity—there was uncertainty about future North American trade rules. As talks dragged on in 2018, some companies rationally delayed costly, long-term investments, such as building new factories, hoping that with the passage of time, clarity on trade rules would emerge to guide these important decisions.

With CUSMA moving toward passage in North American legislatures, expect less investment hesitation in 2019. Survey results before and after the deal show a significant drop in those delaying investment, and a notable pickup in investment and hiring intentions.
The bad omens for 2019 are largely global in nature. First, near-term expectations for the world economy have softened. Although the U.S. economy has done well, growth in Europe and emerging Asia decelerated throughout 2018, as did international trade growth.
Slowing global merchandise export growth  three-month average, year-over-year % change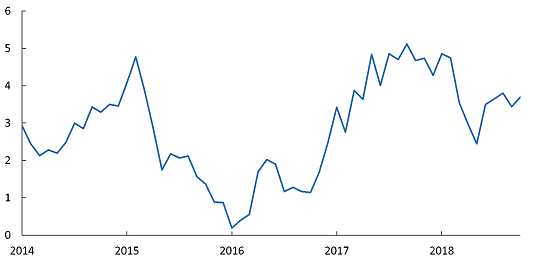 Source: CPB Netherlands
The second concern is the broader trade environment and what might lie ahead for global trade tensions. CUSMA talks have concluded, but Canadian exporters' concerns haven't fully abated; instead they've shifted elsewhere. The reason is that CUSMA was only one part of a broader U.S. strategy that's likely to continue under the Trump administration in 2019, as they seek trade concessions and a "rebalancing" of existing deals to benefit Americans.
At a macro-level, even if worries about CUSMA are fading, a significant share—32% of respondents—say that increased protectionism is affecting their global strategies. These impacts are being felt in various ways, such as "buy local/American" sentiments or provisions and a higher cost trade environment, which reduces our global competitiveness.
For the first time in quite a while, tariffs and trade barriers have become the top challenges reported by exporters as they look to sustain and grow their business outside of Canada. Yes, the U.S.-China tariff dispute is currently on pause, but Brexit may get even messier before the upcoming March 29 deadline for the U.K.'s withdrawal from the European Union, and the U.S. has plans for bilateral talks with the EU and Japan (perhaps Trump's threat of auto tariffs will be revived?).  
At a micro-level, Canadian exporters are worried that the CUSMA deal didn't end steel and aluminum tariffs. Unquestionably, the biggest negative shock in 2018 was the fact that the U.S. didn't permanently exempt NATO allies, such as Canada and EU members, from national security tariffs on these items.
Thirty-four per cent of our respondents said that their company's trade with the U.S. has been negatively impacted by these tariffs, which are raising production costs and shrinking profit margins. Negatively impacted firms say they are looking to raise prices, which are beginning to hit end consumers, find new markets or suppliers, and source locally to avoid the tariffs.
In the early days of 2019, optimists can point to a strong outlook for Canadian exports, driven largely by a U.S. economy that's currently running faster than its long-run cruising speed, and the relief from the end of NAFTA talks that should re-energize some sidelined investment.
But pessimists can point to slowing global growth and the threat of a further escalation of trade barriers. We'll have to wait and see what happens. In the meantime, join me for a free webinar on Jan. 16, where we'll dig into our survey in more detail and answer your questions.