Battered by wave after wave of pandemic shutdowns, rocked by supply chain shortages and pounded by war in Europe, the global economy now finds itself adrift, weighed down by stimulus debt and cost-push inflation, and surrounded by dangerous policy-generated market distortions.
In efforts to contain the surge in prices, central banks have hoisted interest rates at their fastest pace in a quarter century—with the U.S. Federal Reserve hiking rates by 475 basis points (bps), the Bank of Canada by 425 bps, and the European Central Bank (ECB) by 350 bps. While monetary tightening has helped slow inflation from its summertime clip, price increases remain well above their target speed and central bankers will now have to manage a choppy cross-current as growth begins to slow.
With savings rates having fallen from their pandemic highs, inflation eroding consumer purchasing power and higher interest rates sinking business investment, the world's largest economies run the risk of washing up on the shallow shoals of recession. Further increasing this risk are central bank commitments to firmly anchor inflation expectations, which continue to be buoyed by elevated costs for services and housing, and ongoing tightness in the labour market. We maintain that developed market central bankers will opt to build a pier a kilometre too long rather than one a metre too short, in their fight against rampant price pressures.
You should also check out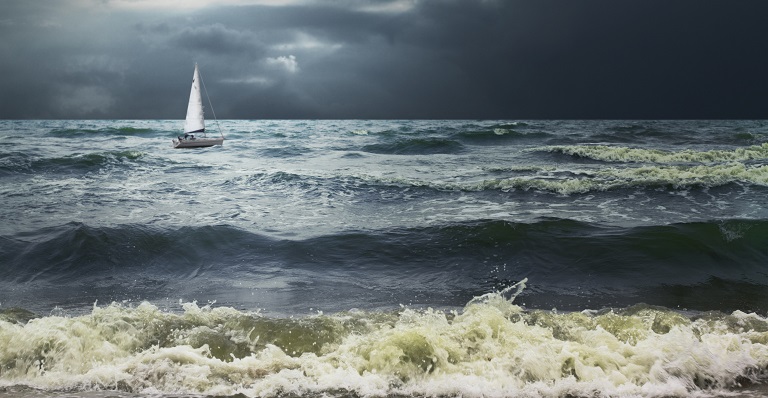 Global Economic Outlook—Stuck in the doldrums
With rising interest rates, record inflation and the Russia-Ukraine war, Canadian companies are facing new challenges and potential risks. EDC's Global Economic Outlook provides insights to help you make better business decisions.

Given the need to balance inflation, growth and surfacing financial market hazards, we expect the Bank of Canada to remain moored to its current policy rate in 2023, before letting rates sink only in early 2024. Keeping close watch of financial markets, the U.S. Federal Reserve still has a couple more 25-bp rate hikes to go before summer. We then expect the Fed to tread water until it starts to pull rates back down, toward the end of Q1 2024. 
These divergent policy paths will hit the Canadian dollar, as higher rates lead capital to flow into the United States, causing the loonie to plunge to an average of US$0.73 this year, before bobbing back to US$0.75 in 2024. 
After a stronger-than expected Q1, the U.S. economy will manage only shallow growth of 0.9% in 2023. In 2024, we expect growth to rev up to 1.2%, pulled by stronger horsepower toward the end of the year. In our spring Global Economic Outlook, EDC Economics anticipates a very mild recession in Canada this year, with growth stalling at 0.1%. In the wake of stronger global growth in 2024, Canadian growth will accelerate to 1.8%.
Across the Atlantic, the ECB will continue its cautious, but persistent rate increases through the end of 2023. Despite ECB tightening and the ongoing energy crunch, Europe managed to stay afloat through the winter, thanks to unseasonably warm winter temperatures and efforts to bear off Russian energy. As the effects of energy shortages work their way through the region's economies, however, and assuming a return to more normal winter and summer temperatures, growth is expected to slow. The Euro Area will barely stay above water this year, with growth of only 0.6%, before managing growth of 1.2% in 2024.
China's economy will be submerged by weaker global demand, as it plots its own reopening, following nearly three years of COVID-19 restrictions. Additionally, the lingering social effects of the lockdowns and the real-estate sector's menacing debt overhang will thwart Chinese consumer and business confidence. While we forecast China to hit its 5% growth target in 2023, this represents a sharp tack from its pre-COVID-19 trajectory. What's more, growth in 2024 will reach only 4.7%. 
The combined drag of these forces on the global economy will result in global growth of just 2.4% in 2023, one of the weakest annual growth rates in recent times, with the notable exception of 2020 and 2008. Growth in 2024 will float to 3.2%, as the recovery gets underway.
The bottom line?
The world's central banks have helped navigate the global economy through stormy seas and are now plotting a course toward calmer waters in 2024. But this year will see most major economies stuck in the doldrums, with notable dangers circling the waters, thanks to the unwinding of a decade's worth of unconventional economic policies. 
This week, a very special thanks to Ross Prusakowski, director of our Economic and Political Intelligence Centre.
As always, at EDC Economics, we value your feedback. If you have ideas for topics that you would like us to explore, please email us at economics@edc.ca and we'll do our best to cover them.