One of BCI's most important objectives was to diversify its client base beyond Canada.
"We needed to expand beyond the Canadian market and find new opportunities to pursue our expansion," says Cousineau. "Given our proximity to the U.S. market and similarities in consumption habits, our choice was fairly obvious. Americans spend over $7 billion buying soup annually." 
But first, BCI needed to increase its production capacity, and that meant getting the required capital to expand and modernize its soup-making and canning equipment. EDC was an obvious choice to assist BCI in putting together the right financial structure to support that growth.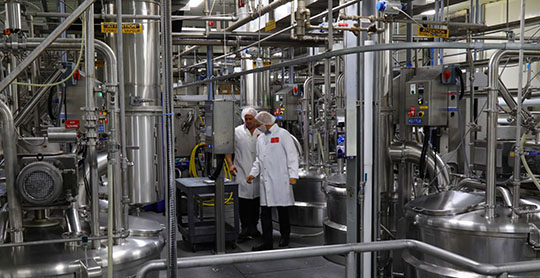 One of the first things Cousineau noticed about working with EDC was a feeling of reassurance. "The people at EDC are exceedingly supportive. They don't have a one-size, cookie-cutter answer for everybody; they listen to you and understand that each company has its own reality. So, for us, when making those decisions to acquire more equipment, it was very reassuring to have a financial partner, like EDC, to accelerate our growth."
To ensure BCI could get the optimum amount of capital to scale up its production capacity, EDC worked with BCI's bank, providing them with a guarantee for 50% of the required loan.