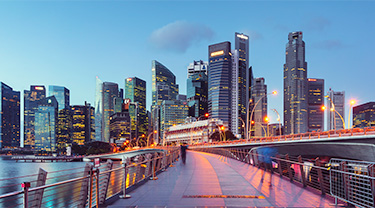 Doing business in Singapore
Singapore is a tiny country with a huge economic footprint. Founded as a trading post, the compact city-state has evolved into a leading financial centre, transportation mega-hub and global "smart city," with a vibrant tech scene. With its iconic waterfront, stunning botanical gardens and innovative spirit, Singapore is a standout location in the region and the world.
Singapore leverages its advantageous location in the centre of Southeast Asia by offering a first-class business environment that's a magnet for global investment. It's consistently rated one of the world's most open economies for trade and investment, and renowned for ease of doing business.
The country's multi-cultural, highly educated population of 5.8 million powers one of Southeast Asia's most dynamic and wealthy markets. Singapore's economy is strong and stable, with a gross domestic product (GDP) of approximately C$647 billion in 2022. In recent years, it's increased its commitments to sustainable environment, social and governance (ESG) practices and served as an incubator for emerging clean technologies. Other appealing attributes for Canadian businesses to consider:
Unparalleled connections for people and goods

: Whether by sea or air, you can get almost anywhere from Singapore. The island's

and its busy port connects more than 200 shipping lines with 600 ports across the globe. Changi Airport—ranked among the world's best—is strategically situated along major aviation routes, linking it to 130 cities in 100 countries.



World-class infrastructure: Singapore has and is ranked first in Asia for information and communication technology (ICT) infrastructure. It also boasts a top-notch local transportation network, with a well-connected public transit system that complements its international airport and port.
Familiar language: English is widely and fluently spoken in Singapore, which was a British colony for almost 150 years. Malay, Mandarin and Tamil are also official languages, but both business and government operations are conducted primarily in English—a convenience for many Canadian companies.
Given these advantages, Export Development Canada (EDC) sees Singapore as a market of opportunity for Canadian exporters and investors. It's a key piece to our Indo-Pacific strategy, and we're expanding our presence in Singapore to serve the market more effectively. In this article, we'll explain why EDC's focused on Singapore and provide you with details about: 

While it's a destination market on its own, Singapore's value to Canadian companies increases exponentially when you consider its trade linkages throughout Asia and the Indo-Pacific.
Canada's gateway to Southeast Asia
Few locations can match Singapore's advantages for Canadian companies seeking a launchpad into Southeast Asia and the broader Indo-Pacific region. Startups and established companies can harness its dynamic business environment to accelerate product development, find new partners, sell into nearby markets and grow internationally.
"You need to see Singapore to get how unique it is," says Olivia Lee, EDC's chief representative for Southeast Asia. "Everything is clean and orderly—business, governance, the city itself. You see it in things like how people never cross against the red light, even when there are no cars coming."

And she says the future is bright.
"Singapore is deliberately positioning itself as the region's leading city. It's booming and the government has a long-term vision. They create a new plan for research, innovation and enterprise every five years to support the knowledge economy and generate scientific breakthroughs in key areas, like health. It goes beyond the basics—they really want to improve everyone's quality of life in a meaningful way. It creates a certain energy that feels special," Lee says.
The bilateral trade relationship between Canada and Singapore is strong. As one of our key partners in the region, Singapore draws Southeast Asia's largest share of Canadian foreign direct investment (FDI), and the total value of Canadian exports to Singapore was $1.2 billion in 2022. But there's plenty of untapped potential and room to grow Canadian exports. 

The power of Singapore's free trade agreements
Canada and Singapore are members of the Comprehensive and Progressive Agreement for Trans-Pacific Partnership (CPTPP) and were among the first six countries to ratify the agreement on Dec. 30, 2018. Among its top benefits, the CPTPP:
removes import duties on most Canadian goods entering Singapore;
improves access for professional service providers; and
makes it easier for business visitors and investors to temporarily work in Singapore.  
While it's a destination market on its own, Singapore's value to Canadian companies increases exponentially when you consider its trade linkages throughout Asia and the Indo-Pacific. A founding member of the Association of Southeast Asian Nations (ASEAN), Singapore has more than 25 bilateral or regional free trade agreements (FTAs) in place, including the CPTPP and the Regional Comprehensive Economic Partnership (RCEP). Canadian companies can tap into Singapore's extensive network of trade agreements to access additional markets across the Indo-Pacific region.
Top business opportunities in Singapore

Singapore is both a stable, mature market, and a tech leader that offers growth through innovation. Canadian investors and exporters will find opportunities in Singapore that exist in few other locations. EDC's in-market team sees great potential for Canadian exporters in the following sectors:
Agri-food and agri-tech
With only 1% of its land suitable for agriculture, Singapore relies on food imports to feed its population, and the 19 million tourists who visit each year. While market competition is strong, EDC sees ample opportunity for Canadian agriculture and agri-food exporters of meat, fish and seafood, plant-based proteins and organic products to help meet Singapore's demand for high-quality, healthy food.
In recent years, Singapore has identified its lack of domestic food production as a strategic vulnerability and announced a goal to produce 30% of its nutritional needs locally by 2030. Getting there will require innovation. Both private and public money is flowing into Singapore to make it a global hub for research into agri-food technologies that support sustainable food production, and the government committed approximately US$250 million to help local farms become "highly productive, climate-resilient, and sustainable."
Canada's innovative, tech-savvy agriculture sector is well-positioned to help Singapore achieve its ambitious goals. Companies with expertise in sustainable food production, vertical farming, and other cleantech that maximizes farm output should put Singapore on their list of target markets.
Infrastructure and cleantech
Singapore has ambitious infrastructure plans, including the Tuas Mega Port, Changi Airport Terminal 5, and high-speed rail connecting Singapore and Kuala Lumpur, the capital and economic and business hub of Malaysia. Canadian investors and engineering, construction and project management companies may find opportunities to participate in these mega-projects.
Singapore is prioritizing sustainability and decarbonization for all its infrastructure projects, creating additional openings for our cleantech sector. The Singapore Green Plan 2030 sets bold targets to reduce the nation's carbon footprint, including having 80% of new buildings Green Mark certified by 2030. Canadian companies with experience in renewable energy, energy-efficient building design, and waste management can provide solutions and expertise to help Singapore hit its green targets.
Advanced manufacturing
With its embrace of technology transformation, Singapore leads the region's advanced manufacturing sector. Home to more than 9,000 manufacturing companies, Singapore is ranked third in the world for manufacturing value-added activities. Industries actively adopting advanced technology, including marine, aerospace, biomedical technology and robotics, rely heavily on Singapore's precision engineering firms for its products and services. Canadian companies with solutions in these areas can capitalize on the country's favourable business environment and strong innovation ecosystem to grow.
Doors open for global trade and investment
Singapore's business environment reflects the nation's commitment to free trade and the rules-based multilateral global trading system. Its government works closely with like-minded partners, like Canada, to deepen co-operation in trade and other areas of growth. Reflecting the values it champions, Singapore offers exporters and investors stability, a highly skilled talent pool, low ESG risk, and a business-friendly environment characterized by:
Favourable tax laws: Singapore has a , doesn't impose withholding tax on dividends or capital gains, and has tax treaties with more than 90 countries and territories. Various tax incentives are also available for businesses, making it a cost-efficient place to run a company.
Transparent business regulations: Singapore's regulatory regime, along with its efficient civil service, simplifies business processes and reduces uncertainty.
Rigorous intellectual property (IP) protections:  for strong IP rights protection, Singapore backs up its reputation as an innovation incubator with a solid framework to safeguard IP. Companies can be confident that their business interests will be protected in Singapore, and the laws are well-enforced by the government.
Policies and programs to accelerate innovation: From  that help small- to medium-sized enterprises (SMEs) access digital solutions, Singapore offers robust support for transformative technologies. As the region's popular hub for research and development, it's ranked second in the Global Talent Competitiveness Index and eighth in the Global Innovation Index.
Given these policies, it's no surprise that upwards of 7,000 multinational firms have established their regional headquarters in Singapore, making it an ideal location for networking. It's also a premier destination for "MICE" (meetings, incentives, conferences and exhibitions). 
EDC Singapore office
Singapore is home to EDC's Indo-Pacific regional headquarters and our only standalone financing branch outside Canada. Our in-market team conducts regional underwriting, business development, and in-house legal and administrative operations right in Singapore.

The Singapore branch also serves as a supply-chain talent scout for our partners in the Indo-Pacific. Our Business Connections Program promotes Canadian capabilities to international buyers and introduces them to Canadian companies that can add value to their supply chains. We can also offer financing to international companies working with Canadian suppliers.
Our proximity to businesses in the region makes us more responsive to their financing needs and positions us for greater impact in the market. We're here to make the connections that are essential to enhancing bilateral trade and investment between Indo-Pacific and Canada.
The EDC Singapore office is located at:
12 Marina Boulevard #34-04
Marina Bay Financial Centre, Tower 3
Singapore 018982,
UEN: T16FC0096K
You should also check out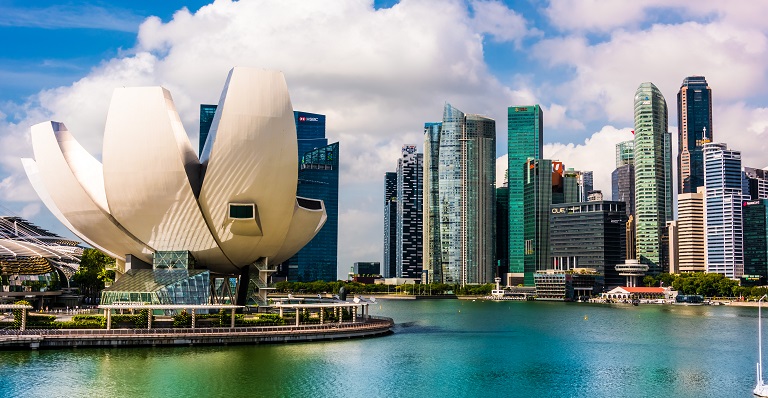 Support for Canadian exporters in Singapore
If you're interested in expanding to Singapore, Southeast Asia, and the Indo-Pacific, you don't have to go it alone. Our knowledge services are here to help you understand the opportunities, and EDC Credit Insurance makes exporting less risky by protecting you against the risk of non-payment caused by an array of events. With EDC's export credit insurance protection, your financial institution will typically lend against your insured invoices for 90% of their value, significantly increasing your access to cash.
EDC is part of the Government of Canada's trade ecosystem of experts available to help you save time, learn more about your target markets and identify the capital you need to grow. Led by the TCS, this network of solution-oriented departments and Crown corporations can solve export problems and offer new perspectives, so businesses, like yours, can confidently expand and succeed, at home and abroad.

Want to learn more?
Answer a few questions about your company to connect with EDC and experience the export impact.