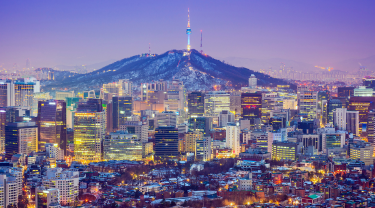 Doing business in South Korea: Tips and insights
From Samsung to Squid Game, Kia Motors to K-Pop, the Republic of Korea—commonly known as South Korea—is home to some of the world's strongest brands. It's a testament to the nation's remarkable success in building a dynamic market economy in the wake of the devastating wars, poverty, political turmoil, and financial crisis it endured in the 20th century. 
A global hub for high-tech goods, digital innovation, and advanced manufacturing technology, South Korea is now the fourth-largest economy in Asia, and 10th largest in the world, with nominal gross domestic product (GDP) of US$1.8 trillion in 2021
A market of opportunity in Asia
Export Development Canada (EDC) has identified South Korea as a "hidden gem" for Canadian companies seeking to diversify from traditional markets. A gateway into the Indo-Pacific region, South Korea's combination of high growth and stability offers sizable opportunities for Canadian exporters and investors. 
Sectors best suited for Canadian capabilities include: 
Agri-foods
Cleantech and cleantech infrastructure financing 
Advanced manufacturing
South Korea's 51.8 million citizens enjoy a high standard of living. Their collective purchasing power fuels South Korea's robust retail market, where demand for digital products and services, fresh and processed foods, luxury items and recreational goods is strong. Unlike some markets in the Indo-Pacific, where vendors must keep prices low to compete, South Korean consumers will pay a premium price for quality products. 
Korean demand for agriculture and agri-food holds enormous potential for Canadian exporters. As CKFTA removes import duties from more Canadian agricultural commodities and food products, our share of the Korean market is primed for growth.
EDC's new trade team in Seoul
As part of EDC's Indo-Pacific strategy to boost trade in the region, EDC is opening a representation in Seoul in 2023. Our in-market team will focus on creating new pathways for Canadian companies to do business in South Korea and take full advantage of opportunities in this exciting market. 
"There's a lot of positive buzz in the air in Seoul about Canada-South Korea engagement," says Joy Rankothge, EDC's incoming chief representative for South Korea. "It's a great time to take a serious look at the opportunities here and start growing your network." 
Canada and Korea: Partners on the global stage 
Canada and South Korea have a decades-long history of co-operation and established formal diplomatic relations in 1963. Since then, our bilateral partnership has been peaceful and productive, culminating in the 2015 Canada-Korea Free Trade Agreement (CKFTA). In 2022, Canada and the Republic of Korea established a Comprehensive Strategic Partnership, based on shared priorities in the areas of values, security, prosperity, sustainability, and beyond.
Strong political, social and economic connections between Canada and South Korea provide a clear pathway for trade. Since signing the CKFTA—Canada's first free trade agreement with an Asia-Pacific nation—bilateral trade has been increasing. In 2021, South Korea was Canada's seventh-largest trading partner and seventh-largest merchandise export market. That year, Canadian companies exported $6.3 billion of merchandise to Korea. Our top exports by category included:
Minerals 
Base metals
Wood pulp
Agriculture and agri-food products
Growing our trade relationship
Canada's robust trade relationship with Korea is ripe for further growth.  As part of our Indo-Pacific strategy, the Government of Canada and EDC have identified Korea as a market of opportunity for Canadian exporters, as we enjoy distinct advantages that can provide pathways to increase our exports:  
With CKFTA in place, Canadian exporters have preferential access to South Korea, with 97% of tariffs already lifted. By 2032, the CKFTA will eliminate tariffs on virtually all trade between Canada and Korea, simplifying import into this vibrant market. 
"Brand Canada" enjoys a positive image with Korean consumers. Their perception of Canada as a trustworthy nation with a clean environment and abundant natural resources benefits a range of Canadian products—from sporting gear and apparel to fresh foods. As South Korea is the fifth-largest country for retail sales in Asia, with a growing market for luxury goods—it's also one of the top markets for outdoor wear in the world—Canadian brands are leveraging this goodwill to grow in a market with robust demand.   
The governments of Canada and South Korea have expressed a desire to co-operate on supply chain resiliency and the clean energy transition, including shared research and development efforts with high potential for commercialization. The resulting initiatives may generate new opportunities for Canada's critical minerals, advanced manufacturing and cleantech sectors. 
"Working alongside our Team Canada partners, we're committed to building strategic relationships with local market leaders, making connections for Canadian businesses, and strengthening ties between our countries through trade," says Rankothge of the key benefits to having a new representation in South Korea. "We're excited to start opening doors for Canadian companies."
Abundant opportunities for Canada's agriculture and agri-food sector
Korean demand for agriculture and agri-food holds enormous potential for Canadian exporters. With limited domestic capacity in the sector, South Korea is a net food importer. In 2020, Canada was South Korea's 10th-largest supplier of agri-food products, with exports worth $1.2 billion, and 12th-largest source of processed food imports. As CKFTA removes import duties from more Canadian agricultural commodities, agri-foods and food products, our share of the Korean market is primed for growth. 
A desire to consume higher-quality and organic foods, along with changing eating habits, are creating opportunities for Canadian products. Korean consumers are becoming more health-conscious, and spending more to incorporate higher-quality, higher-priced options (meat, seafood, fresh produce and organic foods) into their diets. Another trend that's favourable for Canadian producers is the rising popularity of traditionally Western foods, like dairy products and wheat-based goods.  
The Korean Green New Deal spurs clean energy transition
Driven by the dominance of heavy industries and reliance on coal, South Korea's greenhouse gas (GHG) emissions are 7th-highest in the world (Canada ranks 9th). Air quality has become a potent political issue domestically, and the South Korean government has responded with bold initiatives and massive investments to cut carbon emissions. In 2019, it declared pollution a "social disaster" and passed a series of emergency measures to address the problem. It later pledged to cut coal even more aggressively, as part of a new energy plan. 
Announced in 2020, Korea's Green New Deal (GND) set ambitious targets to accelerate the country's clean energy transition:  
Achieve net zero by 2050.
Move to 100% renewable energy (RE) future, with 20% RE production by 2030. 
Phase out coal-fired power by 2050 and nuclear power by around 2060.
Gradually replace oil and gas imports with clean hydrogen.
Spurred by the GND, South Korea has earmarked approximately US$60 billion to develop renewable sources of energy that reduce its dependency on fossil fuel imports. While the government has walked back the original timeline to phase out nuclear power, the imperative to move beyond fossil fuels remains. 
A role for Canadian cleantech
With the massive investments the Korean government and private sector are making to meet the targets, considerable opportunities exist for Canadian cleantech companies, including: 
Carbon capture and storage 
Water treatment
Hydrogen and fuel cells
Offshore wind 
A need for project expertise and technical consulting on large-scale projects related to the clean energy transition may also represent an opportunity for Canadian firms. 
Once fully implemented, the CKFTA will eliminate tariffs on all sustainable technology products, which will help Canadian producers compete against domestic players in the segment. In addition, the Canadian and Korean governments have agreed to deepen co-operation on critical minerals used in electric vehicle (EV) batteries and strengthen our strategic partnership on supply chain resiliency and battery and EV value chains. South Korean companies have already made investments in Canada, and more is expected in the near term. 
Key challenges for exporting and investing
South Korea has one of the most favourable business environments in the Indo-Pacific region. With an economy heavily driven by international trade, South Korea places very few restrictions on international investments and ownership, and offers: 
an open economy;
business-friendly government policies; and 
improved standards of corporate governance. 
South Korea is also renowned for its first-rate infrastructure, commitment to innovation, well-educated workforce, and low crime rate.  
But the business environment isn't without its challenges. "South Korea's consumer market is extremely dynamic. They're setting regional and global trends right now," notes Rankothge. "To be successful, Canadian companies will need to adapt to the fast-paced changes and scale up to meet the demands of the local market." 
Some of the biggest barriers in South Korea for Canadian businesses include:  
A complex regulatory environment
Managing logistics in a distant market
Strong competition from domestic and foreign suppliers 
Not understanding local needs, tastes and rapidly evolving trends 
Unfamiliarity with the domestic companies that dominate Korean e-commerce  
A hierarchical and insular business culture that many foreigners find difficult to navigate 
Given these complications, engaging a local partner who speaks Korean and understands local traditions, norms and processes can help Canadian businesses break into the market. 
Chaebol: The backbone of South Korea's economy 
Despite its growing openness and diversification, South Korea's economy remains dominated by mega-conglomerates called chaebol. Some are household names in Canada: Samsung, Hyundai and LG. Usually family-run, these corporations wield extraordinary influence on South Korea's politics and economy, accounting for up to 80% of the nation's GDP.  
In that latter half of the 20th century, chaebol were instrumental in transforming South Korea's economy from primarily agrarian to industrial. As the Korean economy evolves and becomes more open to new enterprises, the role of chaebol is changing. At the same time, their relevance and dominance across the economy remains.   
Canadian companies selling into South Korea should be prepared to navigate chaebol supply chains and intercompany networks.  Since the conglomerates are active across multiple sectors, successfully leveraging these networks has the potential to open doors to greater opportunities.  
As we implement EDC's Indo-Pacific strategy in South Korea, our in-market representatives are committed to building strategic relationships with the country's conglomerates to explore ways for Canadian exporters to participate in their vast supply chains.  
Support for importing into South Korea
If you're interested in expanding to South Korea, you don't have to go it alone. EDC's financial and knowledge services are here to help you understand the opportunities and make exporting less risky. 
EDC's in-market team builds relationships with South Korean businesses and institutions to find opportunities that Canadian companies might otherwise overlook. Our Business Connections Program promotes Canadian capabilities to international buyers and introduces them to Canadian companies that can add value to their supply chains. In 2023, we signed a memorandum of understanding (MOU) with South Korea's official export credit agency, Korea Eximbank (KEXIM). The MOU expresses our commitment to increasing collaboration and strengthening our relationship with this strategic partner. 
EDC is part of the Government of Canada's trade ecosystem of experts available to help you save time, learn more about your target markets and identify the capital you need to grow. Led by the Trade Commissioner Service (TCS), this network of solution-oriented departments and Crown corporations can solve export problems and offer new perspectives, so businesses, like yours, can confidently expand and succeed, at home and abroad.
The provinces of Alberta, British Columbia, Ontario and Quebec also have export and investment promotion teams on the ground in South Korea. These offices raise the profile of their respective province in the market, build commercial relations and promote provincial exports. 
Across all sectors, you can find the support your business needs to thrive in this captivating market.