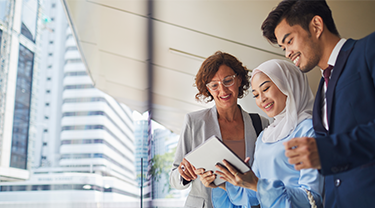 How Canadian exporters will benefit from our Indo-Pacific strategy
Business and investment opportunities in the Indo-Pacific region are too big to ignore. With 40 countries, more than four billion people and $47.19 trillion in economic activity, the Indo-Pacific is the world's fastest-growing region. By 2030, it'll be home to two-thirds of the global middle class, as economic growth boosts income for millions of households. Countries throughout Asia and the Indo-Pacific region are investing in supply chain resilience, infrastructure, sustainability, cleantech, and digital transformation. Canadian products and services have a strong reputation in the region, and we can play a significant role in the Indo-Pacific's continued development.    
Export Development Canada (EDC) is committed to deepening Canadian trade and investment across Asia. Our Indo-Pacific strategy will build a progressive, inclusive Canadian trade ecosystem designed to make market entry easier for Canadian companies in this high-growth, high-potential region. We're increasing our investment in the Indo-Pacific and expanding our presence on the ground, so we can more effectively:
Help new entrants get started by de-risking the market 
Get closer to our in-market customers
Collect and share market knowledge with Canadian exporters 
Build strategic relationships with local market leaders
Connect Canadian businesses to Indo-Pacific supply chains
Offer products tailored to the market
Our plans align with the Government of Canada's broader Indo-Pacific strategy and goals for trade diversification. Leading with our commitment to environmental, social and governance (ESG) and inclusive trade, we're making the long-term investments in the Indo-Pacific that will enable Canadian exporters and investors to diversify, create good jobs at home, and deliver economic and social benefits in the countries where Canadians do business. That's the export impact. 
Why is EDC investing in the Indo-Pacific region?
"The scale of the opportunities in the Indo-Pacific are eye-popping. For infrastructure alone, the Indo-Pacific needs an estimated $2.1 trillion for strategic investments and partnerships. This is Canada's chance to diversify our trade markets in a meaningful way, strengthen our economy, and make our supply chains more resilient, while contributing to global efforts to decarbonize," says George Monize, vice-president of global business development at EDC. 
Mega-trends in the Indo-Pacific are driving unprecedented demand in additional sectors where Canadian companies can provide the goods and services the region needs, including:  

Capturing even a small slice of the growing pie in the Indo-Pacific could have outsize benefits for Canadian exporters and the Canadian economy. Monize believes that Canadian industry is ready to seize the opportunity: "At EDC, we see the strength, innovation, and the depth of talent of Canadian exporters up close, every day. There's no question they can compete for contracts in the Indo-Pacific, and win. Our job is to help them get a seat at the table."   
Here's what EDC's doing to make it happen. 
In 2023, we're opening representations in Jakarta, Indonesia and Seoul, South Korea. We're also adding staff across the Indo-Pacific, including in our regional hub in Singapore, and exploring options to expand in more Asian countries over the next few years. These additions will complement our existing representations across the Indo-Pacific region. 
Having robust teams in key markets allows EDC to help Canadian exporters overcome the challenges of doing business in the Indo-Pacific: The region is far away, and visiting can be expensive and time-consuming. By putting our people in growing markets to build relationships and identify opportunities, we open doors for your company before you leave home.  
Large projects can have long timelines. That's why we're adapting our financing and insurance solutions to meet the needs of Canadian exporters and their customers in the Indo-Pacific, including:
extending credit insurance for longer terms;
piloting local currency financing in select markets; and
increasing our risk appetite to match the opportunities emerging in the Indo-Pacific.
As we deepen our business ties in the Indo-Pacific, we'll continue to evolve our products and innovate to ensure that Canadian companies have ready access to solutions that help close deals. 
In some Indo-Pacific countries, market leaders—conglomerates, pension funds, sovereign wealth funds and state-owned enterprises—drive the business environment in key sectors. As part of our Indo-Pacific strategy, EDC's representatives are committed to building strategic relationships and personal connections with market leaders who share our ESG values to promote Canadian capabilities for their solutions and supply chains. 
By making market entry easier for Canadian companies in this high-potential region, EDC's Indo-Pacific strategy will help strengthen the Canadian trade ecosystem. 
"We want to create a pipeline of opportunities for Canadian businesses of all sizes to participate in the Indo-Pacific," says Sven List, senior vice-president of corporate and international at EDC. "When large Canadian companies are winning more contracts and securing partnerships with Indo-Pacific market leaders, doors will open down the supply chain for indirect exporters and smaller companies in Canada. We've been successful with this model in several markets and want to replicate it in the Indo-Pacific."
The Indo-Pacific is not one market, but many. As we increase staff across the region, our teams will develop timely, in-depth market intelligence for Indo-Pacific countries that provides Canadian exporters with the knowledge you need to identify opportunities and overcome operational hurdles. 
EDC isn't building a Canadian trade ecosystem in the Indo-Pacific on our own. As part of our Canada trade team, we're collaborating with our counterparts in Crown corporations and government to ensure that Canadian businesses and investors can access the full complement of programs, expertise and support you need to expand in the Indo-Pacific. We recognize that if we don't have the program or solution, it's highly likely one of our partners do.
Our solution-oriented departments and Crown corporations can solve export problems and offer new perspectives, so businesses, like yours, can confidently expand and succeed in the Indo-Pacific.
Partner spotlight
The Canadian Commercial Corporation: Helping Canadian businesses sell to foreign governments 
The Canadian Commercial Corporation (CCC) has been working closely with us and our federal partners, including Canada's Trade Commissioner Service (TCS), to connect Canadian businesses with government buyers in the Indo-Pacific region. 
CCC recently signed two Memoranda of Understanding (MOUs) in Indonesia to enable Canadian businesses to secure contracts: One MOU for exporting commodities, including wheat, grains and soybeans, into the country; the other for the development of a green airport in North Kalimantan, Indonesia.  
These recent developments are a continuation of CCC's support for new export sales contracts between Canadian businesses and governments in the Indo-Pacific region through government-to-government (G2G) contracts. 
For more than 75 years, CCC has facilitated billions of dollars in Canadian trade across a variety of sectors. In 2021-2022 alone, CCC helped Canadian companies export $2.5 billion in goods and services to foreign governments.
If you're looking to grow your Canadian business in the Indo-Pacific region and have goods or services that governments want to buy, learn how CCC can help.
You should also check out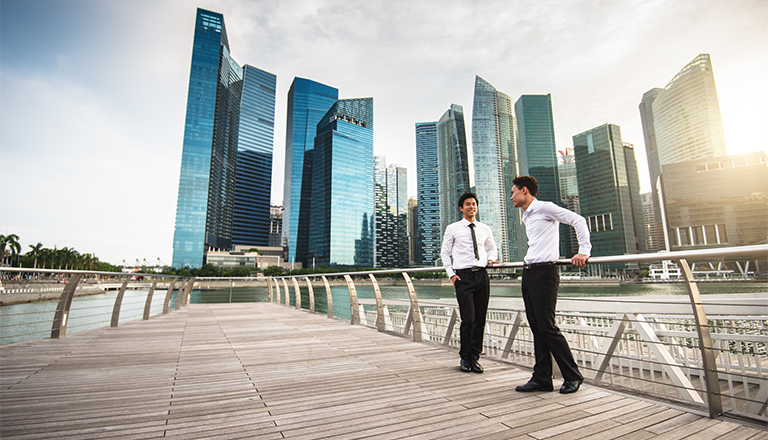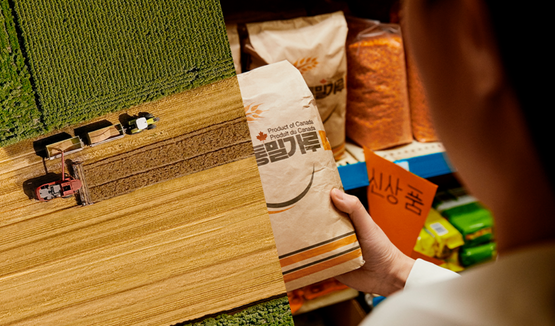 ASIA_HUB_555x326 - 1
Interested in growing your business in the Indo-Pacific? 
Get in touch with EDC. Find out how we can help you confidently enter new markets, reduce financial risks and grow your business by sending us a question. Or call us at 1-800-229-0575 weekdays between 8 a.m. and 8 p.m. ET. Get started