Since the beginning of the pandemic, Export Development Canada (EDC) has regularly surveyed our research panel to collect timely insights into how the COVID-19 crisis is affecting Canadian businesses. Here's what we learned in the fourth release of our survey.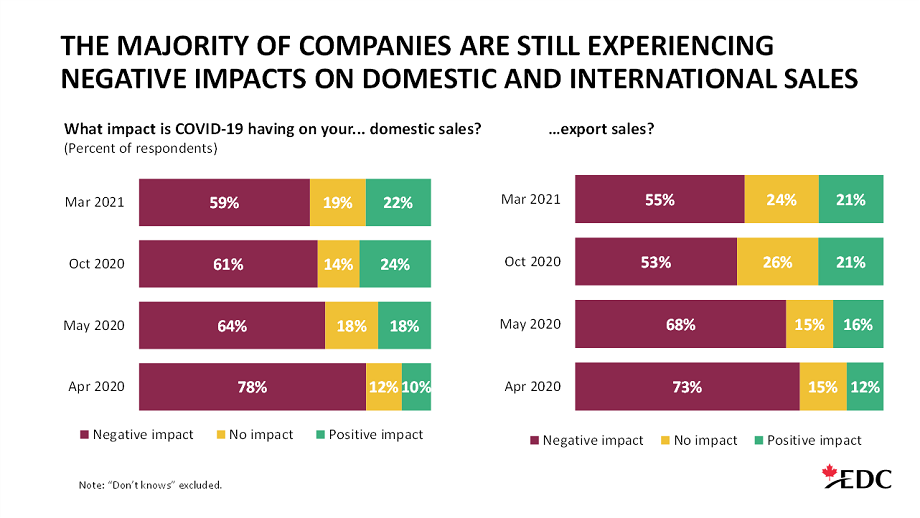 Negative sales impacts persist
The majority of companies surveyed continue to report negative impacts of the pandemic on both their domestic (59%) and export (55%) sales. This represents progress since early in the pandemic, but we're clearly not out of the woods yet, as roughly 70% of respondents expect these sales impacts to persist into 2022.
Companies are adapting as activity shifts online
Since the first lockdowns more than a year ago that forced many companies to close and consumers to stay home, we've seen a significant number of companies (56%) improve and adapt their online sales capabilities. In previous surveys, we noted that companies that had better online capabilities were better able to avoid large sales declines. That said, this transition hasn't necessarily been easy for all companies. Key challenges cited in our survey include:
the cost of adoption;
choosing the right platforms; 
providing customer support; and 
ensuring data security.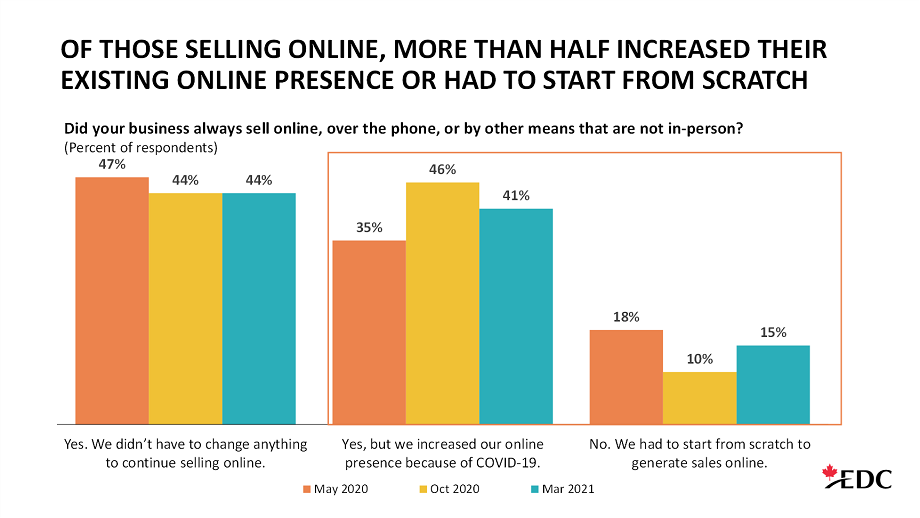 What are businesses worried about?
We were relieved to see that overall business concerns have fallen relative to our past surveys. Nonetheless, the leading worries remain reduced customer demand (12%) and employee safety (8%). 
For companies trying to expand their international business, cross-border travel restrictions remain the top challenge, cited by 40% of respondents and unchanged from our last survey. This likely reflects not only the explicit government restrictions on all non-essential travel, but also the need for quarantine periods for those employees who've managed to successfully cross the border for work purposes.
Concerns about supply chain disruptions increased, as did connecting with customers. During our survey period, there was the high-profile, six-day blockage of the Suez Canal, and reports of growing shortages of semiconductor chips, among other issues, with rising costs to transport cargo.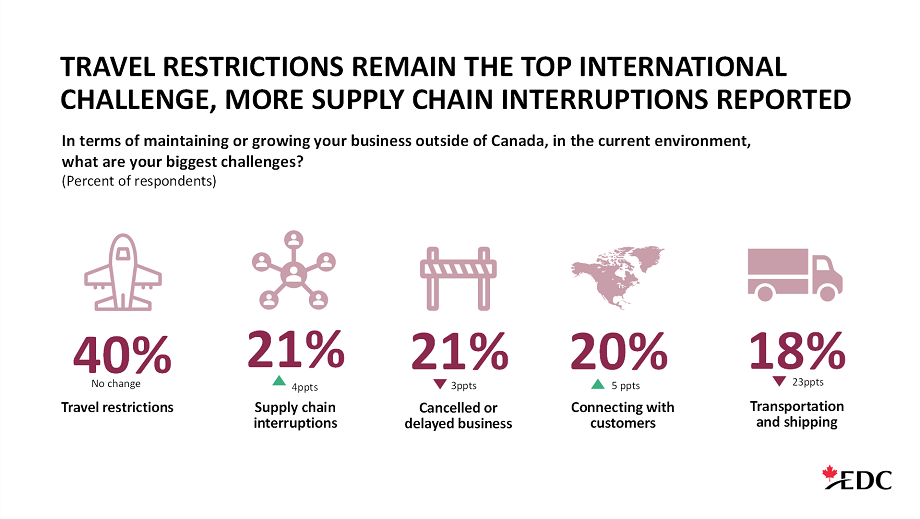 Companies continue to adjust their supply chains and production activities
We found that nearly one-third of respondents are considering relocating business activities, with 8% and 6% having already offshored and reshored some production activities, respectively. 
As companies remake their supply chains, our new survey question found that 18% of companies have added new suppliers, in an effort to diversify their supply chains, while around 10% made changes within existing domestic and international suppliers.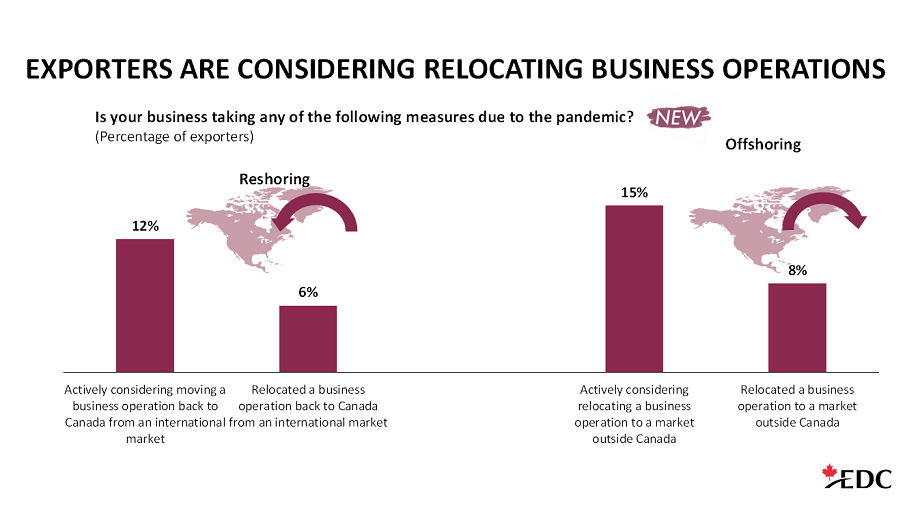 Expansions and opportunities abound
Despite the persistent negative sales impacts and disruptions, it wasn't all bad news. We found that almost half of businesses (48%) plan to expand in the next year. More companies are finding new domestic opportunities (25%) and international opportunities (19%) from the economic situation around COVID-19. And with continued adaption to the new "business as unusual," an increasing share—now 26%, up from 16% last April—are pivoting to support the pandemic.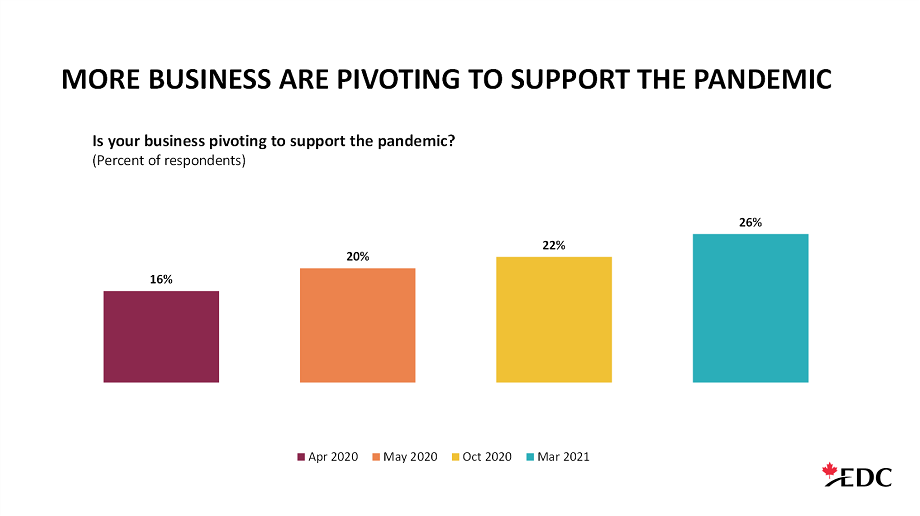 Financing needs are less urgent now compared to the start of the pandemic
Unprecedented monetary and fiscal support from the Canadian government appears to have been effective at helping companies with their financial challenges. We found that 50% of the companies surveyed can operate for more than a year before needing additional financing—up significantly from 16% last year. 
While the pandemic, and therefore, the global economic outlook, continue to evolve, opportunities and challenges for Canadian businesses are shifting as well. The negative impact on sales due to the pandemic are expected to last until 2022, but we're also seeing more companies expanding their operations, while many are pivoting and finding new domestic and international opportunities. 
COVID-19 has greatly accelerated the shift to online activities and we found that Canadian companies have improved their online sales capabilities, although these adjustments have been challenging. The high-level challenges for Canadian businesses have shifted from acquiring financing early in the crisis, to now managing supply chain disruptions and diversifying suppliers. As Canadian businesses continue to adapt to the pandemic and associated uncertainties, one thing is clear: "While we can't direct the wind, we can adjust our sails."
Stephen Tapp
Deputy Chief Economist
Export Development Canada
Jennifer Topping
Senior Customer Experience & Research Manager
Export Development Canada
Jerry Wang
Associate, Research and Analysis Department, EDC Economics
Export Development Canada