There's no doubt Canadian businesses are watching negotiations of the North American Free Trade Agreement (NAFTA) closely. Some key negotiation rounds have triggered a spike in online searches for information on NAFTA (see figure). It's likely we'll see another surge of search activity as negotiators return to Washington to engage in the latest high-level talks. It's hoped, after all these months of back-and-forth, negotiators can reach an agreement-in-principle.
There's added urgency now. If a new NAFTA deal is going to be reached in 2018, it must happen soon. If not, several complicating factors could shift negotiating positions and cause further delays:
If NAFTA isn't concluded by May 1st, the exemption for Canada and Mexico on U.S. steel and aluminum tariffs could expire.
July 1st is Mexico's general election.
Also on July 1st, unless it's renewed, the U.S. trade promotion authority (TPA) is due to expire. This would leave the U.S. without a legal negotiating mandate. (TPA gives Congressional guidance to the president on trade policy priorities and negotiating objectives).
In November, the U.S. holds midterm elections.
Negotiating parties know what's looming and they're pushing to wrap up talks quickly before things get more complicated.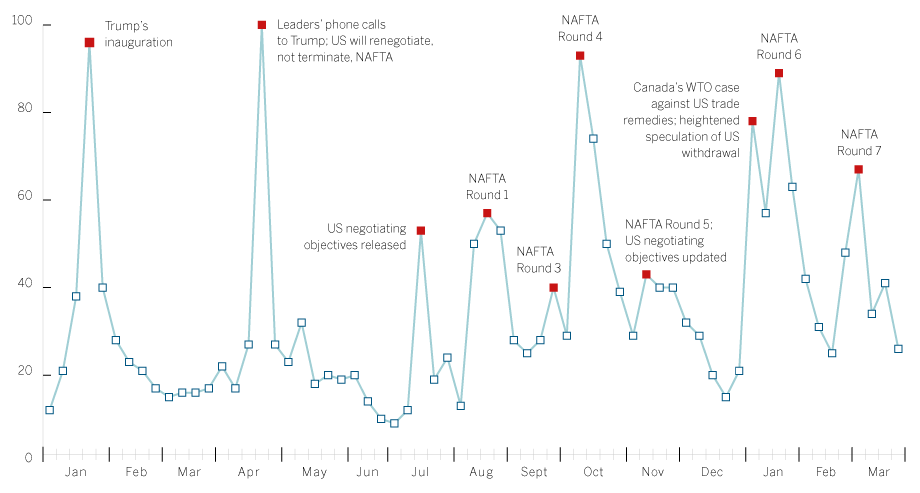 Source: Google Trends
Note: This index represents search interest for the term "NAFTA" in Canada, relative to its highest point over this period, where 100 is the peak popularity and 50 is half as popular.
Key issues to watch: Two tracks to NAFTA negotiating success
There are up to 30 different negotiating tables and chapters under discussion. In practical terms, however, there are two tracks and two speeds in these talks.
Track 1: The North American modernization agenda
This is the faster track for issues where all three countries agree on the need to update North American trade rules. Some topics exist under NAFTA 1.0, from the 1990s, such as food safety standards and customs procedures.

There are new additions brought about by technological change and increased globalization, like e-commerce and international regulatory coherence. Other adjustments are conscious efforts to make trade policy more inclusive, like provisions to increase participation of small and medium-size enterprises in global trade.
Accomplishing these modernization objectives is technical. But for the most part, they're not controversial. In fact, there is a precedent. The original Trans-Pacific Partnership (TPP) negotiations, which the U.S. was party to in 2016, is a recent attempt by North American countries to update these very trade rules. The TPP groundwork paves a smoother path for discussions based on a common set of assumptions and aims.
After seven rounds of NAFTA negotiations, the six chapters that have been completed are all in the modernization areas. While these issues represent important "win-win-win" opportunities, they're not show stoppers.
Track 2: The American rebalancing agenda
A second negotiating train is on a different track. It was delayed leaving the station and is moving slowly. Everyone is watching this train. Until it crosses the finish line, talks will continue because there will be no agreement-in-principle on NAFTA 2.0 until compromises are found on the American rebalancing agenda.

This agenda includes controversial issues where the U.S. administration believes existing NAFTA rules aren't working in their favour. The American negotiating team is seeking a "rebalancing" in the following areas — in ways that would benefit the U.S., but may not be wins for Canada and Mexico
1.  Dispute settlement procedures
Among others, this includes how to resolve disputes about the use of trade remedies, which have increased under the Trump Administration. Actions to guard against dumping and subsidies fall here.
2.  Auto content rules
The U.S. would like to increase American content required to qualify for tariff reductions under NAFTA.
3.  Government procurement
This is reportedly to limit market access to "equivalent dollar amounts", regardless of each country's market size.
4.  Agriculture
Some in the U.S. would like to see an end to Canada's supply management program for dairy, poultry and eggs.
5.  The addition of a "sunset clause"
This would see NAFTA expire unless all three countries periodically agree for it to continue.
In addition to these concerns, the U.S. has a stated objective to reduce its trade deficit with NAFTA countries.
Despite encouraging media reports of recent progress, there still appear to be large negotiating gaps. There's no crystal ball on how these talks will turn out. For those outside the process, like me, there are several possible scenarios, ranging from a quick successful resolution to long drawn out talks, or even a withdrawal by one of the parties.
EDC Economics continues to expect that a NAFTA 2.0 agreement will be reached. The big question is when and in what form.
Given the outstanding issues that need to be resolved, it will be a tall order to achieve a quick compromise. The current consensus among Canadian trade commentators seems to be that a deal will ultimately be reached, but it may not be in the next few months.
Headlines versus realities – Strengthening global growth
In the meantime, it's important to step back from the dramatic NAFTA headlines and see the bigger picture. Over the past two years, global economic growth has strengthened, spread to more countries, and beat expectations. This is all happening in the context of heightened risks of U.S. trade protectionism.
In our just-released Global Economic Outlook, EDC upgraded its forecast due largely to improvements in the United States and Europe. Labour markets are tightening. Spare capacity is being used up. Interest rate normalization has begun in several countries. Global trade growth has picked up and forward-looking indicators of production are also looking good, notwithstanding concerns of escalating U.S.-China retaliatory tariffs.
Closer to home, EDC's most recent Trade Confidence Index suggests Canadian exporters are not panicking about NAFTA. Some firms are concerned, but the majority are not. Overall they remain relatively optimistic about the strength and durability of the ongoing global recovery.
Contrary to perceptions that might be gleaned from some media coverage, the majority of the North American public — in all three countries — supports trade in general, and NAFTA in particular. A recent survey finds 81 percent of Ontarians support Canada negotiating new trade deals, and that overall support for trade agreements is higher now than it was in 2001.
In addition to public support, most of the North American business community — including those in the U.S. — oppose American protectionist policies. Despite headlines, all countries appear to have broad-based support to continue to strengthen our robust cross-border continental trade and investment relationships.
With an urgent push for a NAFTA deal just beginning, dramatic headlines and public interest will soon ramp up. It's been an interesting ride so far with increased U.S. protectionism. Despite the negative headlines, however, the global economy has gained strength recently. Eventually, after all the negotiating ups and downs — if compromises can be found on the U.S. rebalancing agenda — we may pull back into the station with a new deal after all.