As EDC's Chief Representative in India, stationed in Mumbai, I have a front-row seat from which to watch India transform itself into an economic force. Canadian companies should definitely consider this dynamic market, and if you want to learn more, I suggest you watch this informative webinar: India—Where Your Sales Go to Grow. In addition to my own contributions to the discussion, you'll also hear from Robert McCubbing, a former senior Trade Commissioner in India from TCS, as well as Motria Savaryn-Roy, an Economist for the Asia region with EDC.
You should also check out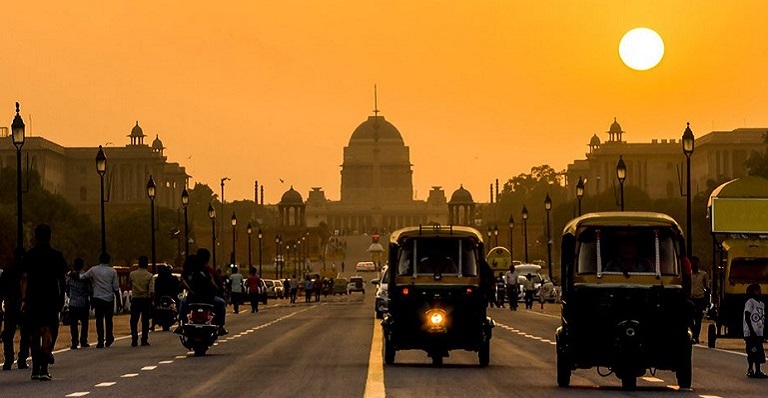 When businesses contemplate expanding to high-growth markets in Asia, China tends to top the destination list. It usually comes as a surprise when I tell people that India—which posted 8.2% GDP growth in the second quarter of 2018—is in fact the fastest-expanding economy in the region. Even surpassing China. And in case you're wondering if the results in the last quarter were just a blip, the market also averaged 6.9% GDP growth between 2012 and 2016. What's more, India is outperforming most advanced and emerging economies, and is expected to continue to do so into the medium and longer terms.
During my tenure in Mumbai, I've heard it said that the opportunities in China are obvious for Canadian exporters, but often the risks are hidden. In India, it's the opposite—the risks are obvious, but the opportunities are somewhat hidden.
It's time to dig deeper.
The Indian government has charted a course of institutional reform that has improved the business environment for domestic businesses and international investors alike. A steadily expanding middle class—estimates peg it at around 300 million—is underpinning strong economic growth. The implementation of a GST last year is projected to reduce manufacturing costs by as much as 15%. Recent improvements in terms of access to the electrical grid, as well as better contract enforcement, have helped push India into the top 100 in the World Bank's Ease of Doing Business global rankings.
Canada enjoys an annual two-way merchandise trade relationship with India to the tune of $8.3 billion. Two-way FDI measures more than $4 billion. Perhaps most telling is that Canadian pension funds and institutional investments total some $15 billion in India. Trade negotiations are on-going, and it's expected that a Foreign Investment Promotion and Protection Agreement will be struck in the future, along with a Comprehensive Economic Partnership Agreement. Let's not forget that English is the business language here, and Canadian brand awareness runs high, with close to 1.5 million Canadians being of Indian descent. We have a deeply rooted trade tradition that was further enhanced by $1 billion in planned investments announced earlier this year.
So what's in demand? As India looks to increase its own domestic supply of oil and gas, Canadian up- and mid-stream producers have fared well, and there's also potential for down-stream products on the tech side. India is pouring huge chunks of capital into country-wide ICT network expansions and upgrades. And with their massive consumer economy, you can count on a healthy demand for smartphones and 4G networks for the foreseeable future. With their plans to build out 100 smart cities, India has a steady need for infrastructure development—in particular, roads, ports, and power—as well as cleantech solutions for improved air and water quality.
Be sure to keep your eye on some of the key growth sectors here. India has a substantial domestic auto sector, with an appetite for new technology in vehicles. Having committed to plugging 100 gigawatts of green energy into the grid within the next three to five years, you'll find massive opportunities in solar and wind, as well as transmission and grid buildouts. As the majority of Canadian exports to India still come from agriculture, there are ample growth opportunities here sector-wide, including grain and food handling and storage, as well as technologies linked to improving crop efficiencies.
India is not without its challenges. Ironically, some of the top-listed impediments hold flip-side business opportunities. For example, inadequate infrastructure is often cited as a chief complaint amongst Canadian businesses in India…except, of course, for those in the infrastructure sector! Despite ample progress, there remain a number of hurdles to doing business here. An inefficient government bureaucracy has resulted in extensive and conflicting regulations, not to mention high tariffs across many sectors, which have the habit of changing frequently and unexpectedly. An insufficiently educated workforce, combined with poor public health, can stymie your development plans in this market. A lesser known fact is that India has a sorely backlogged court system. It's especially important to ensure contract clarity from the onset when doing business here, as delays in civil proceedings can take years to resolve.
There's lots of help to overcome the obstacles
If you're considering doing business in India, consider this: there are upwards of 55 Canadian Trade Commissioners on the ground in eight key centres here, ready to help you. They can provide you with a direct link to critical, qualified contacts, everyone from legal and customs experts, to agents and distributors, to potential customers and government representatives as well. Your first call should be to the TCS regional office closest to you in Canada. They can help assess your market potential and provide your first introduction to the market by way of trade shows and missions.
EDC has long-standing, lending relationships with Tier 1 corporations in India, including the Tata Group, Aditya Birla Group, and Reliance Industries. Over the years, we have acquired insights into their investment and purchasing decisions and are able to introduce them to qualified Canadian companies who can meet their procurement needs. We're also able to help you by providing working capital and buyer financing, as well as risk management solutions like credit insurance.
The hallmark of a successful Indian strategy is to have the long-game in mind, sort of like the game of cricket. In a country where business relationships are held in high regard, it's particularly important to have a local presence. Finding the right partner to effectively deal with the bureaucracy will pay dividends for years to come. Indians are both price-sensitive and shrewd, so be sure that you are competitive, and your value proposition is clear. Most importantly, before you venture into the Incredible India and connect with both the TCS and EDC, so we can help put you on the right track.