For Canada's goods exporters, the pandemic hit hard in many ways—much like the financial crisis more than a decade ago. Based on recent Statistics Canada trade statistics that track this key exporting group, Export Development Canada (EDC) was able to dig deeper to analyze the trends over the past 15 years. Here are the Top 10 most interesting facts discovered by EDC Economics.
1. A long road to recovery.
The number of goods exporters in Canada dropped sharply in the 2008-2009 global financial crisis (GFC), and despite steady gains over the past decade, hadn't recovered before the pandemic. 

From a peak of more than 54,000 in 2005, the number of Canadian goods exporters fell sharply in the GFC to 45,000 in 2010. Despite a steady upward trend, which saw the exporter count inch back above 50,000 in 2019, it remained 7% below where it was in 2005.

2. Medium-sized exporters enjoyed the strongest growth.
Digging deeper into the results by company size, we found that the drop in the number of goods exporters since 2005 is based on a decline in the number of small-sized exporters (<100 employees). We were surprised to learn that medium-sized exporters (100-500 employees) had the strongest growth in population counts relative to their small- and large-sized peers. 

According to company size, we found that most Canadian goods exporters (about 80%) are small, with less than 50 employees. However, when it comes to Canada's export value, the driving force comes from large exporters with more than 500 employees, who contribute 60% of the total.

Despite the decline in the number of exporters over the past 15 years, the good news is that the value of Canada's goods exports grew significantly, and exporter productivity is on the rise. Again, we were surprised to see that medium-sized exporters led the growth in average export value per company (up 75% notably higher than the growth of 47% for all business sizes).

You should also check out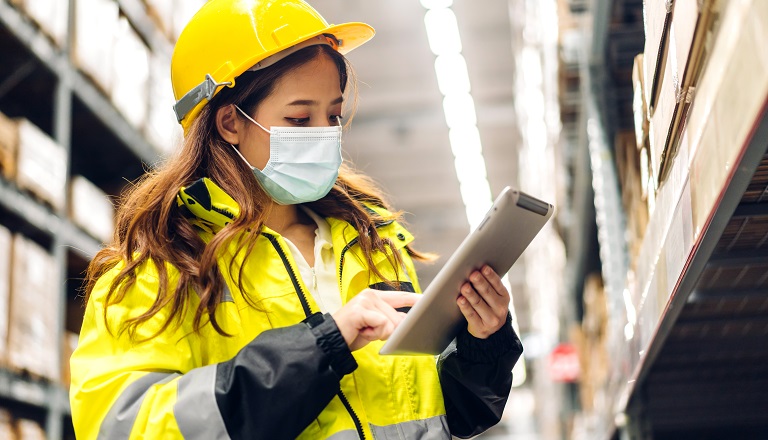 In terms of regional differences, we found that Ontario and Atlantic Canada experienced the biggest declines in the number of exporters. And while Ontario is home to the most goods exporters in Canada, it's Western Canada that has the highest export value sent by small- to medium-size enterprises (SMEs), which is related to supporting activities for oil and gas. Interestingly, the Territories are the only region in Canada with growing exporter counts over the past 15 years.

6. Those who diversified, diversified some more.
Export market diversification continued—but mainly for those companies that have historically been most successful at reaching international markets over the past 15 years. Well-diversified exporters selling to six or more international markets per year made further strides expanding into new markets. Exporter counts fell for those selling to five or fewer markets.

7. U.S. the first stop for Canadian companies.
The United States remains Canada's most important trading partner for SME exporters, with 60% exclusively selling their exports into this one market, a trend that remained stable from 2005-2019. While most large Canadian exporters export to the U.S. and to various global markets, the share of large exporters exporting only to the U.S. actually increased in the recent years to 40% in 2019 from 34% in 2005.

8. A brighter future for emerging markets.
The number of exporters selling to advanced economies fell overall, but the number of exporters and the value of exports to China grew significantly over the past 15 years. Export values and exporter counts also grew quickly to Africa, the Middle East, the rest of Asia, and were up to Australia.

9. Less leather, more Bieber.
Sectoral shifts are clear in the data: Comparative advantage and competitiveness for Canadian goods exporters changed over time. The biggest winners in terms of increased exporters, include real estate, arts, entertainment and recreation and management of companies. 

Sectors that lost ground include manufacturers of clothing, accommodation and food services, textiles and leather.


10. Pandemic impacts throw wrench into the recovery.
Early in the pandemic, Canada experienced a significant decline in exporter counts: A 6% drop in March 2020 and a further 15% decline in April 2020. The initial impact of the pandemic caused a reduction of 4,000 exporters. As of December 2020, export counts were 10% below the 2019 monthly average level. 

The pandemic impacted exporters across all regions and sectors. Small exporters were hit hardest, especially those in Quebec and Ontario. Exporters in Atlantic Canada were more resilient to the downturn: the region staged a strong recovery and is now close to pre-pandemic levels. 

The pandemic reversed the strong growth experienced by goods exporters in the services sectors over the past decade. Many business operations were affected by government measures and restrictions to stop the spread of the virus. Sectors such as arts, entertainment, and recreation are still being impacted by these restrictions with the entire sector being 16% below 2019 average levels while exporters in goods-producing sectors are close to recovery (8% below 2019 average levels).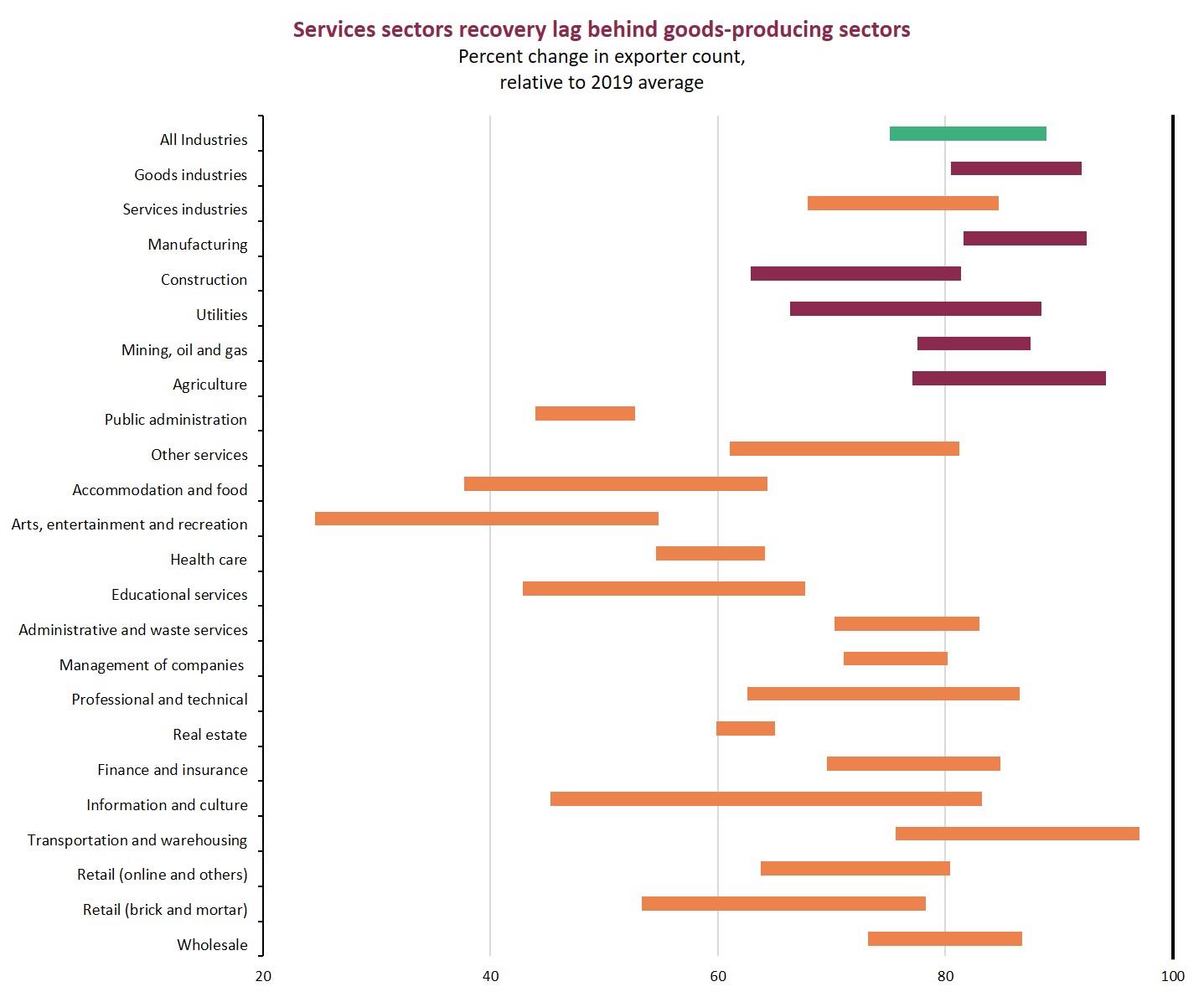 The global trade environment for Canadian exporters has changed drastically over the past 15 years, with competitive advantage shifting between sectors. While the number of Canadian goods exporters is still climbing back to the 2005 peak, we've seen significant gains in firm-level productivity led by medium-size exporters. Canadian exporters continue to rely on the U.S. as their export destination, but have enjoyed strong growth to Asia and Africa. COVID-19 adds another layer of complexity, by shifting long-term trends for those in the services sector and applying more pressure to small-size exporters.