If you earmarked 2020 as the year to expand your business into the United States, COVID-19 may have delayed those plans. For those already doing business there, they likely faced a litany of challenges and yet two simple facts remain: the U.S. is our largest trading partner—and likely always will be—and "business as unusual" must go on. 
Despite the ongoing border restrictions between our two countries and COVID-19's unprecedented social and economic global impacts, there are signs of hope for better days ahead for Canada-U.S. trade. 
"The U.S. economy has performed quite well in 2020, all things considered," says Stephen Tapp, deputy chief economist at Export Development Canada (EDC). Pointing to a number of key indicators during a recent webinar on the U.S. economic outlook, Tapp was cautiously optimistic: "Despite rising COVID-19 caseloads, there's a growing sense that the worst part of the economic hit is now behind us. For most businesses, 2021 should be noticeably better than 2020."
Rising optimism is being driven by promising vaccine news, including an anticipated initial rollout scheduled in the coming months. Still, the COVID-19 numbers are alarming, with daily confirmed cases spiking for a third time, and hospitalization rates higher now than during the first wave in March and April.
Focusing on key economic indicators provides insight into where the U.S. is headed in the coming months. Understanding these factors will help inform your business strategy—whether you're looking to enter into the market for the first time or expand your existing reach.
Shocked labour markets: Unemployment claims peaked at a rate of seven million people per week; 22 million jobs were lost, with 12 million eventually regained; low-income groups were most negatively affected, while high-income earners have regained pre-pandemic employment levels.
Effective policy responses: A combination of monetary measures (emergency and scheduled rate cuts, effectively reducing interest rates to zero) and unprecedented levels of fiscal stimulus have helped to calm financial markets and fortify household finances.
Stabilized financial markets: U.S. equities are at all-time highs; asset purchase programs have effectively lowered borrowing costs to pre-pandemic levels.
Improved household finances: Losses in jobs and wage income were more than offset by direct transfers from government, resulting in an increase in personal income and an exceptionally high savings rate, particularly amongst higher-income earners.
Strong consumer spending: Retail sales saw a very strong V-shaped recovery, with a decided shift from in-person to online purchases; huge differentiation in sector response, depending on the restrictions and concerns brought about by the virus.
Housing market on the rise: Lower borrowing costs, coupled with the need to work from home, sparked a V-shaped recovery, led by single-family homes, plus a migration to the suburbs.
Shifting business dynamics: Contrary to expectations, bankruptcy filings remained surprisingly flat; conversely, high-propensity business (defined as corporate entities with employees to be paid at a certain date in the future) applications have spiked, with a pronounced shift to online retail activities.
At -3.4%, the U.S. economy is expected to outpace the global average by almost a full percentage point in 2020.
The net effect on Canadian exports
The tale of two export categories was hugely divergent: Merchandise exports fell by only 2% between January and October, but services exports are down a whopping 19% over the same period. But the averages are less important right now, given the substantial differences by sector. 

Overall, goods experienced a strong V-shaped recovery, whereas most services were stuck in L-shaped territory.
The COVID-19 cases correlation
Showing recent analysis from EDC's Research Department, Tapp noted, "It's likely no big surprise that we find Canada's exports have tended to perform worse to U.S. states with stricter COVID-19 restrictions." While the state-level statistics vary considerably, he added, it's interesting to note that the negative impacts of COVID-19 restrictions on Canadian trade for U.S. states were essentially no better, or worse, than for other countries.
Beyond border challenges
Equally unsurprising, EDC surveys reveal the travel restrictions are one of the main challenges for Canadian companies in international markets. The combination of cross-border restrictions on non-essential travel, coupled with quarantine periods, has led to disruptions, particularly in the services sectors. 
Although supply chains have held up well, overall, Canadian exporters have reported certain challenges on the logistics side. In particular, shipment timeframes are more uncertain.
You should also check out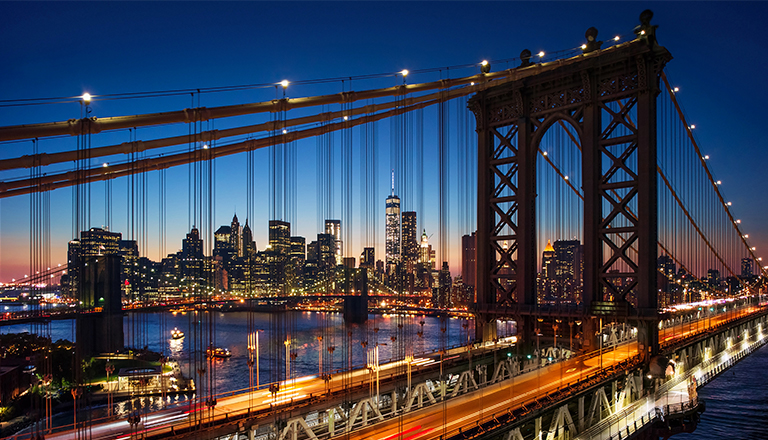 Reflections on regional reactions
EDC senior regional managers, Gayle Roenbaugh and Michael Gonsalves, provided valuable in-market insights into the business reactions and opportunities in their respective districts. Here are some quick hits:
Great Lakes Region: On-the-ground take from Gayle Roenbaugh (Chicago, Illinois)
Reactions by regional businesses in the U.S.
Shift in response from reactive mode (unwillingness to take on more debt) to proactive mode (integrated risk management planning for future lockdowns or other disruptive issues).
Digital transformation and "upskilling" to enable remote work.
Closer communication lines with customers to accommodate ongoing changes in marketplace and business models.
Shifts in physical supply chains from just-in-time to just-in-case, with increased emphasis on regionalization and transparency.
Renewables, technology and cleantech are driving decisions and opportunities throughout the Great Lakes Region.
Opportunities for Canadian companies
Renewables: Illinois' Clean Energy Act calls for a transition to 100% renewable energy by 2050. Heavy investments being made on brownfield solar thermal energy, geothermal energy, biodiesel and hydropower.
Advanced manufacturing: As automakers migrate additive manufacturing from prototype to mass production, look for opportunities in quality assurance, automation, robotics, and post-processing solutions.
Electrification of vehicles: Vehicle weight optimization, drivetrain electrification and cheap battery technology solutions are all in big demand. 
Cold storage, transportation and vaccine logistics: Ford has committed to storing and deploying the COVID-19 vaccine to their workforce. The other big automakers will likely follow suit.
Grocery and consumer goods: Omni-channel presence is the wave of the future, requiring integrated digital solutions.
Southeast Region: On-the-ground take from Michael Gonsalves (Atlanta, Georgia)
Reactions by regional businesses
Business response characterized by innovation, caution and hope.
Innovation: As companies struggled to stay connected to their customers, they found new ways to re-engage, leading to a perfected digital connection.
Caution: Traditional energy has experienced drastic cuts to capital expenditure, putting a strain on Canadian exporters in those supply chains; traditional retail has paused openings.
Hope: Recent vaccine announcements are feeding into the stock market and boosting travel-oriented and out-of-house activities.
Opportunities for Canadian companies
Clean energy and alternatives: Look beyond national agendas to state-led clean energy legislation. For example, Virginia will close coal-fired plants by 2024 and have specific alternative energy thresholds for offshore and onshore wind, battery storage, and solar.
Infrastructure: Building code revisions will require new projects to be designed and operated according to a green footprint. Large legacy installations will require integration of new technologies to become more efficient and LEED-certified.