A successful export strategy for selling into the United States can help transform a Canadian business from a domestic player into an exporting powerhouse. However, the U.S. is far from a single homogenous market. Rather, exporters should look at the U.S. as a series of regional markets with different opportunities and different strategies required for getting started in each one. 
The map below shows where there's the biggest demand in the U.S. for different categories of Canadian exports. 
Value of Canada's top exports by U.S. Region (in thousands of dollars)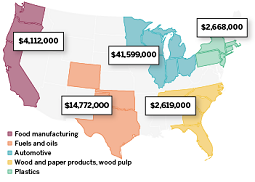 Demand for high tech in the Northeast
The U.S. Northeast is corporate headquarters for numerous Fortune 1000 companies in industries, ranging from finance to media to aerospace. Many of these companies are in industries where there's an emphasis on innovation, research and development of advanced technologies and technology transfer. 
Customers in the Northeast have demonstrated an increasing demand for Canadian products and services in areas, like life sciences and technology.
Top Canadian Exports to U.S. Northeast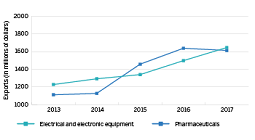 Supply chain continuity in the Great Lakes and Midwest
This region continues to be the industrial and manufacturing heartland of the United States. Canadian manufacturers have reaped the benefits of being part of a highly integrated cross-border supply chain for decades, thanks to free trade agreements between our two countries.
Thankfully, this will continue without interruption now that our countries have reached a deal to replace the North American Free Trade Agreement (NAFTA) with the updated United States-Mexico-Canada Agreement (USMCA). In fact, Canadian-based auto parts makers should see an increase in opportunities in the U.S., thanks to new rules of origin requirements in USMCA designed to encourage more sourcing from within North America.
Beyond auto parts, Canadian manufacturers can find opportunities in industrial sectors, ranging from forestry and paper products to food processing.
Manufacturing might in the Midwest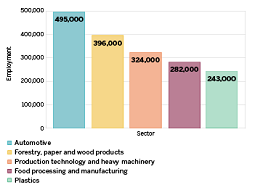 Canadian companies are well-established in the Southeast
Maybe it's spillover from sun-seeking individuals who enjoy vacationing in the region, but Canadian businesses are very well-established in the U.S. Southeast. For example, six major Canadian banks have operations in the state of Florida, which is considered a gateway to exporting in Latin America.
In addition to traditional goods, like forest and paper products, there's demand in the Southeast for Canadian service providers and expertise in the areas of financial services, information technology and communications.
Canadians at home in the Southeast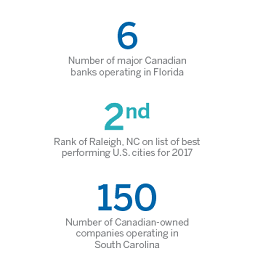 The Southwest wants Canada's oil and gas expertise
Texas is the largest market in this region and the destination for most of Canada's exports to the Southwest. The energy sector is by far the most important industry in this region. Canada is already very well-connected to it through various supply chains. 
The U.S. is Canada's largest customer for our oil and gas services and equipment and will continue to be for the foreseeable future.
Energy expertise in the Southwest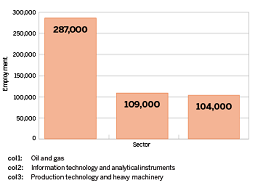 The Pacific needs cleantech solutions
The state of California, with a population roughly the size of Canada, is the sixth largest economy in the world and is home numerous high-technology corporations, institutions and R&D centres.
The state is also grappling with considerable environmental challenges that have increased demand for clean technology solutions. This includes water management equipment, systems and services; water conservation and treatment; stormwater management; desalination; hazardous waste management; and recycling. 
Once you've determined the region of the U.S. that offers the most opportunity for your business, you can start tailoring your export strategy for that market.