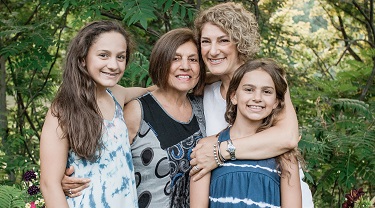 Dream big, be daring, says EDC's inclusive trade champion
In her role as director for Export Development Canada's Inclusive Trade team, Jennifer Cooke hopes to encourage entrepreneurs from all equity-seeking groups to dream big, be daring and take on the world.
"I'm really inspired by women entrepreneurs and those from diverse communities, and helping them export to grow their business—it's my passion. I love working for an organization that values diversity and inclusion, and while I'm the corporate strategy and business lead for Inclusive Trade, I'm more like the conductor—we all play a part at EDC to remove bias and increase access to our solutions and services."
Cooke originally joined Canada's export credit agency 12 years ago and has worked as a senior account manager and then a district manager on the frontlines with small- and medium-sized businesses to help them succeed in international markets. She moved into the role of national lead for Women in Trade to focus specifically on ensuring women-owned and -led businesses were also accessing the benefits of trade.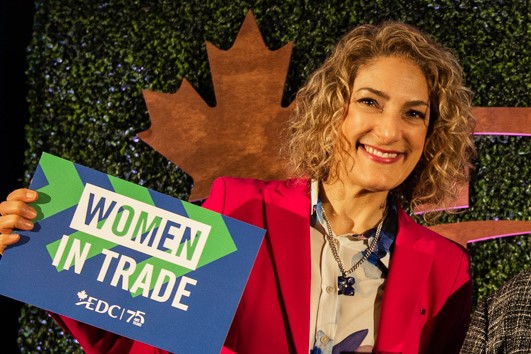 Creating an equitable playing field
Today, Cooke's job is dedicated full time to helping Canadian entrepreneurs who identify as women, Indigenous, Black or racialized, members of the 2SLGBTQ+ community and people living with disabilities. Her goal is to help create an equitable playing field and ensure that different equity-seeing groups have the same opportunities to benefit from trade. Working directly with these entrepreneurs and key ecosystem partners, she and her Inclusive Trade team provide introductions and connections, impart specialized trade knowledge, and facilitate access to financing and growth capital.
You should also check out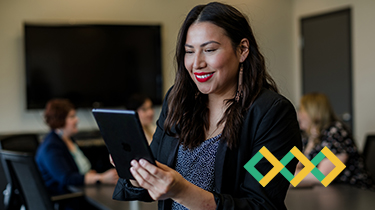 Cooke's face lights up when talking about her and her husband's two daughters, whom she also wants to inspire. The family lives in Burlington, ON, although Cooke is frequently on the road for work. A graduate of the University of Western Ontario Ivey Business School, Cooke credits her trailblazing mother for inspiring her to become a leader. 
"I come from a family of entrepreneurs and immigrants. My grandmother ran a business in Egypt—selling Coleman stoves, of all things. When my grandparents were forced to leave Egypt for political reasons, they chose Canada as their new home, and the place for my mother and her brothers to have a better life. Coming to Canada was a dream for my mom who wanted to go to school and learn. Having grown up in an environment where girls didn't always get to go to school, she studied hard, won numerous scholarships, and was accepted to medical school and became a physician. She was one of only seven women out of a class of around 300 in those days."
Cooke says the entrepreneurial spirit flows through her blood and that she has been influenced greatly by the tenacity of her mother and grandmother.
"My mom always told me that anything was possible and that I could achieve anything. Through her example and her encouragement, she taught me to dream big and I did. When finishing university, I studied business and finance as I wanted to work on Wall Street."
Cooke landed a job with Enron and spent several years living in Texas working in the male-dominated field of oil and gas financing. 
"Growing up in multicultural Canada, you're used to living with every race and religion—I had a very diverse group of friends growing up and wanted to be friends with everyone. While I learned a lot about finance, at the end of the day, I knew that the energy field was not my passion. After six years, I came back to Canada and became an entrepreneur."
Cooke and two partners founded BéBís Design Corp, a high-end women's accessory business and were responsible for design, manufacturing, wholesale and retailing.
"I learned firsthand about trying to scale and grow a business—it takes a lot of money and deep pockets to build a brand. If you don't have access to capital, it can be difficult to grow. And getting products into new markets can be challenging—it's hard to figure out who to partner with and how to enter international markets effectively."
Cooke says her company focused on exporting to the U.S. and Mexico and broke even in their first year, but the realities of starting a young family added an additional dimension to all the challenges of growing the business. When an opportunity eventually arose to work at EDC, she jumped at it. 
Cooke credits her past work experience with giving her a greater understanding of the challenges and concerns women, Indigenous and Black business owners face. She admits that there are misconceptions when it comes to exporting and that many business people assume exporting is only for larger companies that make and ship goods across the border. 
Based on what we know in Canada, entrepreneurs from equity-seeking groups are starting businesses at a faster and faster rate, but they're still vastly underrepresented when it comes to ownership of Canadian companies, and they're staying small. At EDC, we're trying to learn more about why Canadian diverse-owned businesses aren't exporting and to change that.
According to statistics, Cooke says approximately 16% of businesses are majority-owned and led by women in Canada, and less than 2% of them are midsize or larger. The data is similar for companies majority-owned by people with other dimensions of diversity.  One area where EDC can help diverse owners who want to grow and scale their companies is to provide easier access to resources and networks. 
Cooke says part of her role is to educate and explain EDC's core products—increasing awareness about our financial and knowledge solutions and creating connections, helping businesses navigate often complex networks of resources. 
"The more we can profile and promote success stories of businesses owned and led by people identifying as women, Indigenous, Black and other diverse groups, the more it will inspire others. EDC offers a wealth of specialized trade knowledge, and partners with other like-minded organizations, to help entrepreneurs find guidance and mentors along their journey. And we partner with all the Canadian financial institutions to ensure these business owners can access the working capital they need to take on international opportunities." 
Cooke says exporting to the U.S. is often the first step for Canadian companies, thanks to our integrated economies and similar time zones, languages and business practices. But she cautioned that relying on only one market can increase risk, especially when there are many profitable markets around the world to which Canadian companies can export. 
Increasing support to diverse-owned and -led businesses in Canada makes good economic sense, says Cooke, adding that EDC committed $200 million to invest in companies founded or led by members of these equity-seeking groups. Research suggests that increasing the number of diverse-owned businesses would have a tremendous impact on the Canadian economy and boost economic resilience of our communities.
Cooke says she is thrilled by the two-year reappointment of Mairead Lavery, the first female president and chief executive officer since EDC was founded in 1944.
"Mairead is a former entrepreneur herself and understands firsthand the challenges facing women. She is the ultimate champion for women entrepreneurs and is an inspiration for dreaming big. She keenly supports the commitment our organization makes to diversity and inclusion broadly and fully backs our strategy of supporting inclusive trade."
Please visit our Inclusive Trade page on EDC's website, dedicated to empowering these equity-seeking groups reach new markets.
"I want to ensure that all Canadians, no matter their gender, race, ethnicity, sexual orientation, ability, or experience have the same opportunities to dream big, be daring and take on the world," Cooke says. Inclusion, diversity and equity are key competitive strengths, and is integral to our aspiration of supporting diverse Canadian exporters so they can make their impact at home and around the globe.
How EDC can help