Connie Stacey wears a lot of hats: She's a wife, mother, successful inventor and a Canadian exporter of green technology. She's appeared on Cottage Life and Dragon's Den and will appear on CNBC's The Advancements hosted by actor Ted Danson on July 28. She's also a member of the LGBTQ2+ community who faces tough challenges when she travels on business.
Owner of Growing Greener Innovations, an Edmonton-based cleantech company that recently won $10,000 at the Alberta Innovates conference in the building smarter cities category, Stacey says that 90% of the time, being a business woman who happens to be LGBTQ2+, is a non-issue. "In Canada, we don't discriminate and we tend to take it for granted that the world operates in a similar fashion—until we travel."
She says that the more different you look, the more challenges you may encounter. "I fit the picture of a stereotypical lesbian. When I go outside of North America, I tend to get very aggressive looks and comments."
She recalls a particularly difficult incident during a visit to India. "I was speaking at the Canada-India tech summit in Delhi in 2017. We're in a five-star hotel, and the staff are chasing me out of the women's washrooms. They kept saying this area is only for women, and I had to keep telling them, 'But I am a woman!' So, as I travelled, I had to be really conscious of my bathroom breaks."
Some countries still have the death penalty for being gay, so there's always some hesitation about where I can travel.
In 2013, when her twin boys were about three months old, everything in Stacey's life revolved around one goal: getting more sleep—either for herself or her children. One day, as she was walking her finally napping infants by a house under construction, a generator roared to life. "I thought, 'If you wake these babies up, I'm going to lose it,' " she recalls.
But the incident gave her an idea. Since combustion-engine generators are so loud and bad for the environment, why couldn't she make a better generator?
Relying on her 20 years of experience in technology and business, she founded Growing Greener Innovations, which has a patented lithium ion battery-powered generator called the Grengine. It's silent, has no emissions, and is more durable and lightweight than other battery-powered generators.
"I talked to people in the trades and they said they would love a battery-generated system just for the silence."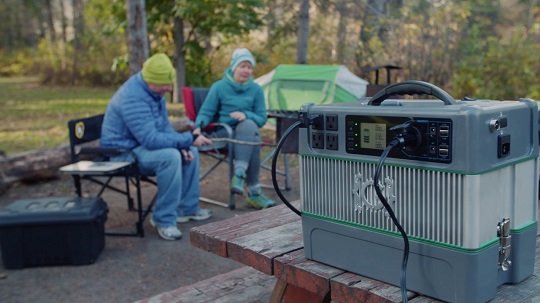 Similar to Lego building blocks, the Grengine's components can be swapped in and out. "That allows us to create micro-grids of any size, anywhere, without a technician," she explains. "That means it's ultra-low cost, with super-rapid deployment, and incredibly flexible, so you can scale it up or down."
The Grengine's smart-switch technology can also help the user save on electricity costs. When electric rates are lower during times of low consumption, the battery charges itself; during costlier high-peak consumption periods, it stops charging and uses the stored electricity. This way, the user only buys electricity at the lower rate.
Although it hasn't officially launched yet, there are already people on a waiting list for the Grengine Smart Switch in primarily two markets:
rural or off-grid markets where power is unreliable or unavailable. It can even be used to power the trailer when you go camping.
on-grid areas, where it can improve energy efficiency for homeowners and commercial customers and help lengthen the life of equipment, like transformers.
"The commercial or industrial sector will be our biggest volume, and we're getting calls from all over the place," says Stacey. "We're doing a lot of quotes right now for Mexico and the Middle East, where the grid is insufficient or unreliable for the load. We're a small business that wants to grow and our plan is to first grow south into the U.S., Mexico, and the northern part of South America."
To do that, the busy working mom needs to travel often across the globe, which is not always easy when you're LGBTQ2+, she says.
"Some countries still have the death penalty for being gay, so there's always some hesitation about where I can travel. Chances are I would send one of my team rather than go myself to a rural area in the Middle East. Women, in general, have more challenges there, and on top of that, I have very short hair and I tend to wear more masculine clothing. Sometimes, people don't know how to respond to that."
When travelling to places that are less supportive of LGBTQ2+ rights, Stacey says borders don't necessarily matter as much as regions. "There tends to be more diversity and far more different types of people in cities, so there's typically more acceptance than in rural areas.
"Very rarely do I have any issues in North America or Mexico. Every once in a while, I can tell someone is trying to figure out, 'Is that a man or a woman?' But then I speak and you can see the recognition is made and it's all fine. But in India, Indonesia, China, it's definitely more challenging. So, these are things to take into consideration."
Government connections add peace of mind
Last year,  Global Affairs Canada (GAC) held its first LGBTQ2+ trade mission to Philadelphia in partnership with the Canadian Gay & Lesbian Chamber of Commerce (CGLCC). These missions, coupled with the information and advice provided by Export Development Canada (EDC), are invaluable, says Stacey. "You get support and that official emblem behind you, which garners you a lot of respect. It makes it easier to travel, and to be honest there are some places I simply wouldn't go unless it was in conjunction with a trade mission or that the GAC was involved."
For LGBTQ2+ business people who are starting to export, Stacey also advises that they reach out to the Trade Commissioner Service (TCS) for their expertise.
"Their knowledge of what markets are going to be a good fit for your product alone makes it worthwhile. Before going to Indonesia, talking to a trade commissioner and EDC helped us understand how trade worked there and the rules and regulations, so we could make better business decisions. It feels much more comfortable to be with someone who's familiar with the market."