Singapore is such a vibrant and dynamic country in which to live and work. When I talk to Canadian companies who are considering doing business here, it's a pretty easy sell.
This wealthy island nation is exceptionally progressive. They have an open and diversified economy that rolls out the welcome mat to business. Singapore ranks second among 190 economies assessed for ease of doing business by the World Bank—impressive when you consider Canada sits in 22nd place. Their pro-business policies include robust intellectual property protections, their legal and institutional frameworks are remarkably transparent and their civil service is highly efficient.
Singapore has 21 bilateral or regional free trade agreements (FTAs) in place. Among those is the Comprehensive and Progressive Agreement for Trans-Pacific Partnership (CPTPP), signed late last year, which includes Canada, Singapore and nine other countries in the Asia-Pacific region. This FTA provides considerable competitive advantages for Canadian companies by easing and eliminating both tariff and non-tariff barriers to trade.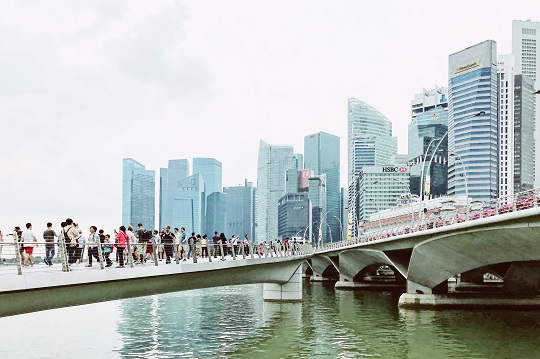 World's largest trans-shipment hub
Of course, Singapore's global claim to fame—apart from the colourful cocktail—is leading the world in terms of transportation and logistics infrastructure. The Port of Singapore is linked to 600 ports in more than 120 countries. Beyond the staggering number of cargo units processed here—well beyond 11 million last year—Singapore serves as a strategic launchpad into the rest of Asia. Upwards of 8,000 multinationals have established their regional headquarters in Singapore. They know all too well that to access Singapore is to access Asia.
"Singapore is such a vibrant and dynamic country in which to live and work. When I talk to Canadian companies who are considering doing business here, it's a pretty easy sell."
Singapore currently imports more than 90% of the food it needs in order to feed its own population, plus the 15-million tourists who visit each year. Despite strong competition, there's ample opportunities for Canadian agriculture and agri-food exporters of meat, fish and seafood, soybean and pulses, superfoods and organic products. In the past five years alone, Canadian fresh, processed seafood and aquaculture exports have posted double-digit growth.
Singapore is home to state-of-the-art research labs and universities with world-class biomedical departments. Looking for ways to develop education partnerships can help position your company with the many multinational pharmaceutical and medical interests that are located here.
Singapore is a technophile nation that's heavily invested in infrastructure, renewable energy, fintech and advanced manufacturing. Their commitment to information and communication technologies is demonstrated by government spending to the tune of $19 billion over five years in research and information innovation enterprises, including its Smart Nation flagship initiative. Singapore is a global ideation research and development hub, as well as a regional leader in maintenance, repair and overhaul. In fact, a Canadian Technology Accelerator (CTA) program was launched earlier this year to help link high-potential Canadian companies in cleantech, fintech, artificial intelligence and smart cities to investment and market-growth opportunities. If you have an export-ready product or technology solution, get in touch with Tegan Watson, who is the CTA program lead in Singapore.
Canada has a decent bilateral trade and investment relationship with Singapore, with exports and imports reaching levels of $1.2 billion and $1.3 billion, respectively. Singapore is Canada's largest source of foreign investment from the Association of Southeast Asian Nations (ASEAN) region. Canadian direct investment abroad (CDIA) to Singapore reached just under $6 billion, making it the largest destination for CDIA in the region.
There remains considerable untapped potential, according to the International Trade Centre, which has identified a number of key sectors as having the most potential for Canadian export diversification in this market. Look to opportunities for further growth in agri-food, plus numerous technology related fields, especially those targeted by the CTA in Singapore.
Singapore is a hotbed for meetings, incentives, conferences and exhibitions (MICE). If you're weighing the opportunities here, consider attending one of the upcoming trade missions at which the Trade Commissioner Service (TCS) will have a presence:
Healthcare Infrastructure Technology & Engineering Conference
Before you set foot in the market, develop your export strategy, then contact the TCS regional office nearest you in Canada. They'll help evaluate your plan by providing a free market potential assessment. They can also point you in the right direction to obtain additional market intelligence, as well as connect you with other trade-related organizations such as Export Development Canada (EDC).
EDC can help reduce the risks of doing business in international markets by offering credit insurance. Furthermore, they've developed deep links to top-level Singaporean buyers, including Keppel Corporation, Sembcorp, PSA Singapore, and Infrastructure Asia. Through their Business Connection Program, they're able to introduce Canadian suppliers capable of fulfilling their supply chain requirements.
If you're considering testing the market at a trade mission, be sure to contact the TCS Singapore office well in advance, so we can help put you in touch with in-market trade partners who will facilitate your market entry. That's one of the most important services the TCS can offer: Instant access to vetted local trade professions. We can connect you to potential customers, plus all the trade network players you'll need, including agents, distributors, lawyers, accountants, translators, cultural interpreters and government officials. 
Exploring new markets can be an expensive proposition, which is why TCS offers financial support through the CanExport program. Among other things, this funding could be used to finance up to 50% of your trip to Singapore if you participate in a conference or exhibition. Keep in mind, this program has been considerably topped-up through the Trade Diversification Strategy, which is looking to provide Canadian businesses with even more resources, so they can turn their export plans into export realities.